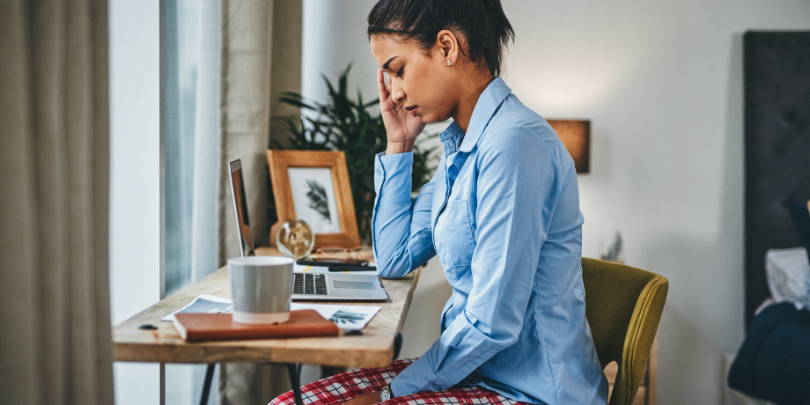 Joy Robbins is a Licensed Mental Health Counselor Supervisor and self-care coach who owns Creative Counseling and Consulting in Matthews, NC. She enjoys using her knowledge and skills to share with others in the form of workshops, presentations and retreats. In her spare time, Joy enjoys spending time with her husband and their two sons. In non-pandemic times, she loves to travel and try new restaurants. Joy has written two books, On My Couch: A Therapist's Journal and 7 Days to More Joy.
SignUpGenius: As we go into 2021, what are your thoughts on how people can cope with the collective grief of 2020?
Joy Robbins: We all lost something in 2020 and many of us lost multiple things. Often, we associate grief with the physical death of a person or pet. I think we all learned in 2020 that we can grieve anything we lose. In fact, we must allow ourselves to grieve all losses. Losses in 2020 were abundant, from the freedom to move around the way we were once accustomed to doing so to jobs and a sense of identity and security. We lost confidence in the supply chain. Remember the toilet paper "shortages" early in the pandemic? We lost the ability to celebrate milestones like we had just done a year ago. And we lost the comfort of hugs and handshakes, just to name a few.
We all experience grief in our own unique way. However, we typically follow the flow of the grief and loss cycle. We move through denial, anger, depression, bargaining and acceptance. Here are a few tips on how to cope with the collective grief of 2020:
Acknowledge the loss(es). It is so important to come to terms with the fact that something has indeed been lost. Take a moment to reflect on 2020 and how life was impacted by the people and things that were lost.
Allow yourself to feel whatever it is that you are feeling. It is so important to NOT stuff or bury emotions. Allow yourself to feel all the emotions associated with grieving. If you do not process emotions, they can show up in unhealthy ways.
Find support in others. We were ALL impacted in some way by the events of 2020. Share your experiences with those in your circle. Lean on others to process your feelings. Learning that others may have similar feelings can validate that you are indeed not alone.
SUG: Why is mental health important for business leaders to consider and care for? What are the benefits?
Robbins: Mentally healthy employees can bring their best to the work environment. Having good mental health does not exempt an employee from a diagnosis or challenges, but it does offer a buffer of protection against developing significant challenges and problems.
The National Mental Health Association has ten characteristics of mentally healthy people. A few that are beneficial to the work environment include:
They have lasting and satisfying relationships.
They shape their environment whenever possible and adjust when necessary.
They make their own decisions.
They feel comfortable with others.
What employer would not want these characteristics in the workplace? When business leaders embrace mental health and offer programming that aligns with this value, employees believe the employer values them holistically. And a mentally healthy employee is often a physically healthy one because the mind and body are interconnected.
SUG: In your experience, what role do employers play in the mental health of employees?
Robbins: In my professional experience, an employer can play a major and impactful role in the mental health of employees. I would define the role an employer can best play as that of an "advocate."
We tend to spend more of our time awake at work or with coworkers than we do our own families. From my time as an EAP (employee assistance program) counselor, I saw firsthand the positive impact an employer who advocates for mental health can have on its team members.
When employees feel valued, they are more committed to an organization. When an employer advocates for work-life balance, the employee is more likely to feel a sense of connection to the organization and tends to work harder for it. When an employer advocates for healthy work environments, teammates feel comfortable and safe. When an employer is an advocate for mental health through supportive programming, employees believe that their mental health is indeed important and supported.
SUG: What are some tangible ways companies can prioritize employee mental health in their operations? How can leaders sustain those efforts long-term?
Robbins: I have had the opportunity to work with several companies that truly embrace and prioritize mental health. I have learned from them and helped other companies to adopt sustainable practices that have been beneficial to their employees.
Offering EAP (employee assistance program) counseling as a benefit to employees is a cost-effective and sustainable way to prioritize mental health. EAP counseling is often a person's first experience with counseling and can be greatly beneficial to an individual. When an employee sees that a company is willing to pay for a few free counseling sessions, they believe that mental health is important to the company.
Having teammates come together in small groups for activities such as "Lunch and Learns" can be another way to prioritize mental health. I have been a speaker for many such activities where teammates come together during their lunch break and learn about a pertinent mental health topic. Being in a relaxed environment while hearing from a trained professional about a mental health-related topic is cost-effective and sustainable. Companies can have monthly or quarterly events that teammates come to expect and begin to look forward to attending.
Work-life balance and schedule flexibility are often top priorities when asking employees about mental health in the workplace, particularly to those caring for young children or elderly parents. Companies who prioritize the work-life balance of their employees through flexible scheduling, telecommuting options, on-site childcare, and time to volunteer often have the happiest and healthiest employees.
SUG: How can business leaders set an example of healthy self-care in their own lives?
Robbins: Business leaders must practice what they preach to set an example of healthy self-care. And they must practice self-care with intention. A leader who is drained and depleted because he or she has poor self-care habits is not setting an example for his or her employees.
When business leaders are seen practicing intentional self-care, employees see it. And we tend to mimic what we see. By "intentional self-care," I simply mean making it a priority and not an option.
The beauty of practicing self-care is that it is unique to the individual. What one person describes as self-care can be vastly different from what the next person does. But all self-care does one thing: it replenishes the energy that we lose doing our daily living activities. For one person, self-care may be reading fiction. For another person, self-care might be meditation. And yet another person might see yoga and running as self-care.
To set an example, business leaders need to be seen prioritizing and practicing self-care. But what does that look like in the workplace? Perhaps a shared calendar shows time blocked off for intentional self-care. Or a business leader can engage in conversation with employees about their intentional self-care practices. And business leaders can even invite employees to engage in group self-care activities with them, like an after-hours yoga session or running a 5K together for an important cause.
Many thanks to Joy for her expert words of wisdom! Check out this article for more ideas on how to manage stress at work and beyond.