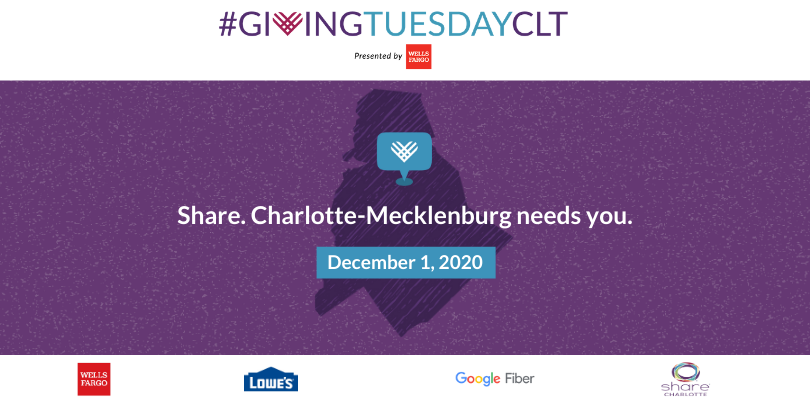 Melissa Hovey is the marketing director of SHARE Charlotte, a one-stop shop to connect with hundreds of Charlotte nonprofits. SHARE's mission is to build a better Charlotte by empowering nonprofits and helping people invest in their communities in ways that matter most to them. The group has powered #GivingTuesdayCLT since 2013, the local response to the global Giving Tuesday movement.
SHARE Charlotte is supporting nonprofits as they continue their missions during the COVID-19 pandemic, and as they face volunteer restrictions and declines in donations. Melissa shares tips on how nonprofits can make the most of the final stretch of 2020 and prepare to succeed in 2021 despite uncertainty.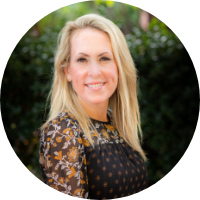 Melissa Hovey
SUG: How can nonprofits make the most of Giving Tuesday as an opportunity to finish the year with momentum and get ready for next year?
Share CLT: Giving Tuesday, now in its 8th year, has proven to be a day that people want to give. According to a report from Horizon Media, "52% of people surveyed said they want to give on Giving Tuesday because it allows them to be part of a bigger group of people doing good."
A recently released Q2 Report from the Fundraising Effectiveness Project (FEP) shows that giving in the first half of 2020 has increased by 7.5% compared to 2019. During the COVID-19 pandemic, concerns about financial uncertainty have not outweighed the motivation to give. The community understands that nonprofits and their constituents have been deeply affected by the pandemic and they are looking for ways to help.
Nonprofits should be bold in stating what their needs are to continue their work and use Giving Tuesday as a platform to rally support. They can make the most of the opportunity that Giving Tuesday creates by joining in the global movement to amplify their own specific needs.
SUG: What is important for nonprofits to reflect on when evaluating this year, and to use for inspiration to reset in 2021?
Share CLT: While 2020 has caused so much disruption, it has also provided us with a chance to reflect, reconstruct and reimagine. Nonprofits, like everyone else, have had to rapidly adjust their current models for the increased demand for their services while critical fundraising has been hampered and there are higher workloads with fewer volunteers.
Despite all of these challenges, nonprofits will need to think creatively about how their programs and services can evolve to meet the changing needs of 2021.
Many nonprofits have expressed that while thinking differently about fundraisers, volunteers and overall operations has been challenging at first, they are inspired to try new approaches and are reimagining how they move forward sustainably.
Nonprofit leaders should understand they are not alone and should lean on their board, city leaders and the nonprofit community at large for support and creative thinking.
SUG: Since the future for in-person events is uncertain, what are some ideas for nonprofits to engage with supporters in 2021?
Share CLT: Don't retreat, keep your supporters up to date through your social media or email platforms on how you are adjusting your services to meet the on-going needs of your constituents. Also, provide them with ways they can help whether it's through virtual volunteer opportunities or donating for specific needs.
Help them to understand the impact they are making. For example, instead of saying "we lost funding from cancelled 2020 events". Show them who they are helping and the impact that is easy to understand, for example "we need $1,000 to supply the homeless community with 10 new pairs of socks per person."
Additionally, if you haven't spent a lot of time focusing on your social media strategy, try to grow your presence on these platforms to keep supporters informed and gain new followers. Create intentional touch points throughout the week via social media to keep supporters updated on all that your organization has going on. Also work to include more video and imagery into your posts.
SUG: Fundraising has taken a major hit during the pandemic - how can nonprofits get creative to fundraise successfully in 2021?
Share CLT: Like most things in 2021, nonprofits will need to adapt their fundraising in the current environment. Here are some trends to consider when building fundraising strategies.
Virtual events are here to stay. There are positives with virtual events such as no travel time, no late-nights, saving on venue and catering costs - plus the best benefit of all - no clean up! The downside is the lack of in-person connection to your donors.
You can find creative ways to engage your audience over Zoom and make the experience real for supporters in their homes. Consider having meals, drinks and a special gift delivered to their house, feature a sought after speaker or offer networking opportunities via break out rooms.
Also, consider hosting your event in the morning or over the lunch hour so you aren't asking your guests to Zoom for work all day long and then join your event in the evening.
Recurring giving will be more important than ever. The pandemic has accelerated the move to online giving so take advantage of this move by trying out donation forms and peer-to-peer fundraising.
Consider targeting your one-time donors and asking for a recurring gift, studies have shown that the value of a recurring donor goes well beyond their monthly commitment (which is already 5 times more valuable than one-time gifts). A report called The State of Modern Philanthropy 2019 found that one-time donors who converted into recurring donors were a lot more likely to make another one-time gift on top of their recurring gift.
SUG: What are tips to partner with volunteers in 2021 for virtual and socially distant events?
Share CLT: Try to offer a variety of ways that volunteers can continue to help you and feel part of your mission.
Virtual volunteering can be a great way to engage your current supporters and attract new supporters since there are fewer barriers to getting involved with no travel time and typically less of a time commitment. Some great examples of virtual volunteering are: note writing, creating flashcards, tutoring over Zoom, take-home activities such as building birdhouses or dropping off meals.
Since small groups and socially distant gatherings are allowed, try to offer these options for groups of 10 or less to come in and help with projects such as canned food sorting, painting or gardening. These activities can help your volunteers feel even more connected to your mission.
Also, try to promote these opportunities to local companies. Many are looking for ways for their employees to give back while continuing to be safe.
SUG: The pandemic has shown how we can unite and support each other through difficult times. How can nonprofits form community partnerships or team up with other nonprofits to meet their goals?
Share CLT: Nonprofits should realize they do not have to try and tackle all the problems on their own. Just as they are being asked to help those in need, they should be bold in asking for what they need from the community, local businesses or their fellow nonprofits to serve their constituents.
For example, if your nonprofit typically provides after school programs but right now what your families need most is food, find a partnering nonprofit agency or a local grocery or restaurant to help provide the food that is needed for your families.
While 2020 has been so hard on every community it has given us a gift to see the kindness and generosity of the human spirit and be able to build on that for 2021.
Many thanks to Melissa for her genius insight! While you're planning your nonprofit strategy for 2021, check out our Ultimate Nonprofit Marketing Guide for COVID-19.