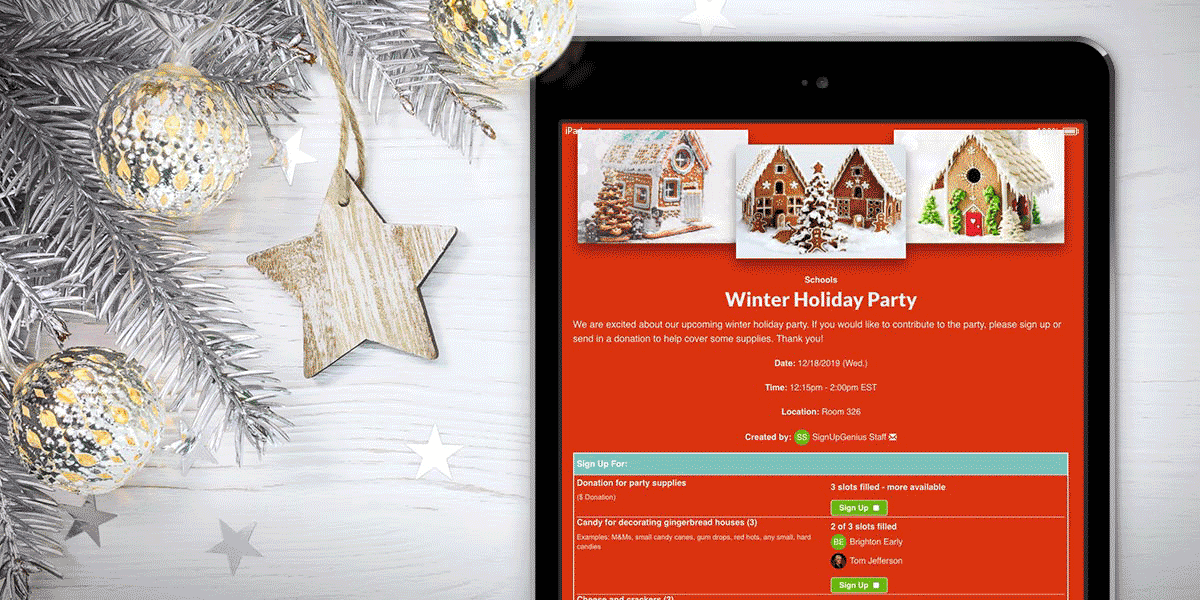 Just hear those sleigh bells ring-a-ling — it's time to start thinking about December events! Make your list and check it twice when you use our festively genius event planning guide.
Plan a Holiday Party
Gather snacks and party supply donations for a winter holiday party at school, and make it even merrier with a few Christmas party games for kids. Spread holiday cheer with a party in your neighborhood or at work, and throw in some Christmas party games that everyone will love.
Start Planning: Beginning of the month
Coordinate a Teacher Wish List
Make your teacher's holiday wishes come true by coordinating a supply wish list sign up. You can also collect money to go toward classroom supply donations in the same sign up. Want to give a heartfelt holiday gift with a special touch? Get inspiration from these gift ideas for teachers.
Start Planning: Beginning of the month (before winter break)
Plan a Company Gift Exchange
The most wonderful time of the year means lots of gift exchanges. Throw an office Secret Santa party and start thinking about the perfect holiday gift ideas for your coworkers. Bosses and employees can also get ideas for employee appreciation and boss gifts as the year comes to a close.
Start Planning: Beginning of the month
Organize a Gift Wrapping Fundraiser
The season of gift-giving is the perfect time to provide people with a quick and easy way to have their gifts wrapped — and give back to a worthy cause. Nonprofits and other organizations can coordinate a gift wrapping fundraiser while remembering to maximize Christmas volunteering.
Start Planning: Beginning of the month
Register Students for Classes
Spring classes will start in January soon after the holidays wrap up. Get started early by easily coordinating class registration sign ups during winter break. Colleges, schools and other education programs can start collecting fees for tutoring sessions, after-school programs and more.
Start Planning: Middle of the month
Organize a Parents' Night Out Fundraiser
After the rush of the holidays, many parents will enjoy having a kid-free date night to relax. Organize a parents' night out fundraiser to support school programs, your church children's ministry and more. Start brainstorming for the new year with these ideas for school fundraising and church fundraising.
Start Planning: Middle to end of the month
Plan a 5K Race Fundraiser
Get the new year off to a great start by coordinating registrations for a 5K run fundraiser that benefits your cause. Even if the race isn't until the spring or later, start getting the word out while people are thinking about setting their goals for 2019. Need organizing ideas? Check out these tips for organizing a 5K, 10K or Fun Run.
Start Planning: Middle to end of the month
Give yourself the gift of easier organizing with sign ups! You'll have more time to enjoy all those parties you're hosting and marshmallows you're toasting this month.