Our Volunteer Appreciation Gifts to You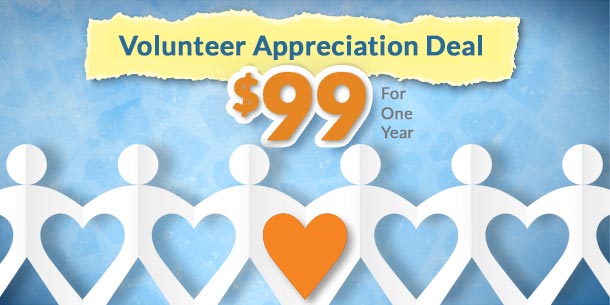 The events you organize change the world, so we want to thank you.
Through April 30, you can get an entire year of advanced features for as low as $99. With a premium plan, you'll have access to volunteer-boosting tools like these:
We're also giving you a new premium volunteer theme to use on any sign up involving volunteers — from school to nonprofit to appreciation events. Just search for "Volunteer Appreciation 2" in Step 2 of the sign up creation wizard when you're creating a sign up.
Make sure to check out all our Facebook giveaways happening through April 26! Simply click on the most recent photo post and enter to win prizes, money or even a $500 donation to your favorite nonprofit.
And congratulations to Julie Kassan, who won a Visa gift card for answering our volunteer trends survey. View the full results — and find out just how much people are volunteering these days. It's impressive! 
Happy volunteering, geniuses! Thanks for changing the world, one sign up at a time.