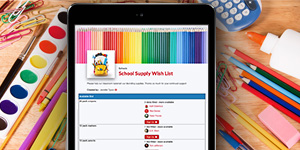 The beginning of August might still be the dog days of summer, but it's also time to start planning for back-to-school events and a flurry of other fall activities starting up. You won't forget anything on your to-do list with this checklist. 
Organize Back-to-School Events and Volunteers
Back-to-school season is officially here. There's plenty to plan, from popsicles at the playground for new students to an open house highlighting school activities. Make sure your PTA or PTO has a strong presence and start recruiting members and volunteers. Genius Tip: Get students and parents outfitted for the year by selling school spirit wear on a sign up.
Start Planning: Beginning of the month 
Get Ready for Friday Night Lights
It's almost time for the team to hit the gridiron again. Make your concession stand run like a well-oiled machine with these 30 organizing tips. Plus, staff your booth using a sign up that goes to team parents and other interested community members.
Start Planning: Beginning of the month 
Manage the Annual Fall Festival
A successful fall festival requires a lot of planning and teamwork. Festival season will arrive soon after Labor Day and last through Halloween. Remember all your important items with this festival planning checklist. Scheduling volunteers will be a snap with a sign up. Genius Tip: Check out these 30 carnival games to raise more money.
Start Planning: Beginning of the month 
Plan a Political Rally
Groups are starting to gear up for Election Day now that primary season is over. Organize poll workers or phone bank volunteers with an online sign up. Make your voice heard in November.
Start Planning: Throughout the month 
Start a Church Small Group
Establishing small groups at your church is the perfect way to get groups of people to connect. Start getting the word out to potential group members in August (leaders should already be in place) so they are ready to start in early September. Rotate host homes with an online sign up. Genius Tip: Try these 60 small group topics, themes and ideas as a starting point.
Start Planning: Throughout the month 
Schedule Parent Teacher Conferences
You won't need to send invites to parents until later in the fall, but getting a head start before classes begin is ideal. Check out our complete guide to using SignUpGenius for parent teacher conferences and you'll get an A+ this year!
Start Planning: By mid-month 
Train New Hires
Summer hiring spree? Make sure your newest employees are ready to go with company orientation. Try these 20 quick icebreakers for meetings to help new hires get to know each other.
Start Planning: Throughout the month 
Plan a Team Meal
The start of a new sports season is a great time for teammates (and parents) to get to know each other. Organize a team potluck with these 25 easy team meal ideas. Genius Tip: Let the host provide the main dish and ask team members to contribute sides, desserts, drinks, etc. with a team potluck sign up. 
Start Planning: Throughout the month
Soak up those last summer rays because busy days are about to be here again!