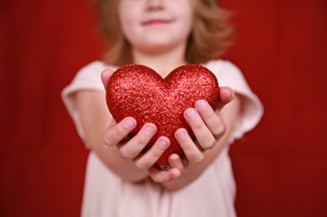 Plan a fun Valentine's Day party for kids in the classroom, community center or even at home with fun activities, festive foods and fabulous holiday favors. Here are some quick and easy ways to help teachers, parents and party planners provide a super sweetheart celebration filled with games, goodies and gifts.
Spread the love this Valentine's Day with party invitations and decorations that feature bright designs including pink, white, red and purple hues that are perfect for this loving holiday. Kids love whimsical themes that include sweet hearts, candy, heart designs, polka dots, cupids & adorning words. Be creative. To set the mood, grade-schoolers can create heart-decorated place cards and napkin rings using strips of colorful gift-wrap and sprinkle construction paper rose petals and hearts on the table for a festive touch.
---
SignUpGenius can help organize your party, volunteers and donations with ease.

Learn More
---
Party Planning Tips
Ask other parents to help. You'll need at least a few people to make or buy decorations and food ahead of time, and you'll surely need a couple of adults to help supervise the kids on the day of the party. Make sure all of your supplies are prepared ahead of time and create a craft supply list to request donations from parents so there is plenty of paper, scissors, glues sticks, and pipe cleaners to go around.
Keep it simple and break the party up into 4 activities. As you plan each activity, think of ways you can involve everyone and make all the kids feel special.
1. A craft
2. A game
3. The exchanging of cards
4. Snacks and treats
Yummy Valentine's Treats
• Cut heart shaped ham & cheese and PB&J sandwiches
• Cut cheese hearts and serve with crackers
• Be sure to balance sugary treats with healthier options, such as fresh strawberries or if you need something "heartier", try mini bagels topped with strawberry cream cheese.
• Sweet, little healthy things like heart cut apples or a cup of grapes with pink yogurt are special touches.
• Serve colorful cocktails of red fruit punch, pink lemonade or sparkling cider. You can even make a Cupid's float of Cherry 7-up, vanilla ice cream, whipped cream and a maraschino cherry on top.
Hugs & Kisses Cookies
A sure-to-please kids Valentine party is one that mixes kids creativity and cookies. All you need are some basic sugar cookies baked into fun Valentine's Day shapes such as hearts and "X's" and "O's," some pastry bags filled with red, pink and white icing, and lots of imagination. Kids will love getting creative as they create their edible works of art. Remember to provide festive goody bags so they can take their yummy creations home.
Create a Valentine Piñata
A Valentine's Day piñata is sure to be a hit at any Valentine's Day party. A piñata can make a great Valentine's decoration and a fun game for all ages. If the class is rather large, break the kids up into groups and have each group make their own piñata. Children can easily dress up a plain brown paper grocery bag with bright and cheery pink and red hearts and streamers. Fill the bag with goodies and trinkets. Let each kid use rolled up newspaper or a whiffle bat to try to bust open the bag to release its treasure of treats.
---
Collect money for class snacks or to purchase supplies using sign ups. Learn More
---
Valentine Mailbox Contest
Request that each child bring in a shoebox with a slit cut in the top (for their valentines cards). Have plenty of decorations available such as felt hearts, pipe cleaners, construction paper, streamers, scissors and glue. Have the children decorate their shoebox during the party. At the end of the party the boxes can be judged and winners named for the funniest, prettiest, most creative, etc. Then the children can enjoy delivering their special messages to their friends.
Try This Idea to Warm Some Other Hearts
If you are looking for something new and unique "Share the love" this year! Make care packages for troops serving overseas, lost pets at an animal shelter, homeless children or another group in need of love and compassion. Make a list of needed items and have each child bring in a donation. Package up the items with care and explain how fortunate each and every one of us are, and how it is important to share with others.
We're Here To Help!
Use SignUpGenius to send out your Valentine's party invitations, create your volunteer list, a craft supply list, a snack list, a donation list or any other signup list that you can think of for your Valentine's day celebration.