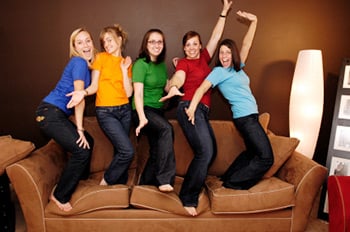 Let's be honest...every day is a party when you're at college, right? So why not mix it up a little and throw a theme party! Don't fret about using a tired, worn out idea that you and every other group try year after year. You know that at SignUpGenius we love coming up with ways to make your organizing life simpler, and we're here to help once again.
Check out these creative college party themes and you'll find that the most difficult task of planning that upcoming bash will be choosing from so many great ideas.
1. Around the World
If your party location has multiple rooms, this is a great theme idea. Each room can offer a different munchie and drink while representing a different region of the world.
2. Beach Party
Don't let cold weather get in your way. Have a beach party anytime of the year. Cover the floors with sand…blow up beach balls…don the bathing suits…and spin Jimmy Buffet's greatest hits!
3. High School Stereotype
Were you a jock, thespian, geek or cheerleader back in the day? Dig out some of your old threads or scrounge up some new ones that will fit you squarely into one of those cliquey molds for a night. Have fun talking about which group you ran around with back in high school. A photo booth set up with props could help you compile "yearbook" photos from the evening.
---
Plan a graduation party with a sign up. SAMPLE
---
4. Highlighter Party
This party is always a hit and easy to pull off at the last minute. Party in all white clothes under black lights and provide highlighters for guests to doodle on each other's attire.
5. Decade Themes
Whether you dress up like Olivia Newton John from Grease, Tom Cruise from Top Gun, or the one and only Zach Morris from Saved by the Bell, you're bound to strike up some laughs with a decade party.
6. Superhero Party
Whether guests opt for the more traditional Spiderman or Batgirl costumes or get creative with a Michelle Obama or Lebron James getup, this theme is sure to garner some laughs. It might even spark a few good conversations about what makes a superhero so, well, "super."
---
Plan Homecoming events with a sign up. SAMPLE
---
7. Foam Party
If you can get your hands on a foam machine or figure out how to make the foam yourself, this will be the party of the year. Make sure you take all the safety precautions, like choosing a venue that won't be destroyed by tons of soap and water and putting down a non-slip floor to protect your guests. Let party-goers know what to expect ahead of time so they can dress accordingly and pump up the volume on the tunes.
8. Casino Party
Tired of just standing around? Throw a casino party. Dress up in Vegas attire and transform your party room into a casino floor.
9. Quarterbacks and Cheerleaders
This is a classic theme party that never dies! Guys dress up as "the big man on campus" and ladies lock arms with your man in your cheer attire.
10. Holiday Sweater
It doesn't have to be Christmas season to celebrate by wearing an ugly sweater. Have guests raid their family members' closets for a Halloween, Thanksgiving or Christmas sweater or make a trip to the local thrift store to find a knitted treasure to die for. Offering prizes for the hokiest sweater models will up the frenzy to find the best outfit.
With ideas like these to choose from, what social chairperson can go wrong? A great party theme along with genius online sign up forms from SignUpGenius, and your next event will be easier to plan than ever.