Positive Parental Involvement in Youth Sports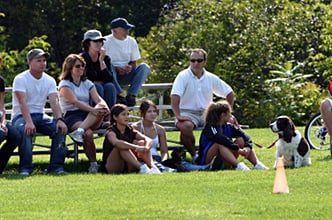 Youth sports provide a great opportunity for you as a parent to spend time with your child. Whether you help out by coaching, driving a carpool, being a great sideline cheerleader, or organizing snack schedules, the sports experience can be a blessing for your family instead of another item on your "to do" list. Your attitude can have a positive influence on the athletes, coaches, and other parents, and help set the tone for a successful season!
---
Organize your team snacks, carpools and fundraisers with ease. LEARN MORE
---
10 Ways to be Positively Involved:
Choose a coach: Find an appropriate team and coach for your child. Every coach has a different style, so seek out one that you think will manage and motivate a team, encourage sportsmanship, and boost your child's confidence.
Learn the game: Patient, consistent, and frequent exposure to the game will help you and your child learn all the basics about the game: the rules, field positions, and how the game is played.
Practice encouragement: Truly believe that every athlete is capable of learning the game and becoming a champion - even those whose skills have been underdeveloped. Be really familiar with your own child's strengths, skills, and abilities.
Be realistic: Set manageable goals with your child, instead of always communicating high expectations. Let your child have fun while playing freely and intuitively. Don't always focus on results, rankings and statistics. It's not about winning and losing, but how you play the game.
Rally the troops and volunteer: It's a good idea to support the coach and program as much as possible. Rally together the parents as a team. Volunteer to work the concession stands, make weekly team dinners, and pack snacks for practices or all-day tournaments. You can coordinate a carpool or help recruit volunteers for team fundraisers.

---

Collect money directly on your sign up. FIND OUT HOW

---

Be social: Meet the athletes and their families and learn their names. Value the social interaction with the team, making sure your communicatiom with the coaches, parents and children is always positive and encouraging.

Practice sportsmanship. Never criticize the other athletes or teams. Encourage conversation about the diverse strengths and contributions of every team player.
Be Positive: Practice positive mental game strategies with your child: Help them learn how to stay composed during crunch time, not be afraid to make mistakes, and focus on having fun.
Build memories: Take lots of pictures. A slideshow at the end of season party is always a bit hit!
Be supportive: Of course, the biggest thing is that you are there. Go to the games and support not only your player, but the other players as well.