45 Youth Sports Team Awards Party Ideas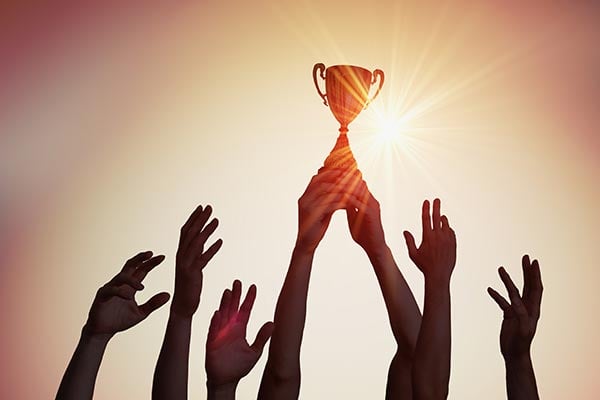 As the season ends, it's time to start planning a party to celebrate the accomplishments of your players. Make sure you cover all of your bases with these ideas that will help you knock your end-of-season party out of the park!
Event Venues
Mix it up and choose one of these venue ideas that will create a fun-filled experience for your players as they close out the season. And if the costs to reserve a specific venue are too high, stick to a budget and host the party at your house. The entertainment can come from sport-themed games in your backyard!
House Party - Choose the easiest venue in terms of reserving a location to host your party. Make sure the house has a lot of room so everybody, including the parents, can run around and have fun!
Trampoline Park - Let the kids bounce out their energy while playing games like dodgeball and basketball in trampoline arenas and then chow down on some cake in a private party room.
Rock Climbing - Challenge the players in a new way with a different type of athletic activity. Guides will have fun with blindfolds and relay races to make sure everybody has a rockin' time.
Laser Tag - Tag a teammate in some friendly competition where players will be divided into two teams and see who comes out victorious. Afterward, reunite players over some pizza and cake!
Pizza Parlor Party - After a season of hard work, a pizza party can ensure that the season is topped off the right way. Save some dough by purchasing pizza for the players and having parents pay for their own meals.
Movie Theater Trip - Load up on popcorn and sweets after a season of hard work and pick a fan-favorite movie to have one last hurrah and celebrate the season.
Party at the Park Pavilion - Take advantage of this easy and cheap option to score the game-winner with your end-of-season party. Picnic tables provide the perfect area for eating and the park has endless areas for the players to run around and get some energy out.
Arcade Adventure - Find a family-friendly arcade like Chuck E. Cheese that offers unlimited games for a reasonable price. Kids can enjoy pizza, prizes and a performance from Chuck E. Cheese before wrapping up the season with a trophy ceremony.
Sports Center - Play any and all games on an indoor sports field and let players enjoy bowling and an inflatable zone before settling down and listening to closing remarks about the season.
Putt-Putt - Navigate the end-of-season party by taking everyone to a putt-putt course where they can play to see who can get the best score.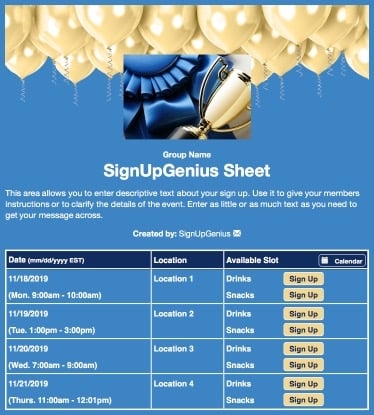 Ropes Course - Reach new heights with your end-of-season party by hosting a day at an outdoor activity center with a ropes course. Finish off the day with an award ceremony to match the excitement of the season.
Theme Park - Ride roller coasters and enjoy fun adventures at a theme park. Have everybody wear a matching T-shirt and regularly count the number of people in the group to make sure everybody is accounted for!
Escape Room - Show off the teamwork that the players developed over the season and see how well they can work together to move through a room with different clues and puzzles to get out. Have the award ceremony afterward regardless of a win or a loss!
Roller Blading - Put on your skates and lace up to show people what you've got in the rink. Book the whole venue to have fun with your team without having to worry about the crowds.
Ice Skating - Bundle up and reserve this venue for a party during the colder months. After seeing who the future Olympians are on the ice, warm yourselves up by moving to some tables to recap the season and bond over a meal.
Paintball - Step up the competitive level of your season closer with a showdown in the paintball arena. However, choose this venue as an end-of-season party for older children since this sport can get a little rowdy.
---
Coordinate an end-of-season potluck celebration with a sign up. View an Example
---
Party Themes
Plan the perfect event with a theme to get the excitement rolling for your end-of-season party.
Tie Dye for Days - Keep everyone busy with the chance to create their personalized dyed t-shirt. Afterward, get the players to sign each other's shirts to remember the team for years to come!
Movie Night - Lay out sleeping bags and stock up on candy and popcorn to host a team slumber party complete with plenty of classic movies. Genius Tip: Check out the 25 best sports movies of all time for a number of great movies to choose from.
Pool Party - Play beach music, host pool games and serve good food to have a relaxed party in the warmer months.
Scavenger Hunt - Organize a day reserved for finding clues and objects that lead to a final prize. Work this into a party at a house or a park and tie in questions with sports trivia to create a scavenger hunt fit for the title of champion. Genius Tip: Get started with these 100 scavenger hunt ideas and tips.
Sports Night - Have each player come dressed up as their favorite athlete in any sport and divide everybody into teams. Then, have the teams compete against each other in games like relay races and trivia. After the games are over, nothing brings together players like pizza and a slice of cake!
Picnic and Popsicles - Choose the perfect grassy area and fill your basket with plenty of popsicles to keep the kids satisfied while everyone enjoys reminiscing on a great season.
Campfire - Even if it isn't at an actual campsite, host a dinner with a fire pit in the backyard so kids can make fun food items like hot dogs and s'mores by roasting them over the fire.
Ice Cream Social - Set up an ice cream bar at your house or go to a local ice cream shop for an easy way to satisfy everybody's sweet tooth.
The Fast Lane - Pretend to be NASCAR drivers and have your players feel the need for speed! Host your party at a go-kart facility and rev up your engines with some high-paced action.
---
Register the team for next season and collect fees with a sign up. View an Example
---
Logistics
Stay ahead of the curve and plan your party with these logistics that will help your event run smoothly.
Set a Time Frame - Beat procrastination and make a checklist for what things need to be done and when they need to be completed by. This way you'll have your I's dotted and your T's crossed when it comes time to host.
Create a Slideshow - Choose pictures and videos that highlight the all-star moments from the season to create a recap for everyone to relive the best memories.
Prepare a Speech - Coaches, it's always great to leave the season with some positive closing words. Have a note about each of the players prepared — they will remember it for years to come!
Make Custom T-shirts - Order personalized T-shirts with the name and photo of the team to hand out as a party favor. At the party, host an autograph session so each player can sign each other's shirts!
Plan for Food - Be sure to make or order enough food to feed the amount of people who are planning on coming to the end-of-season party. Genius Tip: Enlist help from other parents and create a potluck sign up.
DIY Décor - Don't worry about the high costs associated with buying decorations for the party. Instead, create your own made out of cheaper materials from a craft store to save money and still have your venue party-ready.
Entertainment - Think about providing entertainment for the players to keep their minds and bodies busy. Make a music playlist and organize activities like snow cone making for an easy way to keep the kids satisfied.
Trophy Ready - Plan to order trophies ahead of time so that every player has a memento from the season. Kids will love showing off their accomplishment to friends and family!
Gift to the Coach - Gather donations from the parents to reward the coach for their hard work and effort put into the season. This could be anything from a gift card to a sports ball signed by the entire team.
Certificate of Participation - If you aren't a fan of trophies or want a little bonus addition to give to players, a certificate recognizing their hard work throughout the season will make them smile just as bright.
Award Ceremony - Give each player their own personalized title and specially recognize them for their role on the team. Genius Tip: Use these 50 youth sports award ideas to acknowledge players for their hard work.
---
Plan a team potluck during the season with a sign up. View an Example
---
Tips for Team Parents
Not all superheroes wear capes, and team parents are no exception. However, even superheroes need help! Check out these tips to make sure you don't forget anything.
Recruit Help - Enlist help from other parents so you don't have to stress about every little detail. The more help you have, the quicker you can prepare for the party and the smoother your day will be when the party rolls around.
Collect in Advance - Determine the costs and collect money from parents in advance, so you don't end up with a bill that is more than you bargained for.
Wear Uniforms - Embrace the opportunity for the kids to have one last time to get dressed in their jerseys as a team at the end-of-season party.
Mixed Games - If you have any games or relays planned for your party, consider adding the parents into the teams to engage everybody at the party and add to the fun.
Dietary Restrictions - Make sure to ask everyone if they have any allergies that need to be accommodated for so you can plan ahead before ordering or making food.
Have a Backup Plan - Create a plan to handle any scenarios that might put a damper on your end-of-season party (like bad weather). Whether it is moving the party indoors or changing the theme, everyone will have fun hanging out and reminiscing on a great season.
Consider Fundraising - Host a bake sale or a lemonade stand for a fun activity with the team that will help raise money to cover the costs for the end-of-season party.
Simplicity Wins - No need to go all out and plan an extravagant bash to have a successful end-of-season party! With a few sports-themed decorations and trophies to recognize the accomplishments of the players, you can avoid breaking the bank and still host a great event.
End with Cake - Every party always needs a little something sweet to end on a high note. Order a cake with the teams' picture on it to make it specially catered to celebrate the season.
These ideas and tips will make sure that your end-of-season party is one for the record books!
Celine Ives is a college student who enjoys playing field hockey, cuddling with her dog and cheering on her Carolina Tar Heels.