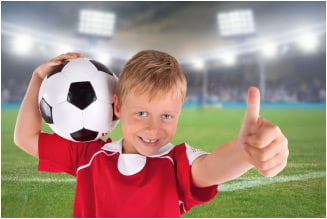 Your child's coach deserves to be thanked for sacrificing time and energy to help kids. Perhaps you would like to express your gratitude before the end-of-the-year party in a way that is unique and truly meaningful. The following gestures will make your coach smile!
1. Notes from each player. Bring them together into a small notebook or even frame short notes in a big frame.
2. Letters from parents thanking the coach for what he/she taught their child.
3. A highlight video of the season. Win or lose, there are always moments that are worth remembering.
4. Take your coach to dinner with the whole family. This is one way of saying that the entire family appreciated him or her.
5. New equipment for the team. Perhaps something that would make their job easier, and not just something they really need.
---
Collect money from the entire team quickly with an online sign up. LEARN MORE
---
6. Gift for the family. Often the coach's family is affected by his or her sacrifices. Give a gift that the entire family can enjoy, such as tickets to a non-sporting event (concert, theme park, movie, restaurant).
7. Provide a service-related gift. Find out what your child's coach needs or wants done at his home or office, and pay for that service. Or offer free babysitting for a few weeks.
8. Thank them in the paper. Write a letter to the local paper's editor, expressing your thanks for your child's coach.
9. Nominate your child's coach for a local award, if your town has them.
10. Your endorsements. Often, a good word about the coach to others is one of the best gifts. Recommend him/her to others if they are looking for a coach or just simply speak well of his work to other parents. With all the negativity in youth sports today, that in itself is a huge gift.
And the best way to thank your child's coach? Be a supportive and positive parent who is truly for all kids on the team, not just your own!
Janis Meredith writes Jbmthinks, a blog on sports parenting and youth sports. After being a coach's wife for 29 years and a sports parent for 21, she sees issues from both sides of the bench.