College Football Kick-Off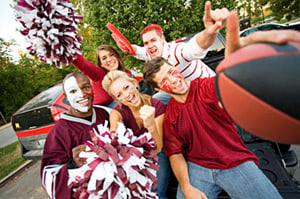 Are you starting to crave the low-humidity, crisp days of fall? There are two things that I love about the end of summer….good-bye hot temps and HELLO college football! With a break in the heat recently, I could almost smell crunched up leaves and char-grilled burgers. Here are a few ideas to help you turn your football fever into some fun-filled gatherings.
• Get involved with your alma mater's local alumni chapter. You should easily be able to identify whether or not your city has one by doing a search on Google. If not, you can always start the ball rolling.
• Plan your own game-day kick-off party. Invite your friends to come and bring along their favorite football snack to share. My kids love our traditional game day "snack supper."
• It might be a good idea to hire a babysitter if there will be young kiddos attending the party. Avid football fans like to be able to watch the game without worrying about whether or not little Jimmy is tearing up the host's house. The babysitter can keep the kids entertained outside or in another area of the house while the fans watch the game.
---
Use SignUpGenius to create a tailgate food list.  SAMPLE
---
• Turn your football party into a charity drive. You could find a need in the community and have guests bring donations (canned goods, school supplies, blankets, etc.).
• Gather a group together, and go to the game. You might be able to get a better deal on tickets if you purchase several at one time, plus you can all sit together (might want to make sure you are rooting for the same team!).
• Every die-hard fan knows it's not a real game unless you tailgate beforehand! Whether you enjoy face-painting or just wearing your school colors, nothing beats chanting a few cheers while filling up on hot dogs and burgers.