50 Simple Tailgate Foods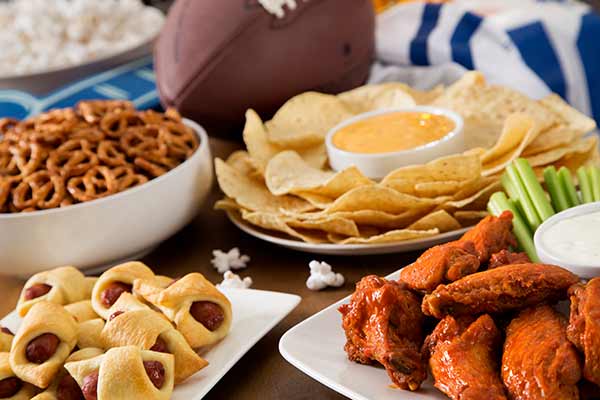 When you're tailgating, you need a game plan. The key to a successful event is to make sure it's easy. That means preparing as much as possible ahead of time and focusing on food that's easy for you to transport — and just as easy for your friends to eat one-handed. Game on.
Starters
Mini Tacos - Get the "scoop" chips as the base for this finger food. Offer shredded cheese, taco beef, salsa and other toppings to complete this mini taco.
Cheeseball - Make a giant one or, if you've got some time on your hands, roll mini ones and put them on toothpicks for people to grab. Make sure to have crackers on hand, too.
Roasted Jalapeño Poppers - Slice open the pepper, stuff it with a bunch of cheese and bake. Easy cheesy. Wrap in bacon if you really want tailgate fans to cheer.
Meatballs - You can make them old school with beef or make them with turkey for a healthier treat. Either way, you can't go wrong with this Italian favorite.
Deviled Eggs - You know the deal with this southern staple — mix the yolk of the egg with mayonnaise, vinegar, mustard, salt and pepper and you've got an easy-to-make, easy-to-serve favorite. If you're really creative, dye the egg white part the same color as your favorite team's uniform.
Stuffed Mushrooms - There are so many ways to make these easy-to-eat appetizers, but adding cream cheese and sausage is probably the most popular.
Mac and Cheese Bites - Make your favorite macaroni recipe, then fill wonton wrappers with your tasty treat. Bake and you've got an instant fan favorite.
Snack Mix - Mix in some nuts, chocolate chips and Chex cereal and you've got something everyone will want to grab a handful of.
Grilled Shrimp Skewers - Anytime you can put food on a stick at a tailgate, your guests will thank you. (To change it up, you can also prepare steak, chicken or vegetable kabobs.)
Walking Tacos - This dish is a fun take on tacos, but more tailgate-friendly! Fill small corn chip bags with your favorite taco recipe (you can even crush the chips to better mix with the taco ingredients). Provide spoons, cheese and other toppings.
---
Coordinate booster club volunteers with a sign up. SAMPLE
---
The Classics
Potato Skins - Most people like these loaded with all the good stuff! Slice the potatoes, bake, then add cheese, bacon and jalapeños. Offer up some sour cream for dipping.
Pigs in a Blanket - You can slow cook them and serve them that way or roll them in a crescent roll. Whatever you do, these "mini hotdogs" are always a hit. Arrange these on a platter in the shape of a football for extra flair. Don't forget ketchup and mustard for dipping!
Game Day Chili - Nothing is better on a brisk morning before an early game than a bowl of chili. You can even make this a contest among your tailgating group. This dish is easy to transport in a crockpot. Just make sure you remember to bring the bowls, spoons and napkins!
Burgers & Dogs - It's about as traditional as it gets — old school hamburgers and hotdogs. Make sure to have all the basic toppings — cheese for the burgers, ketchup, mustard and relish.
Chicken Wings - Is it really game day if you don't get your fingers messy from some chicken wings? Whether you go the barbecue route, the spicy route or get creative with your lemon mesquite flavor, everyone loves these fan favorites. Remember the hand wipes!
Brats - A great alternative to hot dogs, throw the sausages on the grill then serve them in a bun with all the fixings.
BBQ Pulled Pork Sandwiches - The easiest way to prepare this is throw the pork into a slow cooker (add your favorite sauce!) for about eight hours, then shred with a fork and make your sandwiches.
Chicken Fingers - These are not just for the kiddos. Buy them already breaded and just pop them in the oven. Make sure to bring a few dipping sauces.
Nacho Bar - Get creative with the toppings and make sure to keep your meat warm in transport. Fans will appreciate packing on their favorites like shredded chicken, cheese, cilantro, beans, guacamole and more.
Calzones - It's basically folded pizza — which makes it literally the perfect food for tailgating.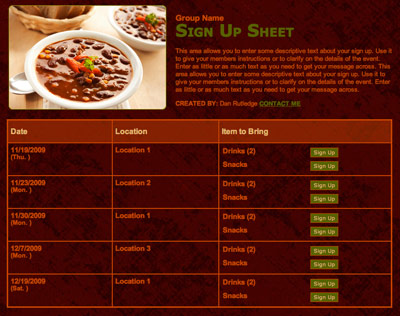 Side Dishes
Baked Beans - Prep ahead of time and show up with the beans ready to serve in a slow cooker. Add some onions, brown sugar and ketchup to make them as flavorful as possible.
Potato Salad - The nice thing about this is you can make it and refrigerate it up to two days ahead. On game day all you have to do is grab it from the fridge! Chop up some fresh dill, celery and red onions to give your potatoes a kick!
Stuffed Peppers - From bell peppers to banana peppers, there are a million ways to make these — and they're all easy. Plus, they make the perfect finger foods.
Pasta Salad - You can make this just the way you like it! Make the pasta as directed on the box, and then in a separate bowl make the dressing using flavors you like. You can go Italian, add vegetables or even throw in Buffalo chicken. And the best part, you can also make this a day ahead.
Corn on the Cob - As long as you're throwing stuff on the grill, add some corn on the cob. White corn is even sweeter! Set out several platters of butter with interesting add-ins like fresh cilantro, honey and jalapeños.
---
Register athletes and collect payments with a sign up. SAMPLE
---
Sandwiches
Chicken and Waffle Bites - The bite-size version of everyone's favorite odd couple is perfect for tailgating.
Pimento Cheese Sandwiches - This southern classic has just enough bite to make everyone happy. Buy some spread (or make your own) and grab your favorite bread, and you have an easy item for guests to grab and go.
Mini BLTs - Make traditional BLTs but use biscuits instead of bread so you offer a bite-size treat.
Meatball Sub - It's the easiest way to eat a meatball — load a few into a sandwich, throw on some extra marinara sauce and you have a great sub.
Philly Cheesesteak - You don't have to be an Eagles fan to love a good Philly cheesesteak. The trick to a good one is finding the right meat and bringing napkins — the good ones can get messy.
Sliders - This is just an easier way to eat a burger! Throw a small patty on the grill, wedge it inside a biscuit and you have an easy — and fun — tailgate food.
Pinwheels - This is just a slightly fancier version of a sandwich. You're basically making a wrap filled with your favorite meat and cheese. Cut into slices and serve!
Dips
Spinach Artichoke Dip - No matter how you make it, this is a crowd pleaser for a reason. Transport yours in a slow cooker to keep that cheesy goodness warm.
Seven-layer Dip - Freshen this classic by making it in individual sizes in clear, plastic cups. The crowd goes wild!
Bacon Cheese Dip - Mix together cream cheese, blue cheese and sour cream and top with some bacon bits. Delicious!
Buffalo Chicken Dip - This mix of chicken, blue cheese dressing, wing sauce and the cheeses of your choice makes for a great dipping option.
Guacamole - Make your own with avocados, fresh cilantro, onions and tomatoes and mash it all together. Always a crowd pleaser, so make sure you have plenty of chips to dip!
Cheese Dip - There are so many good ones! Try this quick three ingredient recipe: mix real cheddar cheese (8 oz), half and half (1 cup) and corn starch (1 tablespoon), heat and serve. Don't forget the chips!
Cookie Dough Dip - Dips don't all have to be savory. Hungry tailgaters might even skip the main course for this one.
Taco Dip - Combine a small jar of salsa, ground beef and a chopped onion. Layer it on top of spread cream cheese and bake in the oven until bubbly.
---
Organize tournament volunteers with a sign up. SAMPLE
---
Desserts
Football-shaped Cake Pops - It's cake. On a stick. In the shape of a football. Easy and fun to eat. Roll chocolate cake mix into the shape of a football. Use white icing to paint on the white lines of a football.
Strawberry Shortcake Kabobs - These are as good as they sound. Make your favorite shortcake recipe, dice into bite-size pieces and thread them on a kabob stick while layering in strawberries. Drizzle with white chocolate.
Rice Krispy Treats - This old standby still gets the job done. Have the kids help you make this gooey treat and drizzle some chocolate in the shape of a football for an extra sweet touch.
Dessert Nachos - Start with the chips, then melt some chocolate and sprinkle some powdered sugar on top.
Cupcakes - Go the easy route and buy some vanilla-topped cupcakes at the bakery. Then use colored sprinkles to decorate in your team colors and show your spirit.
Blondies - Much like brownies, you can make these ahead, cut into squares and they're easy to eat and serve. Try cookies and cream or snickerdoodle flavors first.
Fried Pies - Fall weather screams for pie, but it's not always the most convenient to eat while tailgating. Make small fried hand pies — start with apple — and provide powdered sugar for the topping.
Cinnamon Sugar Doughnuts - You could go the simple route and pick up a couple of dozen for an early game, but to really show your chops, fry these favorites at home and bring for a tasty breakfast treat.
Coffee Cake - Another sweet treat for mornings. Bring plenty of hot chocolate or coffee to accompany this breakfast treat.
Chocolate-dipped Pretzels - Keep things simple by dipping pretzel sticks in melted chocolate and decorating with sprinkles in your team colors.
It's time to celebrate another season! Bring some of these along this year, and you'll be the true fan favorite at your tailgate party.
Michelle Boudin is a reporter at NBC Charlotte and a freelance writer.