25 Quick Fundraising Ideas for Youth Sports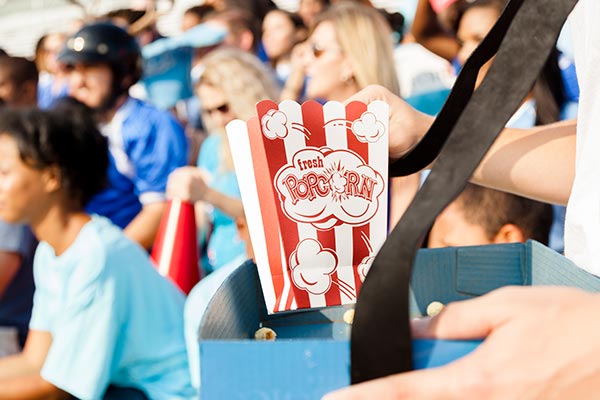 Sports are a great way to teach kids valuable lessons about winning, losing, teamwork and always doing your best. Time on the field, swimming pool or court brings communities and families together in the spirit of healthy competition and fosters the importance of staying active. Below are 25 quick fundraising ideas for your youth sports team no matter the season or sport.
Team Spirit
Sign the Banner - Give parents and players a way to show their support by creating a large banner with poster board or a bed sheet with the team name, slogan or mascot. For a monetary donation, let players and fans sign the banner and offer team support. Take it to home and away games and let your team spirit shine!
Movie Night - Enjoy movie night under the stars (you could even do this on the football field, basketball court, etc.) and bring the team together to raise some funds. Set up is easy with a clothesline and bed sheet or rent a large screen. Set up a projector, hook up the computer and watch the magic happen. Charge admission for moviegoers and don't forget the popcorn, candy and soda sales!
Read-a-Thon - This is a wonderful way to support the team and fight summer and holiday brain drain. Ask friends and neighbors to sponsor a player for each book they read during a specific time. Sponsors can recommend books older kids might enjoy or select one title for a fun team read.
Sponsor an Athlete - Ask parents, friends and family members to make a pledge for every lap a child swims, runs, walks or jumps rope.
Online Auction - Silent and live auctions are a fun and lucrative way to raise funds for your team but often take time, space and lots of volunteer power to come together. Try an online auction instead. Get items from team sponsors or ask if a family has a vacation home, sports tickets or other high-value goods they would be willing to auction. Once items are secured, start an online auction and watch the money add up. Genius Tip: Create an online gift basket raffle sign up to easily coordinate a fundraiser and collect donations.
---
Coordinate car wash fundraiser volunteers with a sign up. View an Example
---
Keep it Sweet
Lollipop Sale - Arm each team player with a large re-sealable zipper storage bag filled with 50 flavorful lollipops for sale. If the fundraiser is during the school year, ask if kids can sell them in the classroom, during lunch or recess. If you are selling during summer months, host sales at the pool, around the neighborhood or set up shop by creating a lollipop stand.
Bake Sale - Bake sales are a classic and delicious way to raise some serious dough. Have tasty items ready for the home opener, during a doubleheader or a long swim meet. Hungry patrons will be lining up for a sugar rush and it is easy to put a fun spin on things by incorporating a theme. Genius Tip: Check out these bake sale ideas for fundraising as you plan.
Fairytale Tea Party - Host a special day with tea, sweet treats and fairytale celebrities. Sell tickets for the event and be sure to take lots of pics to post on the team's social media page.
Doughnuts - Make everyone's morning a little better when you bring sweet treats before the game. Go traditional with glazed yumminess or up the game with custom creations. Don't forget the OJ and coffee sales for maximum fundraising potential. Give everyone the heads up as to which morning you will be selling doughy deliciousness so families can arrive with cash in hand.
Pie in the Face - Sell pies to team members for a chance to take aim at coaches and staff. Buy pies in bulk or bake them as a team to keep the cost down.
---
Sell BBQ fundraiser food items and collect payments with a sign up. View an Example
---
Utilize Talent You Already Have
Picture Perfect - Do you have a team parent who is a stellar photographer? Ask them to get action shots throughout two or three games, then post the pics online on a secure site. Parents and friends can purchase to download the pictures and the money goes to the team.
Fitness Class - Do you know a team mom or dad who teaches yoga, aerobic fitness classes or could lead a 5K run around the practice field? If so, see if he or she would be willing to offer a few classes during practice and donate the fee to the team. Genius Tip: Directly manage class registration and donation fees with a sign up.
Chores Day - If you have a group of kids with energy to burn, put it to good use by letting them help neighbors with yard work or other small tasks for a donation to the team. To make things simple, create a "menu" of chore choices with corresponding prices.
Babysitting Bonanza - Parents could use a night out and the team could use the funds! Babysitting is a fantastic way to make everyone happy. Pick a night and have players babysit in their neighborhoods or team up and have two or three older kids watch a group of younger children for a donation or flat fee. This idea is a win-win for sure!
Dog Wash - A clean dog is a happy dog and hosting a dog wash is a great opportunity to raise some money. Grab a bucket, hose, shampoo, towels and set up a dog wash station. Allow two or three days or longer to advertise. Pick one price for a shampoo and dry or create a pampered pooch menu with a la carte offerings.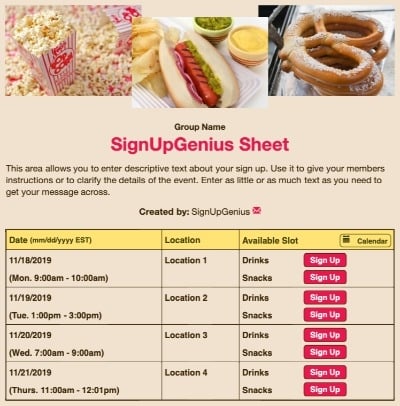 Get Creative
Change Drive - Pick two or three practice or game dates and ask team members to dig between couch cushions and empty change jars. You'll be surprised how quickly pennies, dimes, nickels and quarters appear!
Coffee or Wine Tasting - Get team parents together and host a tasting night. Each person brings their favorite wine or coffee selection and sets up a tasting station to share. Entry fees go to the team.
Food Truck Fun - Partner with a popular food truck and ask if they will donate a portion of total food sales to the team. This is a fun and easy idea for an end-of-season celebration and parents will love not having to cook!
Used Book Sale - Turn those stacks of books lying around the house into financial support for the team. Ask parents and kids to bring used books labeled with the sales price to the next game. Have the sale between innings or at halftime.
Balloon Raffle - Take the traditional raffle to the next level. Solicit a few fab prizes, then put raffle tickets inside balloons. Charge $1 per balloon then let the popping, winning and fundraising begin.
---
Organize registration for a 5K race fundraiser with a sign up. View an Example
---
Seasonal Opportunities
Spring Sports Sale - If your family is all about sports, you probably have a garage full of equipment you are no longer using. Pull the team together and host a sports-themed garage sale. Be sure to advertise the sale with posters around the neighborhood and on social media. Sell lemonade and treats during the sale!
Summer Water Balloon Fight - Nothing beats the heat like a water balloon fight. Set the date and remind kids (and parents) to dress in swimsuits or clothes that they don't mind getting wet and then let the games begin. Sell water balloons for 25 cents each or five for a dollar. Get ready to get soaked and watch the donations pour in.
Fall Chili Cook-Off - Calling all chiliheads! Ask parents to whip up their best chili creations, then host a cook-off to determine the ultimate winner. Those entering the contest can pay a small entry fee, and you can sell tickets to chili testers and voters. Have a prize on hand for the chili champion. This is a fun annual event as the winner tries to keep his or her title!
Halloween Haunted House - If your child plays a fall sport, lucky you! What could be better than a haunted house complete with ghosts, goblins and a mad scientist lab? Let team members get creative and put together a fun experience for neighborhood kids or younger siblings. Have a scary and fun side so everyone can enjoy the fun. Charge admission to go through the haunted house experience and be sure to sell apple cider, hot chocolate and candy goody bags.
Holiday Gift Wrapping - The holidays are a perfect time to raise money for the team. Have a host family set up wrapping stations in their home and invite players, friends and family to come by and have their gifts wrapped for a donation. Sell hot chocolate and cookies for extra money as people wait. You can also set up a gift-wrapping station at a game and make it a one-stop-shop.
Building a successful team takes the support of volunteers, family and friends as well as financial backing so players can continue to have a safe and fun place to hone their skills on and off the field. So, raise money for the home team and have fun doing it. That's a win-win for everyone!
Courtney McLaughlin is a freelance writer and a swim mom in Charlotte, N.C. She gratefully shares her life, home and heart with her daughter and their dog.