50 Concession Stand Snack Ideas to Raise More Money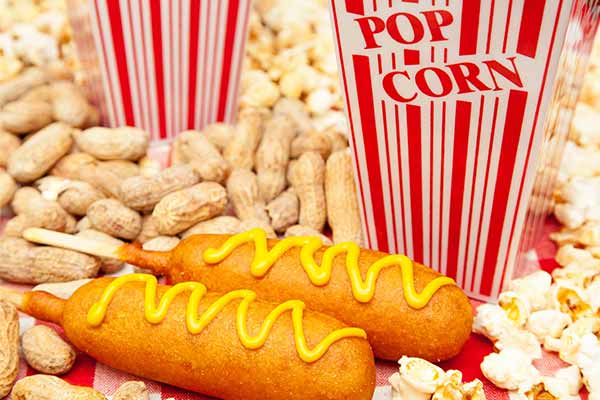 Concession stand food is the primary fuel for armies of fans showing their team spirit at sporting events. By including some out-of-the-box items and renewing the classics, people will keep coming back for more. 
Creative Specialties
These original masterpieces are sure to pique fan curiosity and persuade them to buy a snack. 
Walking Taco - No bowl necessary for this taco. Start off with a small bag of corn chips, cut off the top, and add toppings like beef, lettuce, cheese and sour cream to your heart's content. Once you stick a fork in it, the taco is good to go!
French Toast Sticks - Why not add breakfast to your inventory? French toast sticks are easy to eat and delicious when you add a side of syrup.
7 Layer Dip - Fill cups by layering beans, guacamole, sour cream, salsa, shredded cheese, tomatoes and jalapeños for an individually sized dip that is delicious with tortilla chips.
Apple Nachos - Drizzle the customer's choice of caramel sauce, chocolate syrup or marshmallow sauce over sliced apples. You could also put all the toppings on the apples for a plate of gooey goodness. Make sure to hand out napkins!
Pizza Logs - Imagine all the flavors of pizza bundled up in a smaller, log-shaped roll. It's sort of like a mozzarella stick, but so much better.
Fully Loaded Baked Potato - This bacon-and-cheese-stuffed potato is sure to make mouths water and have people headed toward the concession stand.
Fish Tacos - Switch up the everyday options by adding a fish taco into the mix. You never know if you might have some seafood fans out there in the crowd!
Pigs in a Blanket - Bite-sized hot dogs wrapped in pastry or crescent roll dough are bound to be a hit.
Funnel Cake Fries - Make funnel cakes, but in fry form. This state fair staple will be welcomed with open arms into the concession stand community.
Grilled Cheese Roll-ups - Sometimes a little twist on a classic can go a long way. Fans will love this spin on a regular grilled cheese — plus they're easy to hold in the stands.
---
Manage concession and spirit wear sales with SignUpGenius. SAMPLE
---
Healthy Snacks
Sneak these nutritious items on the menu to keep your fans energized and avoid a sugar crash. 
Clementines - They're easy to peel and perfect for kids who need a quick snack break from the excitement of the game.
Pita Chips and Hummus - A healthy alternative to tortilla chips that will keep parents happy when looking for something to satisfy their hunger.
Portable Salad - Keep this wholesome option simple by placing lettuce, carrots, tomatoes and croutons in a small to-go container. Add a cup of dressing on the top for the finishing touch!
Yogurt Parfaits - Alternate fruit, yogurt and granola in a cup until it reaches the top to create a yummy snack that will keep stomachs occupied as fans cheer during the game.
Watermelon Sticks - Incorporate watermelon as part of your inventory and make it fun and easy to eat by cutting into sticks.
Fruit Cups - Fruit cups are an easy decision when it comes to game time. Nutritious and delicious, parents will have no problem making the right call with this on the menu.
Trail Mix - This go-to snack can include nuts, pretzels, seeds and dried fruit to satisfy many cravings. Genius Tip: Make sure to label this as containing nuts!
Veggie Cups - Assorted vegetables can be the perfect food to munch on during a game. Add a side of hummus or ranch depending on what the fans want.
Granola Bars - Encourage healthy eating by including a substitute for candy bars. You can even throw ingredients like dried fruits, shredded coconut and chocolate chips into the mix!
Fruit Popsicles - Make eating fruit fun by adding flavored water and freezing it to create a popsicle.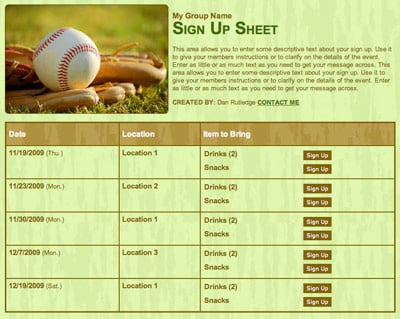 Go-to Classics
Always be sure to include popular concession food on your menu. Fans can go for a good, old-fashioned hot dog to enjoy the game! 
Hot Dogs - This is the ultimate classic when it comes to concession food. People will love the option to top their frankfurter with various condiments.
Grilled Cheese - For the fans who don't eat meat, melted cheese between two slices of bread is an easy alternative.
Corn Dogs - Deep fried cornmeal batter surrounding a hot dog on a stick. What could be better? For an alternative, make mini corn dog bites!
Pizza - Fans can choose from either pepperoni or cheese pizza to satisfy their midgame munchies. Genius Tip: Partner with a local pizzeria to make this an easy staple.
Soft Pretzels - Twisting dough in the shape of a knot and topping it off with butter and salt creates a mouthwatering classic that spectators will love. Include some cheese sauce on the side.
Nachos - Tortilla chips served with a side of melted cheese will never get old. Include chopped jalapeños and other toppings on the side of your concession booth.
Hamburgers - A grilled ground beef patty served with assorted condiments so fans can make it their own personal masterpiece. Don't forget to offer cheese as well!
Classic Candy - Whether it's Milky Way, Twix, Reese's or Sour Patch Kids, make sure to have lots of options to satisfy all types of cravings.
Popcorn - Pop some corn kernels and add butter and salt to create an easy game day snack. If you have a popcorn machine, kids will love watching the kernels pop!
Chips - Include barbeque, salt and vinegar, sea salt and sour cream to provide the perfect side item for any larger menu items or as a simple snack.
---
Schedule concession stand volunteers with a sign up! SAMPLE
---
Sweet Treats
Don't let anybody's sweet tooth cravings get the best of them! 
Dirt Cups - Dirt? Yuck! Don't worry, you won't be selling any of that. Dirt cups may sound gross, but they are filled with delicious chocolate pudding, crushed chocolate cookies and gummy worms.
Candy Apples - Almost a healthy snack, but then you add caramel topping — which makes it so much better. Add chocolate for even more sweet flavor.
Apple Doughnuts - A slightly lighter alternative to the traditional fried dough treat — especially perfect if your sport competes in the fall! Top with powdered sugar.
Cookie Pops - Roll balls of cookie dough together and dip them in icing and sprinkles to create a fun snack. Match your team colors for extra team spirit!
Fried Pies - What's better than warm pie after Sunday supper? Handheld pies that are fried to perfection and ready for easy consumption during the big game. Some favorite varieties: apple, peach and cherry.
Cotton Candy - Kids will go crazy for this fluffy pile of sugar. It's especially easy to share with friends, so it can be enjoyed by everybody!
Snow Cones - Crushed ice and fruit flavoring sounds almost too simple, but fans will love this cool treat as they watch two teams go head to head. Provide two to five flavors max for simplicity.
Milkshakes - The only thing better than ice cream is when it is blended with milk and other sweets to create a cold drink. Plus, it's not as messy as its cousin.
Elephant Ears - This fried dough treat is deceptively easy to make — it's basically a flat doughnut. Top yours with sugar and cinnamon. The crowd goes wild!   
Fried Oreos - It's OK to have an occasional cheat day, right? Or maybe one whenever there is a game? Either way, these Oreos soaked in batter will tempt even the healthiest of fans.
---
Organize concession snacks with an online sign up! SAMPLE
---
Fresh Beverages
Hot or cold, fans always enjoy refreshments to satisfy their thirst.  
Juice Boxes - An easy, practical alternative to soda that kids will love. Make yours extra special by decorating the boxes with the home team's colors.
Bottled Water - A necessity, to say the least. All the cheering can make fans quite thirsty! Make custom labels for yours if you want to go the extra mile.
Lemonade - Sweet or sour, pink or yellow, lemonade is a classic refreshment that everyone can enjoy. Chop up some mint to throw in the cup for an extra garnish. You can also try flavors like blackberry lemonade or peach lemonade.
Sports Drinks - Cheering during sports games can be tiring, too! Fans can grab a sports drink to keep themselves hydrated.
Soda - For the parents who need a little caffeine or to quench their thirst on a hot day, make sure to have multiple types to please all taste buds. Genius Tip: Sell koozies at your concession stand so parents can keep drinks cold all season long.
Coffee - Coffee can be a lifesaver for those early morning game times. Don't forget the cream and sugar!
Slushies - The perfect partially-frozen drink for a hot summer day. Be sure to warn people about brain freeze!
Hot Apple Cider - This seasonal item is great to warm people up during a chilly game. It pairs perfectly with the apple doughnuts.
Smoothie - Blend together a variety of fruits to create a chilled drink that will taste delicious. Give your varieties fun names that match your team, such as the "Green Giant" or "Sweet Kicker."
Cold Tea - Whether it is iced or sweet, this southern hit will help people cool off on a hot day. Try an Arnold Palmer (half tea, half lemonade) for even more variety.
These delectable concession snacks are bound to have you raising money in no time. Fire up the fryer and get started!
Celine Ives is a college student who enjoys playing field hockey, cuddling with her dog and cheering on her Carolina Tar Heels.