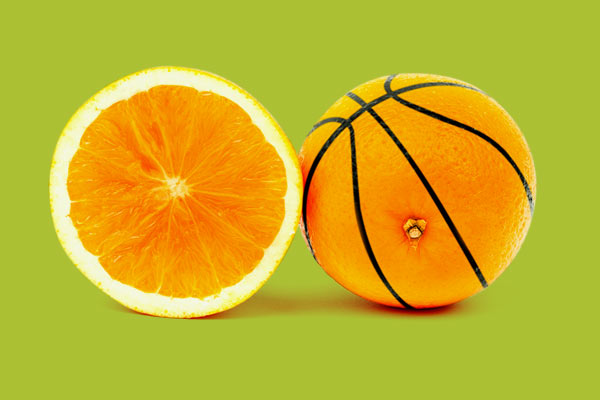 It's easy to get caught up in the hustle and bustle of basketball season and forget that nutrition plays a vital role in a winning on-the-court performance. With these ideas, you can grab tasty snacks that give muscles energy to function at their best. 
Fruity Delights
You can't go wrong with some classic fruit options when it comes to halftime snacks! 
Applesauce Squeezers - Pouches are full of fiber and vitamins, and mostly mess-free! If you're creative, purchase reusable pouches and decorate them in team colors.
Peanut Butter Banana - This "apeeling" snack can help prevent cramping so everybody can play the game they love without stopping. If the team has peanut allergies, try an almond or sunflower butter variety.
Fig Bar - Figs have plenty of potassium and magnesium to help form strong bones, so stock up for basketball season!
Dried Fruit - Substitute high-calorie snacks with dried fruits such as raisins, apricots and mangos for sources of proteins, vitamins and minerals.
Orange Slices - Turn smiles orange with this classic halftime snack. Other than providing giggles, oranges can lower the risk for fatigue and dehydration after an intense game.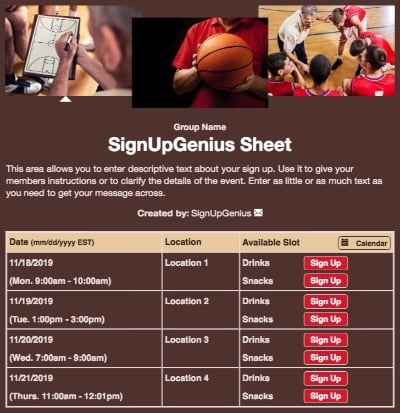 Frozen Grapes - Add a twist on traditional grapes by putting them in the freezer before snack time. They never freeze all the way and thaw quickly, making them easy to eat — but watch out for a brain freeze!
Apple Slices - Put this healthy option in to-go bags for an after-game snack that provides important vitamins and antioxidants.
Fruit Leathers - Throw in an easier alternative to fresh fruit with this compressed version. Bought at stores or made at home, dried fruit is pressed into a jerky form that lasts longer and tastes just as good.
Watermelon - You'll feel like a "melon" bucks on and off the court when you fuel up with watermelon, which is known to help athletes recuperate faster.
Avocado - Fill up with healthy fats to help maintain electrolyte balance. You can pair corn chips with guacamole or spread avocado on whole-wheat toast.
---
Organize team meals with a sign up! SAMPLE
---
The Night Before
Supply your body with fuel for success the night before a big game. 
Turkey Wrap - This quick meal full of protein and vitamins will have your body ready to go for game day. Add spinach, tomatoes and veggies to include electrolyte-suppliers.
Fish - Salmon, mackerel and trout are fantastic sources of lean protein to help build muscle and keep athletes playing their best at practices and games.
Chicken Sandwich - Create your masterpiece by using grilled chicken and whole-wheat bread. Add your choice of lettuce, tomatoes, reduced-fat mayo or green pepper slices.
Baked Potatoes - Incorporate a baked potato into your snack schedule for a potassium-rich meal. Consider adding low-fat cheese or sour cream for a touch of protein.
Tuna - Pair this water-packed snack with crackers and fruit to get your fill of protein and power your moves on the court!
Pasta - Cook whole-grain pasta and add red sauce and grilled chicken for a traditional carb-loading meal.
Peanut Butter Bagel - Add peanut butter to a whole-wheat bagel to include carbs that prevent fatigue during practices and games.
Raw Vegetables - Some of them may be green, but fresh vegetables help provide the nutrients your body needs to perform well on the court. Pair veggies like carrots and broccoli with low-fat ranch or hummus to add a little flavor.
Edamame - These soybeans are easily prepared, rich in protein and vitamins, low in fat and perfect for keeping energy levels high during practices or games.
Burrito Bowl - Bring the creation of delicious burrito bowls home and make a protein-stacked meal with chicken, rice and beans to prepare your body for basketball.
---
Recruiting parent volunteers has never been so easy! SAMPLE
---
Pre-Game Power Snacks
Looking to get a bit of energy before the game? Try these protein-packed snacks to give you a boost.  
Eggs - Stocked with all nine amino acids, eggs are considered the gold standard for protein quality. Scramble up an egg for a pre-game meal to give your muscles the energy needed to perform the best at a practice or a game.
Trail Mix - Whether it is store-bought or homemade, the healthiest options for trail mix include nuts, granola, pretzels and dried fruit. Don't worry; you can still add in some relatively healthy sweets with dark chocolate chips or cocoa nibs!
Sports Nutrition Bar - Look for bars high in fiber and low in sugar when purchasing these snacks to ensure they are a healthy choice.
Energy Chews - These gummy bear-like products will be an instant hit off the court. While they might look like candy, energy chews help convert carbs into energy for muscles.
Cheese Tortilla - Sprinkle shredded cheese on a whole-wheat tortilla and microwave it for a healthy snack that won't leave people feeling heavy and full before their game.
Nut Butter - Choose from almond, cashew and peanut butter and add things like bananas, bagels, rice cakes and crackers to create a light meal.
Oatmeal - This meal offers essential protein, carbohydrates and healthy fats that fuel people for practices and games. You can also add coconut oil and peanut butter for even more nutrients.
Beef Jerky - Eat jerky to provide protein and sodium and prevent dreaded cramping during a game.
Cereal - Look for whole-grain or unfrosted cereal that you can package alone or with nuts and raisins in a Ziploc bag to take on the go.
Granola Bars - You can always find a healthy staple for your snack pack with nature's candy bar. Nuts, whole grains and dried fruits are powerful ingredients, but make sure to check the labels before purchasing to make sure sugar levels are not high.
---
Schedule concessions volunteers easily with SignUpGenius. SAMPLE
---
Recovery Treats
Win or lose, everybody needs a pick-me-up after a hard-fought game. 
Popcorn - Take the smaller-sized microwave versions of popcorn on the run after practice or a game. Instead of adding butter, consider adding chili powder or garlic powder as healthier alternatives for flavor!
Pretzels - Pack this snack for games and practices for a perfect bite that restocks carbohydrates and sodium.
Goldfish - Never forget this whole-grain treat that kids love. After all, it's the snack that smiles back!
Hummus - Pair this delicious spread with carrots or whole-grain pita chips for a quick and easy snack that will replenish nutrients after playing hard.
Pirate's Booty - Don't worry, it's not what it sounds like! These baked rice and corn puffs contain low amounts of salt, so they are a perfect alternative to chips.
String Cheese - Fuel your body for recovery and keep your bones healthy with this calcium and protein-packed snack.
Peanut Butter and Honey Sandwich - Put some peanut butter on whole-grain bread and add a little honey to get the perfect combination of healthy fat and protein.
Greek Yogurt - Substitute your regular yogurt with this rich source of vitamin B-12 for double the protein, and add in some low-fat granola for a crunch.
Fruit Popsicles - Freeze fruit such as strawberries, blackberries and blueberries with water in a popsicle mold for a healthy option that also cools kids off after a heated basketball session.
Turkey and Cheese Wraps - Take slices of turkey and cheese and wrap them up to create a high-protein, on-the-go snack that will help replenish the athlete's muscles and build them up even stronger for the next time they take the court.
---
Organize and collect funds for a coach's gift online easily. SAMPLE
---
Revitalizing Refreshments
Don't forget about one of the most critical aspects of preparing your body for activity. Prevent fatigue and dehydration with these healthy refueling options! 
Water - While this isn't the fanciest option, drinking water is one of the best ways to stay hydrated the healthy way when participating in athletics.
Sports Drinks - These are excellent sources of electrolytes that are easy to digest and provide energy quickly. Make sure to check the labels before you buy the drink to make sure there isn't too much sugar.
Milk - Try to include a low-fat version of milk to replace nutrients, maintain strong bones and enable proper muscle functioning.
Coconut Water - Control muscle contractions with the potassium provided by coconut water to keep kids hydrated during long days at the gym!
Chocolate Milk - Kids will love this low-cost alternative to expensive recovery drinks that help limit muscle damage.
Fresh Fruit Smoothie - Help your body by filling it with yogurt and berries blended to provide quality protein, simple sugars, antioxidants and vitamins.
Juice Boxes - Basketball can be a tough sport, and players sweat out a lot of fluids when they compete. Fruit juice (the 100% juice variety) will replenish those electrolytes while restocking glucose after a game.
Protein Shake - Mix water and the protein of your choice to increase energy supply and aid muscle growth.
V8 - Take advantage of this easy way to get your daily vegetable nutrition in a delicious drinkable version.
Cherry Juice - Playing sports can be very tiring on a person's body. Drink cherry juice for a faster recovery and to fight inflammation, so you feel great after a hard practice or game.
Always be sure to check the labels on products to make sure there are no unnecessary sugars. With these genius ideas, your muscles will be ready for action. Who knows, you may hit the game-winning shot! 
Celine Ives is a college student who enjoys playing field hockey, cuddling with her dog and cheering on her Carolina Tar Heels.