Valentine's Day Class Party Ideas and Tips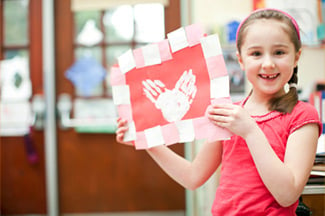 Plan a Valentine's Day party for your child's class with fun activities, festive foods and fabulous organizing tips. Here are some quick and easy ways to help party planners provide a super sweetheart celebration. 
Planning Preparations
Endear your group through a simple affair filled with plenty of treats and fun.
Team Up - Reach out to your teacher a few weeks before the party to ensure your ideas complement any activities she has planned for the class. Ask if kids will be making Valentine's mailboxes ahead of time and if there are any allergies to be aware of when planning snacks.
Simplify the Party Plan - Develop a simple schedule for the party by designating blocks of time for eating, exchanging Valentine's cards and participating in a couple of activities. Or create stations for each activity and divide the class into small groups. Groups spend a certain amount of time at each station then move on to the next.
Court Volunteers - Woo a few volunteers to assist with the planning and give yourself the gift of sanity. Create an online sign up with slots for decorations, food, drinks and volunteers to help out on the day of the party (like this example).
Colors of Love - It's all about the red, white and pink! Decorations can be as simple as red tablecloths, pink plates and white napkins from a dollar store. Toss some heart confetti in a few key locations and display a bouquet of balloons on the food table, and you're set.
Party Favors - If there's a budget for party favors — think fun without the sugar (kids will get plenty). Items like heart-shaped stress balls, stickers or temporary tattoos are always a hit. Or print out some Valentine's word search or easy crossword puzzles and pair with a Valentine's pencil and eraser.
---
Plan any class party with online sign ups.
---
Awesome Activities
Sweep partygoers off their feet with these fun-filled ideas.
Guess How Many - Count out a few bags of festive candies like Valentine's M&Ms and place in a clear container. Kick off the party by asking every student to write down their guess of how many pieces of candy are in the jar. Closest guess gets a prize!
You've Got Mail - Whether your crew uses shoeboxes, manila envelopes or empty tissue boxes to create "mailboxes" for Valentine's cards, you need just a few supplies to transform them into masterpieces. Bring the essentials: stickers, pipe cleaners, construction paper, streamers, markers — and add a fun twist with items like superhero stickers, stamps or googly stick-on eyes.
Valentine Swap - If the class will exchange Valentine's cards during the party, play some tunes to set a festive mood as kids make their way from desk to desk. A few song ideas: "All You Need is Love" by the Beatles, "I Just Called to Say I Love You" by Stevie Wonder, and "ABC" by the Jackson 5.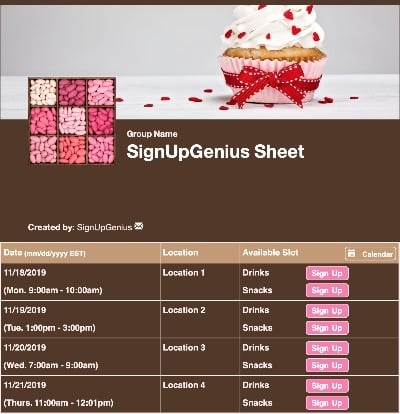 Get Hearts Pumping - Encourage healthy hearts with a bit of exercise! Organize relay races in the gym or outside as part of the class celebration. Teams can run a relay race by transferring a bowl of candies to another bowl on the other side of the gym one cup at a time. Offer prizes like red pencils or heart-shaped homework passes to the winning teams. Genius Tip: Check out these gym class games for inspiration.
Share the Love - Share the love with others by putting together care packages for troops serving overseas, shelter pets, children in need or another group in need of love and compassion. Make a list of needed items and create an online donation sign up to go along with your party planning invitation.
Photobooth Fun - Bring some kid-friendly photo props like a mini-chalkboard, funny sunglasses and Valentine's décor from your local dollar or party store. Write a short and sweet phrase on the chalkboard sign such as "We love (teacher's name/school name)" or a fun hashtag. Designate a parent volunteer to take photos, and create an online album to share with other parents if you have time.
Teacher Valentine - Help the class show their teacher some love! Bring in a poster board for the kids to decorate with stickers, stamps and markers. Designate an area for the kids to sign their names and present the card to the teacher at the end of the party.
---
Create an online sign up to collect money for class crafts or care packages!
---
Superb Snacks
Make your crowd swoon with a sweet menu of treats and healthy bites.
"Make Your Own" Treat - Ask parents to sign up online to send in the yummy supplies for kids to decorate heart-shaped sugar cookies or make ice cream sundaes. Besides saving yourself prep time, this also counts as one of the party activities. What's not to love?
Heart-Shaped Snacks - Use a heart-shaped cookie cutter to add some love to cheese or apples slices. You can also make hearts out of cookies, of course! More snack options to add a splash of Valentine's color include watermelon, red peppers, raspberries and strawberries.
A Healthy Twist - Balance sweets with healthier options, such as mini bagels with strawberry cream cheese. Add a berry yogurt as a dip to liven up pretzels and keep the menu simple.
The sweetest part of a Valentine's party is bringing kids together to celebrate friendship and class spirit! With a little planning, grown-ups can share in the festivities with a full heart.
Contributors: Helena LaGarde, Ashley Kaufman