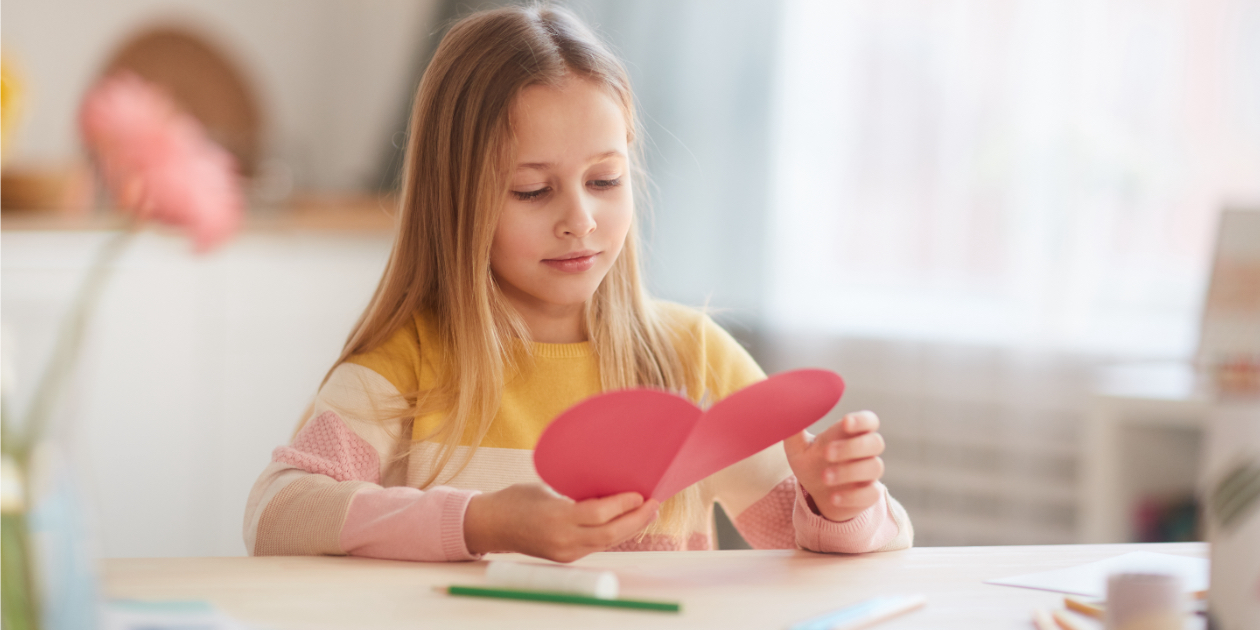 There's still something special that only homemade items can express. This Valentine's Day look for new ways to express your care and appreciation by making gifts for others. Try some of these ideas and send your favorite people a sweet surprise.  
Craft Your Heart Out
A simple heart shape can be created out of almost any material and says love in any size and color you desire for your card. 
Sweethearts - Use candy to create and paste heart shapes on your cards and packages. Conversation and cinnamon hearts work well for these.
Blended Hearts - Using markers or colored pencils, create areas of bright, blended colors across a page of white or colored cardstock. Then cut hearts from the best parts of the paper to attach to handmade cards and to use as gift tags.
Magazine Hearts - Find your favorite colors and interesting patterns from pages of old magazines and start cutting all sorts of shapes and sizes.
Mosaic Hearts - Your local craft store has colorful stones and glass pieces made specifically for creating a mosaic. Want a full nature experience? Paint hearts on stones you find while adventuring outside.
Tissue Paper Hearts - You probably have leftover tissue paper in different colors and patterns stashed away. Cut out a variety of shapes and sizes to embellish cards and notes. These are great for paper mosaic cards as well.
Stringing Them Along Hearts - Use string, ribbon, or yarn to create hearts as well as cupid and arrow designs.
Bubble Wrap Hearts - Cut whimsical hearts from the squishy packing material to paste on cards or artwork.
Torn Hearts - Try a variety of papers and colors and start tearing for very natural and interesting heart shapes.
Heart Stamps - They're always available at the craft store, along with ink pads in favorite Valentine's colors.
Heart Art - Use watercolors to paint beautiful hearts on paper or card stock. Then get creative with materials like glitter, stickers, puff paint or markers. Gift your masterpiece to a special someone!
Organize a Valentine's Day raffle with an online sign up. View an Example
Find Your Heart a Home
After making beautiful, handcrafted hearts, discover all the creative ways you can use them. 
Sprinkle with Care - Create a special pathway of hearts that leads to additional Valentine's Day surprises.
String Them - String your hearts on long pieces of yarn or ribbon to make heart necklaces and bracelets.
Décor Galore - Use your hearts to decorate gifts, baskets of treats or other surprises for your Valentines.
Fill to the Top with Love - Fill all sorts of containers with your thoughtful hearts such as jars, vases, or candy dishes. Tie your containers with ribbons and don't forget a love message.
Make Googly Eyes for Each Other - Invent all sorts of fun characters using hearts and googly eyes from "love bugs" to "heart monsters" and more.
Frame Them - Use hearts to design the outside of a picture frame for a special Valentine's Day photo opportunity.
Compose Love Messages - Write sweet notes on your hearts and leave them in all sorts of surprising places. Consider granting special privileges with different hearts such as a back massage or doing the dishes.
Cute as a Button - Place buttons in the middle of your hearts, sew the hearts to a piece of cloth to be framed for a special Valentine's Day memory.
Hang in There - Create banners proclaiming your true love by stringing or pasting your crafted hearts.
Leaf it to Love - Make a heart tree using branches from the back yard and a pot or vase you also decorate. Attach your hearts as leaves.
Request volunteers to make Valentine's cards for seniors with an online sign up. View an Example
Make Life Sweeter for Your Valentine
Valentine's Day is just not the same without a little extra sugar for your sugar. 
Start the Day with Heart Pancakes - Be sure to include some protein like bacon or turkey sausage on the side to help with Valentine's Day sugar overloads.
Chocolate Covered Anything - Ok, almost anything. Think strawberries, cookies, dipped pretzels with red and pink sprinkles, cherries, marshmallows, graham crackers, nuts, red gummy bears, brownie bites and beyond.
Rice Krispies Hearts - Whip up your usual Rice Krispies treat recipe and use a heart-shaped cookie cutter. Then dip half of each heart in melted white or regular chocolate.  Complete your treat with colored sprinkles to add that extra loving touch.
Red Velvet-Themed - Try red velvet cake, cupcakes, cheesecake, brownies and more.
Conversation Hearts Galore - Creative messages that include, but also go beyond the expected "Be Mine" and "I'm Yours" can be put on many sweet treats from cookies and brownies to cupcakes and truffles.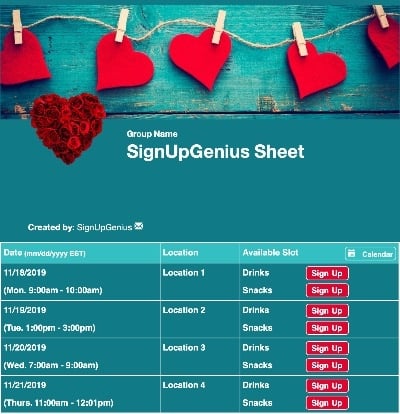 Pucker Up for Something Refreshing
Make delicious mocktails to wet the whistle. (Note: All of the following may also be splashed with adult spirits after the kids go to bed...) 
Strawberry Shortcake Delight - First run a strawberry around the glass rim then dip in crushed vanilla wafers to use as garnish. Blend ice cream, strawberries and whip cream. Complete the garnish with a sprig of mint.
Cranberry Lemon Punch - Mix sparkling water, cranberry juice cocktail and frozen pink lemonade concentrate.
Raspberry Limeade Cooler - Gently shake lemon-lime soda, crushed ice, raspberries and fresh lime.
Sparkling Strawberry Floats - Combine ginger ale, strawberry sorbet and fresh strawberries.
Berry Love Potion - Simply stir raspberry lemonade with lemon-lime soda and a splash of cherry juice. Top with a toothpick holding a maraschino cherry nestled between two gummy hearts.
Organize a school Valentine's Day fundraiser with an online sign up. View an Example
Create a Valentine's Day Bouquet
There's absolutely nothing wrong with the traditional flower bouquet, but also consider some of these alternatives. 
Cake Pops - Iced in a variety of colors, flavors and designs, these luscious treats make a beautiful and tasty bouquet and look lovely in a vase.
Handmade Paper Flowers - There are endless virtual how-to tutorials to help you get started, and these paper blooms will last so much longer.
Chocolate-Covered Strawberry Bouquet - Put these amazing berries on sticks (bbq skewers work nicely); add colorful ribbons; finish with a sweet note.
Blow Candy Kisses - Wrap candy kisses in red tissue paper to create edible rosebuds; use green floral tape to connect your flower to a wooden skewer, then tie them all up with frilly ribbons.
Gourmet Donuts - Visit your local donut shop and select a dozen Valentine-inspired treats. Don't forget to pick some with sprinkles!
America's favorite cartoonist, the late Charles M. Schultz, once aptly described our obsession with finding the perfect gift for this sweet day, "All you need is love. But a little chocolate now and then doesn't hurt." Happy Valentine's Day!
Laura Jackson is a freelance writer based in Hilton Head, S.C. with her husband and two teenagers.