30 Tips and Ideas for High School Graduation Parties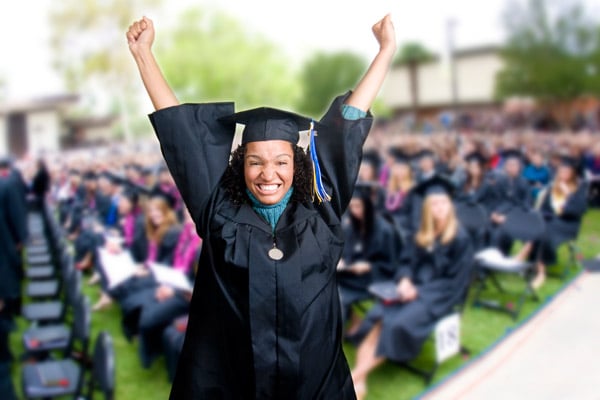 Graduating from high school is a milestone event and throwing a party is a great way to highlight your teen's big achievement. Here are helpful tips to ensure everyone has a great time celebrating.  
Phase One: The Basics 
Determine Control – Who is running the show here? From the guest list to the décor, decide who's in charge of which aspects of the celebration.
Choose Family vs. Friends – Will you have one big party or two smaller parties? A lot factors into this, such as the size of your family — and how busy your teen's schedule is attending other events.
Decide Budget – How much your willing to spend will set the tone for the rest of the party. Give your grad-to-be clear expectations of just how big this will be. A good budget-saving idea? Organize a potluck for a family party. Genius Tip: Plan your potluck dishes with an online sign up.
Brainstorm – Your teen probably has a lot of ideas, so after you've set the budget, have a good brainstorming session where you throw out a bunch of ideas. Gather them all on a digital inspiration board such as Pinterest to have a centralized planning resource.
Set the Guest List – Budget will partly determine the guest list size. Start by reviewing your holiday card list. Think of including close neighbors and coaches. Give your teen an approximate number of friends they can invite and ask them to submit a list.
Set the Date, Part 1: Graduation is a busy time of year, so ask the most important guests, such as grandparents, aunts and uncles, to check their calendar before finalizing the date.
---
Collect supplies for a graduation party with an online sign up! SAMPLE
---
Set the Date, Part 2: Try to coordinate your teen's parties with other graduates. This increases your chance for a good turnout and allows your grad to attend their friends' parties as well. If multiple parties happen on the same day, it's likely there will be a lot of party hopping.
Set the Date, Part 3: Should your party be held on the day of graduation or the weekend before or after their big day? A bit of coordinating will likely help with turnout for your grad's party.
Book the Venue – Will this be a party at your home? The neighborhood clubhouse? A park? Restaurant? Country club? There are a lot of options here, and if you want an outside venue, you'll need to plan even further ahead. Home parties are generally less expensive, but involve more work for you. Food, decorations, activities and entertainment will fall on your to-do-list. Don't forget to make a plan for the clean up, too.
Compromise With Your Teen - Go ahead and count on compromising with your teen on some of the details of the party. It's pretty unlikely you'll both get everything on your list. Meet in the middle when there are conflicting points of view to make this the fun collaboration that it's supposed to be.
 Phase Two: The Nitty-Gritty Details 
Choose A Theme - Pull the party's focus together by incorporating a theme for the event. Check out these ideas to see which one best suits your teen.
School Spirit — A simple theme using their high school colors and mascot throughout your home or party venue.
Team Spirit - Does your teen follow one sport or one team closely? If you are having a party at home, set up a playing field for their favorite sport. If they are really into it, have a mini tournament.
This is Your Life - Pick highlights from their life by posting baby through high school photographs throughout the party. Place a scrapbook out on a table. Display trophies, medals and art projects.
Peek into Your Future - You could decorate the main party room with the graduate's college major and university she will be attending. Use school colors, pennants and banners.
Send Invitations - Paper invitations add class and a personal touch to an upcoming event. They make an excellent scrapbook and keepsake item, but are not the lowest cost method. You can also go digital – and save paper waste - by sending invites out through email or Facebook. Genius Tip: Send invites and collect RSVPs easily for your graduation party using SignUpGenius.
Send Graduation Announcements – Far-flung relatives might not be able to attend, but that doesn't mean you can't still let them share in the special moment. Online photo sites have easy-to-make announcements that will let everyone know about your grad's accomplishments.
Decorations - Once you have decided on the theme, you can have fun with the decorations. Consider the following possibilities:
A balloon arch made in school colors would be cool at the entrance to the party.
Custom banners, yard signs or a life-sized standup made from a photo of the graduate are all fun to put on display.
Stencil a school logo on the front lawn with grass paint.
Line the driveway and walkway with tiki torches or school pennants.
Make a Video, part 1 – Stitch together old photos set to music into a video. You can also intermix with adorable videos of your graduate when they were younger. Set it up to play on a continuous loop, so everyone will have a chance to view during the party.
Make a Video, part 2 — Do an interview-style video with some close friends and family beforehand talking about your child and surprise the graduate at the party. This will be a great keepsake!
Plan a Photo Booth - A fun way to capture some memories is setting up a photo booth with props. Search online for props for graduates like graduation caps and diplomas. Throw in school pennants, balloons in school colors, and pom-poms representing the graduate's high school.
Plan the Food Menu – The most important thing to remember when choosing food is to get what will appeal to the greatest amount of people. If you are having a big party, finger foods will work best for your guests or you can try a standard buffet with two or three kinds of meat, a garden salad, a couple of sides and fruit. Picnic-style hamburgers and hot dogs are a popular way to please a crowd while being budget-friendly. If you have a larger budget, consider having your party catered along with on-site staff to refill dishes and allow you to enjoy the party.
Order the Cake – Once you know how many guests are attending, you'll be able to plan the appropriate size/amount of dessert. You could go traditional and order a big sheet cake with their senior picture plastered on it or opt for cupcakes (arrange them to look like the class year your child is graduating from). You could also try a fun food machine such as cotton candy or soft-serve ice cream.
Pick the Drinks - Quench guests' thirst by providing a range of drinks. To help keep everyone hydrated, have plenty of bottled water on hand. For an extra fun surprise, buy personalized water bottle labels with your graduate's photo or a congratulatory message to add onto store-bought bottles.
---
Plan a group graduation gift with an online sign up! SAMPLE
---
Phase 3: The Day of and Beyond 
Set up Beforehand – This might seem self-evident, but the more you have done the night before the party, the better. This is especially true if your party is the same day as the graduation ceremony. Chop up vegetables, hang decorations and set up tables, among other tasks. Put sticky notes where serving dishes will go — one less thing to think about.
Talk with Your Teen – Be intentional to set aside time to take a few minutes with your graduate before everyone arrives. Give them a special gift you've planned and just soak in the moment.
Make a Photo Plan - Designate someone with your camera to get photographs of the event because, as the host, you will be too busy. You and your graduate will appreciate having photos later! Make sure your photographer takes photos of your graduate with guests, grandparents, aunts, uncles and special friends. If your budget allows, hire a professional.
Designate a Card Drop-off – Guests will likely come bearing cards or gifts, so make sure to set up a spot (close to the entrance) where you'll collect these. Set out envelopes or an address book and ask guests to write their addresses down. This saves you a step when it's time for thank-you notes!
Write Words of Wisdom – Set up a wisdom jar and slips of paper where friends and family can write words of encouragement and pieces of advice to the graduate.
---
Plan a graduation potluck with an online sign up!  SAMPLE
---
Sign it – Leave out a picture of your teen and have guests sign the matting around it for an updated take on the guest book. Another variation is to take Polaroid pictures and have each guest to sign the bottom of their photo. Afterward, pop them in a keepsake album.
Stock Refills – Set a timer on your phone to periodically check the status of food and drink at the party. Make sure you're not running low on essentials like water. You could also ask a friend to take over this duty so you can enjoy the party.
 Hand out Party Favors - Some hosts like to put out some fun treats for guests to enjoy at the party or take home. Personalized M&Ms or jellybeans in school colors are the popular take-away gift. Customized mint tins, metal water bottles and chocolate bars are all a great party favor.
Thank You Cards - Encourage your teen to be thankful to those who attend their party by sending everyone a nice thank you note. For those longtime friends and family members, it's a great time to express appreciation for their enduring love and support over the years. A good time to purchase thank you cards is when you order the invitations, so you don't forget. Your teen should also be timely in sending out notes.
Plan Spending with your Child – Remember all those gifts and checks? Guide their spending by determining if money will go toward college/dorm supplies, tuition (if any large amounts were received) or savings.
You've made it! It's hard to believe how quickly those 18 years fly by. Take the time to reflect on everything your child has accomplished and to spend quality time together before they step out on their next journey.  
Sara Kendall is a freelance writer and mom of two daughters.