50 Christmas Gift Ideas for Teachers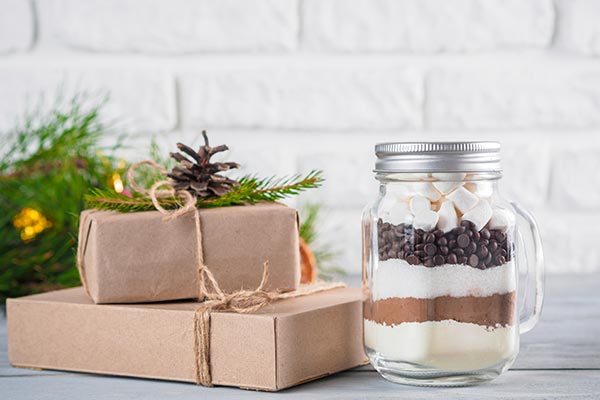 As you're making your list and checking it twice, be sure to include one of the most important people in your child's life — their teacher! Showing how much you appreciate the time, effort and guidance your child's teacher provides doesn't have to be costly or difficult. Below are 50 teacher gift suggestions sure to take you to the head of the class. 
Homemade Gifts/Easy DIY 
Favorite Things Mason Jar - A mason jar will bring lots of smiles when filled with candy, dry soup ingredients, coffee or candles.
Flowerpot - A beautifully decorated flowerpot for the classroom is a fun and easy gift. Purchase a flowerpot or a set of two or three and cover them with chalkboard paint. After the paint dries, you or your child can use colored chalk to create a masterpiece.
Jams and Jellies - Whipping up a batch of homemade jams or jellies is easier than you think. Find a simple recipe using flavors of the season then get cooking with your little chef. Make a big batch of canned deliciousness and have readymade gifts all season.
Bookmarks - Short on time and need a quick gift idea? Make a bookmark to help the teacher stay organized. Purchase felt pieces from a craft store, grab the glue gun and scissors, and create a keepsake he or she will love. Punch a hole at the top and use yard or ribbon for the tassel.
Wind Chimes - With heavy-duty string and a paint stirrer stick, you can put together a beautiful set of wind chimes in no time flat. Paint the stick, add some glitter and hang keys, old CDs, beads or seashells to make the music.
Sweet Treats - You'll make teacher's sweet tooth happy when you treat him or her to homemade cookies, brownies or a cake. Don't forget to pile on the frosting and decorations. Remember to include a list of the ingredients for those with food allergies.
Magnets - Visit your favorite craft supply store and purchase a pack of magnets. With the help of a glue gun, you can turn almost anything into super cute magnets for the classroom or home.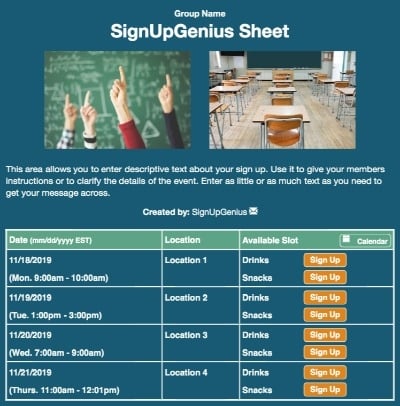 Personalized Clipboard - Keep teacher organized and looking cool with a personalized clipboard. Paint or decorate a plain or clear clipboard using school colors or draw the school mascot.
Newspaper - Extra, extra! Read all about it! Let your teacher know they are the top story by creating an online newspaper all about them. Ask your little student to write a few short articles or a list of words describing his or her teacher then upload it to an online template. Add pictures to make it extra special.
Teacher Coupons - Every hardworking teacher needs a break, so make teacher coupons offering to stay after school to clean up or help another student with homework.
Teacher Tool Belt - Give your favorite educator the right tools for the job with a teacher tool belt. Purchase a belt online or at a home improvement store, decorate, then fill it with pens, markers, hall passes, tape and favorite snacks.
Notecards - Homemade notecards are always a welcome gift. Purchase plain notecards or cardstock and decorate with stamps and stickers or personalize with his or her initials. Don't forget to include envelopes.
Personalized Mug - Coffee just tastes better in a special mug! Buy a solid colored coffee mug and decorate it with dishwasher-safe paint for your favorite teacher.
---
Help plan a classroom holiday party with a sign up. View an Example
---
Group Gifts 
Meal Basket - What could be better than coming home after a long day to find a meal ready to go? Ask the group to contribute items for a dinner basket filled with quick meal starters like pasta, sauce, bread and olive oil.
School Supplies - Help teacher get a jump on the upcoming year with much-needed school supplies. Use the current supply list or ask what he or she needs to start the year off right. Post the list online to share with the group.
Calendar - Ask each parent to contribute a picture of their child or incorporate pictures taken during the school year to make a 12-month calendar. There are many online programs to make this super easy!
Fill the Vase - Make the last day before winter break extra special with a beautiful bouquet of flowers. Ask each student to bring one flower to school and place it in a vase as they walk in the door. This is quick and easy to put together with a group email message.
Cookbook - Who couldn't use a few new meal ideas to keep dinner interesting? Ask each person to donate a favorite recipe and build a beautiful cookbook he or she will treasure.
Stocking Stuffers - Tis the season to pack a stocking with everything your teacher will love. Come up with a theme like "Gone Fishing" or "Playing in the Dirt" and have each member contribute an item to create a useful and fun holiday gift.
12 Days of Christmas - Your teacher deserves more than just one day of celebration! Work with the group to plan unique ways to celebrate each of the 12 days leading up to winter break. Get creative with gifts of art, poems or songs!
Socks - For the teacher who has an excellent sock game, let every student contribute to the collection with personalized socks of every shape and color.
Ornaments - Help decorate the tree with ornaments from the group. Each person can create their own or purchase just the right one. If you have time, decorate a tree with ornaments and make it a surprise!
Laminator - The votes are in! If there is one thing every teacher dreams about, it is having a laminator in the classroom. Collect donations and purchase one online or from an arts and crafts store. If a laminator isn't quite their style, have the group go in for a big-ticket classroom item.
My Teacher Is… - Kids say the darndest things, so catch them in the act with a book of funny and touching sayings all about their teacher. Ask each parent to help their child complete the sentence, "My teacher is…" and collect the answers in a keepsake album.
---
Coordinate group gift donations with a sign up. View an Example
---
Gifts Under $25 
Sweatshirt - Keep teacher warm all winter with a comfy sweatshirt. Decorate it with student handprints and student names or find one with their favorite sports team. If your child is graduating high school and is college-bound, gift their favorite teacher some spirit wear to celebrate the transition.
Coffee Please - Coffee is always a popular (and much needed) gift. Purchase individual cups, a variety pack of coffee beans, a subscription service with specialty brews or make a custom caffeine survival kit.
Lotion - Get him or her into the pampered spirit with lotion. It's easy to find fun scents of all shapes and sizes so you can be creative and stay on budget.
Beach Towel - Sure, summer may be far away, but that doesn't mean you can't get your favorite educator ready for fun in the sun. Purchase a beach towel in stores or online and add his or her initials or find a print you know will look great on their beach chair!
Candles - Encourage some relaxing downtime with candles. Visit a make-your-own candle shop and build one yourself or head to a specialty store and sniff your way to the perfect gift.
Movie Night - For under $25 you can give teacher a much-needed night in. Pack a basket with popcorn, candy, comfortable pillow or blanket and a list of recommended movie titles from the students.
Welcome Mat - Jazz up the classroom with a seasonal welcome mat! Perfect for wiping feet and welcoming students, a holiday design will make the season bright.
Cookie Cutters - Winter break is coming, which means time to bake cookies! Wrap up a sheet pan, cookie cutters, rolling pin and recipe for sugar cookie dough and teacher will have all he or she needs to get baking.
Personalized Tote Bag - Teachers can never have too many bags! Purchase a tote from the craft store and personalize it with school colors, a favorite saying, cartoon or an artsy print.
Door Wreath - Nothing says happy holidays like a wreath for the door. Find or make one that fits their style and can be used year after year. Include a wreath hanger so it can go on display right away.
Cozy Blanket - The holiday season was made for warm blankets! Your teacher will love curling up with a cup of tea, a good book and your special gift.
Digital Photo Frame - Perfect for the person who has tons of awesome pictures, a digital photo frame is affordable and teacher can load them with lots of special memories.
Stamp Set - Your teacher has the best students, so make positive reinforcement easy on teacher and beautiful with personalized stamps and ink pad. Students will feel great when they see "Way to Go!", "You are Doing Great!" and other cool designs stamped on their papers.
Laptop Cover - Give teacher a fashion-forward laptop cover and send them to the top of the class. Personalize it with their monogram or choose something that fits their personal style.
Magazine Subscription - With hundreds of magazine titles available, there is sure to be one that fits your teacher perfectly! This is a practical and affordable gift he or she can enjoy all year.
---
Collect orders for a poinsettia fundraiser with a sign up. View an Example
---
High School and College Students 
Movie Tickets - You've heard of MNO (mom's night out), show how much you care with TNO (teacher's night out). Purchase a gift card to a local theatre with enough credit for two movie tickets and a round of snacks.
Out to Lunch - Schedule a day for your teacher to get off campus and enjoy a relaxing lunch. Work with the school to find a substitute or parent to step in for an hour or so while he or she eats in peace.
Game or Event Ticket - If you or a family member has access to an upcoming game or event, why not give it to a special teacher for an unforgettable holiday gift? This is especially cool if you can find an event that correlates with his or her favorite subject or passion. Orchestra tickets for the music teacher, poetry slam tickets for the English teacher, etc.
Gift of the Month - Go for extra credit with a gift of the month subscription. Arrange for wine, cheese, chocolate, books or one of teachers' favorite things to be delivered straight to his or her door.
Donations - Does your teacher have a cause close to his or her heart? Make a donation in their name as a single gift or collect funds and give them as a class. If you aren't sure which organization to choose, find one that relates to their subject — like science, math, STEAM education, wildlife preservation, environmental causes and more!
Plant a Tree - Give a gift both your favorite teacher and the environment will love. Purchase a tree in his or her name or plant it on school grounds with a special sign.
Donate A Book - Fill the school library with books to make your teacher smile. Donate titles of his or her choosing directly to the library or media center or give a financial donation and let them choose.
Thank You Letters - If your child was lucky enough to have an educator who made a difference in their life, encourage them to write a heartfelt letter.
Bird Feeder - Make the area outside his or her classroom window (or their backyard at home) a thing of beauty with a bird or hummingbird feeder. If a tree won't work, purchase a stand and include plenty of food to help the winged creatures get through the winter. This gift is beautiful and educational!
Personalized Planter - Spruce up teacher's desk with a personalized planter. Find a dinosaur planter for the science teacher, a basketball-shaped planter for the gym teacher or a calculator design for the business teacher.
Volunteer - Give your favorite teacher the gift of time. Volunteer for his or her favorite cause or use your special talents to help with a classroom project, mentor a student or create an innovative lesson plan.
No matter which gift you choose, as long as it comes from the heart you are sure to pass with flying colors! 
Courtney McLaughlin is a freelance writer in Charlotte, N.C. She gratefully shares her life, home and heart with her daughter and their dog.