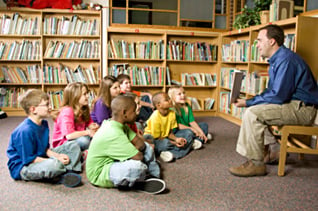 Each year many schools, classrooms and libraries participate in Read Across America celebrations on or around March 2, the birthday of beloved children's author Dr. Suess. Across the nation, teachers, teenagers, librarians, politicians, actors, athletes, parents, grandparents, and others volunteer for Read Across America activities.
Enhance your Read Across America celebration with one of these creative ideas.
1. Invite guest readers to come to your class to read to the students. You can invite policemen, firemen, local or professional athletes, politicians or radio personalities to donate their time. After they read, they can discuss why reading is important in their lives, and tell about their favorite books when they were kids.
2. Using various Dr. Seuss books, have students create a new ending, or create a book themed "Mad Lib" type story.
3. Have children share their own writing by reading aloud from their own personal creations.
4. Make crafts that celebrate reading, such as bookmarks, that include famous lines from Dr. Seuss books.
---
Coordinate dates and times for your guest readers with SignUpGenius! SAMPLE
---
5. Create a demonstration on how to
make a pop-up book
, using One Fish, Two Fish, Red Fish, Blue Fish as an example. 
6.
Ask children to weigh in
on why they think reading is important. Then ask them what they enjoy about reading.
7.
Hold a children's book drive
and have the teachers promise to do something crazy if you reach a certain goal.
8.
Organize a reading marathon
where each person commits to read a certain number of books that correspond to "miles" – 13.1 books for a half marathon or 26.2 for a full marathon.
9. Create a
Dr. Suess trivia contest
and enter the winners into a drawing for Book Fair gift certificates or other prizes.
---
Organize supply donations with an online sign up so everyone can be involved! SAMPLE
---
10. Have students, teachers or volunteers
dress up
in "Cat in the Hat" hats and costumes.
11. Contact local businesses to
solicit book donations
for an organization that could use them.
12. Establish a school-wide
door decorating contest
. Each class decorates their classroom doors based on their favorite book. 
13. Pair a primary level class with a local middle school class and spend the day together. The older students can prepare games, art activities, and
host reading sessions
for the kids.
14.
Plan a Family Fun Night
with activities designed to involve children and their parents to share the love of reading.
15. Have parent volunteers
create a buzz
about your Read Across America celebration by making posters and fliers ahead of time and announcing your events to local newspaper and television stations.
---
Form a committee and organize volunteers and tasks online. SAMPLE 
---
16.
Make festive snacks
based on your favorite Dr. Suess characters. Simple red gelatin and whip cream or yogurt can be layered into a clear plastic cup for the Cat in The Hat!
17. Ask each child to bring his or her
favorite book to share
with the group.
18. Create a
photo booth
opportunity with props from Dr. Suess books.
19. Have kids dress as their favorite character from a book.

20. Organize a book swap!
The list of Read Across America ideas are endless. If you do your research and start planning now, this year can be your biggest and best celebration ever!
By Kate White and Helena LaGarde