25 Read Across America Ideas for School
"You're off to great places! Today is your day! Your mountain is waiting.  So… get on your way!"   
Each year on Dr. Seuss' birthday — March 2 — the National Education Association, along with schools and organizations around the country, celebrate the joy and importance of reading with Read Across America. Try these creative ideas to plan an event to remember.
Design a Reading Event 
Host Guest Readers and Speakers. Invite community members such as police officers, fire fighters, doctors, business leaders and others to read different classrooms their favorite books. Afterward, celebrate with birthday cake in honor of Dr. Seuss. Genius Tip: Invite community members to volunteer with an online sign up.
Catch Students "Red Hatted." The Get Caught Reading Campaign provides great suggestions on how to reward students "caught" reading on their own. Prize ideas include raffle tickets and a lunch of green eggs and ham with the principal.
Plan a Character Parade. Have students and teachers dress up as their favorite book characters from Dr. Seuss works or other classics.
Schedule a Week of Theme Days. Have students show their best Seuss spirit with dress up themes such as Crazy Hat Day, Wear Your Grinchiest Green, Inside Out Day and Red and White Day.
Organize Buddy Readers. Pair elementary school students with middle and high school mentors for reading and craft time together.
Reward Reading Accomplishments. Plan ahead with reading logs, challenges and prize incentives for the reading celebration. Reach out to local businesses and bookstores to donate prizes for students.
Have a Read Aloud Party. Younger readers especially enjoy the magical sound of Dr. Seuss' engaging rhymes and rhythms. Reading in unison with a whole class or large group can also help boost reading fluency and motivation in the process.
Plan a Curl Up and Read Pajama Day. Coming to school in jammies with a favorite book and perhaps even a beloved stuffed animal is a great incentive to spend extra time reading.
---
 Plan your Read Across America event with an online sign up. SAMPLE
---
Organize Reading Games 
Guess the Character. Use visual and verbal cues to play a game describing book characters from Dr. Seuss and other well-known authors.
Rouse Rhyming Fun. Divide a classroom into teams and try reading the first part of any sentence in a Dr. Seuss book and see which team can complete the phrase the fastest.
Create a One Fish, Two Fish Interactive Placemat. Create an interactive mat to help younger students learn counting skills with goldfish crackers. Visit the Obseussed blog for related game ideas.
Hold a Crazy Hat Contest. Provide materials for students to create their own imaginative versions of the traditional red and white Seuss hat or another of their choice.
Name that Character Voice. Use recognizable quotes and accents from a variety of familiar books. This is especially fun for those characters with a movie counterpart.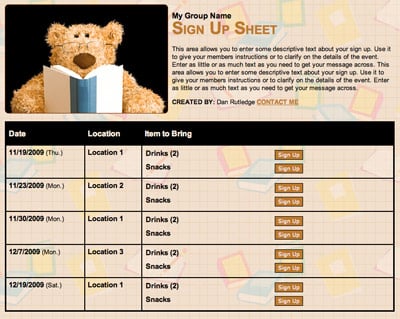 Plan Crafts and Projects
Produce a Book Trailer. Similar to a movie trailer, students can produce book trailers with video editing software to highlight interesting parts of the books.
Make Book Jackets. Include favorites from teachers and administrators to decorate a classroom or a bulletin board.
Decorate a Dedicated Reading Spot. At home or in the classroom, have children decorate a space with cozy pillows, sleeping bags or other comfort items, along with a selection of age-appropriate books. Make a special drink or treat to enjoy during reading time.
Design Dr. Seuss Bookmarks. Students can represent their favorite Dr. Seuss characters and create a handy reading tool. Be sure to provide a fun assortment of materials including googly eyes, red and blue yarn (think Thing 1 and Thing 2) and brightly colored papers. Genius Tip: Send out a wish list to request craft supply donations.
Adorn the Classroom with Favorite Dr. Seuss Quotes.  Gather as many Dr. Seuss books as possible and have students work in groups to create colorful posters with quotes and descriptions. Genius Tip: Try these 30 Seussisms to inspire you.
Make Character Masks. Provide students materials with several options for masks they can create — colorful characters from The Lorax, Fox in Socks and Green Eggs and Ham would all work well.
---
 Students can sing and dance the books of Dr. Seuss with a Seussical! SAMPLE
---
Find and Provide Community Support
Partner with a Participating Bookstore. Many bookstores honor Read Across America with story times or special author events. Seek their support for your events and donations of book prizes or coupons.
Tell the Media About Your Events. Don't miss an opportunity to share your school's news and happenings with local media. Be sure to plan ahead to meet early deadlines.
Participate in Local Literacy Programs. Check out Reach Out and Read, a nonprofit national program designed to promote school readiness, and get your school and parent organizations involved with their initiatives.
Promote a Fox in Socks drive. "New Socks. Two Socks. Whose Socks?" Get students involved to collect new socks for a local homeless shelter.
Honor the Environment.  In celebration of Read Across America, many people honor the memory of Ted Geisel (aka Dr. Seuss) by planning service projects focused on his concern for the environment, such as planting trees. 
Host a Children's Book Drive.  Provide prizes for the classes that bring in the most donated books. Genius Tip: Set up an online sign up to request donations for a book drive.
Introducing children to the joy of reading early can encourage a lifelong love of learning. As Dr. Seuss wrote, "The more that you read, the more things you will know. The more that you learn, the more places you'll go."
Laura Jackson is a freelance writer based in Hilton Head, S.C. with her husband and two teenagers.