You've agreed to plan the book fair this year? Have no fear! Using SignUpGenius to manage volunteer recruitment and schedule shifts for multiple days can help to reduce your stress level. Below is a step-by-step guide to coordinating a fun, well-organized book fair. 
Step 1: Enlist Help
Recruit a co-chair and a form a book fair committee.  
Examples of Committee Responsibilities:
Supervise set up and tear down processes.
Control inventory and contact the bookseller for reordering needs.
Manage the cashiers. Count and deposit money.
Publicize the event.
---
Create an easy online sign up with SignUpGenius to recruit your volunteers.
---
Step 2: Check the Budget
Meet with the PTA and school librarian to review the book fair budget and fundraising goal. 
Budget Tips:
Ask to see the budgets for the current year and the previous year.
Determine if funds are available for decorations and incidental expenses.
Discuss procedures for obtaining reimbursements.
Step 3: Schedule the Dates
The school's librarian, the bookseller and the PTA are your best resources for scheduling dates. 
Questions to Ask the Librarian:
How many days will the book fair run?
Will there be a preview day?
Do you have a daily schedule set by class and grade level?
Will students be allowed to shop before school hours?
Are there upcoming school events when families can shop together, such as a Family Night?
Step 4: Contact the Bookseller
Obtain the bookseller's contact information and speak your school's assigned representative.
Checklist of Items to Discuss with Bookseller:
When will books be delivered and picked up?
Do the books come in already-filled shelves or in boxes? (This will affect set up time.)
Are cash registers and credit card machines supplied? Is training included?
How is final payment calculated and when is it due?
Step 5: Choose a Theme and Plan Decorations
The librarian or bookseller can suggest themes. Booksellers often lend display items. 
Theme and Decoration Hints:
Themes may be general ("animals,") or specific ("Dr. Seuss").
Reuse previous years' decorations.
Ask the art teacher for decorating ideas.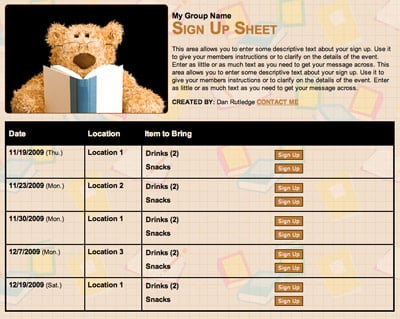 ---
Create an online sign up to request art supplies for DIY book fair decorations.
---
Step 6: Prepare for Money Management
Speak with your PTA Treasurer to determine how book fair money will be handled. 
Money Checklist:
Ask the treasurer about petty cash request procedures.
A week beforehand, request cash needed to supply change to customers.
Determine with the treasurer where deposits and cash boxes should be stored.
Step 7: Create Volunteer Schedule
Review the daily schedule with the librarian to plan the number of volunteers per day. 
Number of Volunteers Needed:
Schedule two cashiers. (Three for busy mornings, younger classes, or Family Night.)
A ratio of one "floor helper" to every ten children scheduled is a good rule of thumb.
Arrange for one traffic flow volunteer to direct students.
Set up and tear down will take a minimum of five volunteers.
Step 8: Recruit the Volunteers
SignUpGenius makes it easy to reach large groups of parents and send invitation requests. 
Invite Volunteers:
Send SignUpGenius invitations to volunteers.
Add a web button to the PTA web site to reach more parents.
Include a link to the sign up in online newsletters.
Step 9: Advertise the Event
Choose a mix of advertising strategies to reach the largest amount of potential buyers and volunteers. 
Advertising Ideas:
Ask the bookseller if they supply posters that advertise the upcoming fair.
Run a poster design contest with a small prize incentive for students.
Send out reminders via email and in your school's newsletter.
Post the book fair dates on your school's outdoor marquee. Ask volunteers to dress as book characters and greet students in the morning.
Step 10: Running the Event
You've done all the prep work and now it's show time! Stay available to direct traffic, answer volunteer questions and follow up on money management as needed. 
Helpful Tips:
Eliminate "no-shows" on your volunteer schedule with text and email reminders from SignUpGenius.
Ask volunteers to show up ten minutes prior to their shift so you can outline responsibilities.
As each group visits, it is wise to give a short overview of how the book fair shopping works.
Enforce a "no bookbags allowed" policy so little ones aren't tempted to take without buying.
Manage the traffic flow. Keep your excited little customers moving so they see all of the choices available.
Use stamps to mark books that have been paid for and allow students to exit the area promptly.
Allow for 5-10 minutes between groups so volunteers can tidy up.
Step 11: Wrap up the Event
The last day of a book fair is busy with clean up and paperwork. Here is a checklist to keep you on track. 
Last Day Check List:
Review online sign up beforehand to make sure there are enough tear down volunteers.
Have volunteers help remove decorations and save any that may be used for the next year.
Assign volunteers to count money and deposit per treasurer's prior instructions.
Fill out paperwork needed by bookseller.
Remember to send thank you emails to your volunteers!
Book fairs create an exciting atmosphere to inspire a lifelong love of reading. For more school-related tips and resources,
click here
.