Fun Ideas for School Fundraisers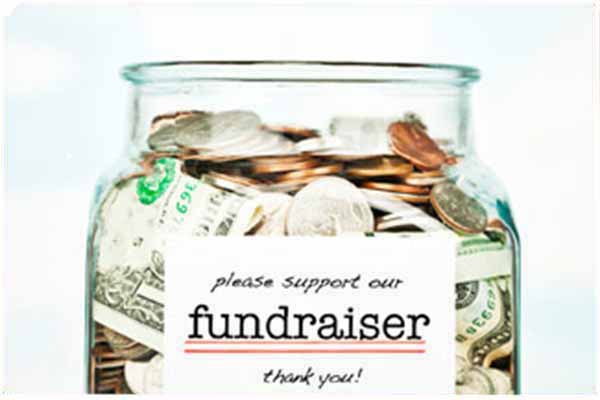 Fundraising is critical to help schools provide everything from sports equipment to special programs. Selling wrapping paper, candy bars and magazines are fundraising traditions, but these new ideas can boost your outreach efforts and put the fun back in fundraising.
Bingo Night - This event won't feel like a fundraiser! Invite the principal or a favorite teacher to serve as the emcee, and talk up the event on social media. Sell bingo cards, snacks and drinks, and raise the game even more with a raffle (think prize donations like restaurant gift cards, jewelry, sports gear etc.). Parents will appreciate having two separate bingo sessions to accommodate early bedtimes and busy work schedules.
Auction for Good - This event can generate a lot of buzz and bucks with some healthy competition! Recruit a group of parents to ask local businesses for donations such as gift cards, gift baskets and fun experiences like a cooking class or wine tasting. Parents are another great resource for donations from their own businesses, workplaces or side gigs. Plan a silent auction event or save costs by hosting the auction online on a site like WordPress.
Dine Out - Appeal to parents' desire for a night off from cooking by partnering with a restaurant for a fundraising dinner. Everyone wins by teaming up with a family-friendly, local joint on a "slow night." The restaurant fills empty tables, your organization gets a portion of the evening proceeds and parents don't have to cook. Everybody wins!
---
Sell school spirit wear and show different items on a sign up. View an Example
---
Shop for a Cause - Sites like AmazonSmile.com allow schools to sign up to receive a small percentage of sales from supporters. Parents can give back to their school while shopping for everyday items.
Box Top Blitz - Rally parents and staff to participate in Box Tops for Education — a free program giving back to schools when they collect the logos found on many popular household products. Make it a competition between classes or grades to give your Box Top drive an extra boost.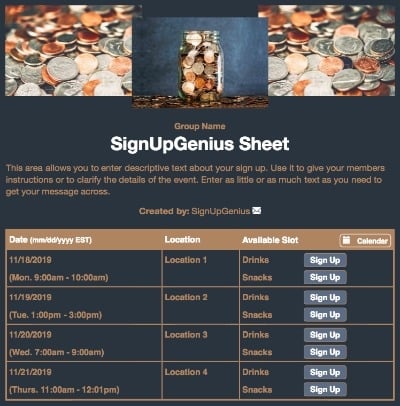 All the World's a Stage - The sweetest sound to a parent is their little one's heartfelt performance. Fundraise for art programs by hosting a kids' talent show or displaying colorful masterpieces in a student showcase. Invited guests will delight in their kiddo's talent and painlessly part with an admission fee to be used to encourage their budding artist's talent.
Parent's Night Out - Want a fundraiser to appeal to parents? Give them some time off. If you have a group of responsible high school students willing to help out with supervision, organize a Parent's Night Out or a Date Night. For a small fee parents can drop off their children for a few hours. Make it a fun night for the kids with a pizza party, a few games and lots of laughter.
---
Coordinate a fall carnival committee with a sign up. View an Example
---
Dance the Night Away - Encourage family time with a special event designed for students and a parent or special friend (grandparent, aunt/uncle etc.). Pull out all of the stops and offer a concession stand, photo booth and memento for a small fee. Coordinate volunteers and organize your event online so everyone can be involved in some way. See how.
Partner with a Local Business - Take the dining night out concept and approach another family-friendly business about donating a portion of sales to your school on a special day (or on a weekend). Ideas include toy and bookstores, photographers (some will give back a percentage of their sales on picture day) and favorite kid spots (e.g., ice skating rinks, trampoline parks). The business gets the benefit of promotion to families as you earn money for your school!
Opt-Out - Give time-strapped parents the option to skip the campaign and make a financial contribution to the cause in lieu of fundraising. You will save time, energy and a lot of frustration by offering parents an option to pay directly on a sign up. Bonus: without the overhead cost, you may even find those contributions are more than your sales.
May your fundraising endeavors set your school up for a genius year!
Contributors: Jennifer Burg, Ashley Kaufman