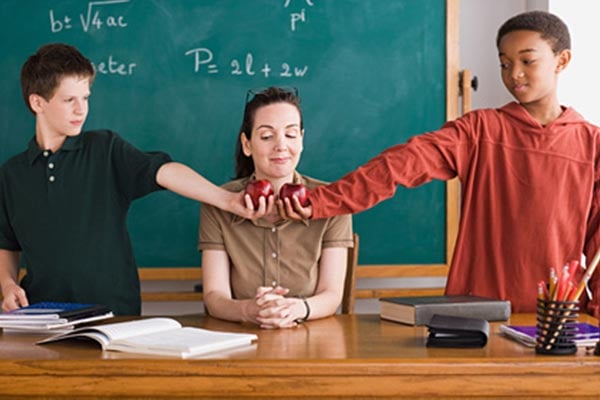 There's no doubt that teachers deserve to be showered with gifts for all of the sacrifices they make. Still, coming up with gift ideas for a plethora of occasions every year can be overwhelming for any parent. Birthdays, Teacher Appreciation Week, Christmas, End-of the Year…there's even Valentine's Day to think about these days. It'd be easy to fall into the rut of filling a mug with candy or buying a scented candle each time, but you might be surprised to learn that many teachers grow to dread these overdone gifts. Next time you're in the market for a great teacher gift, try out one of these ideas and watch your child's teacher light up.
1. A Few Boxes of Thank You Notes
Make it easy on your child's teacher to express her thanks for all of the great presents she receives from her class. Take the time to look for thank you notes that reflect her unique style.
2. A Gift Card for a Restaurant
Teachers put in long hours every day and often don't have time to prepare home-cooked meals. Knowing they can go out or pick up dinner one night could be just the encouragement your kids' teachers need.
3. A "What's for Dinner?" Basket
If you're putting together a gift from the class, why not ask each student's family to send in a couple of meal ingredients they pick up at the store? You can combine them all in a gift basket and top it off with a grocery store gift certificate.
---
Did you know you can collect money via your online sign up? No more chasing down cash donations. Learn about SignUpGenius Payments!
---
4. A Gift Card for Coffee
Hey, if moms need coffee while wrangling a few kids out the door every morning, doesn't it make sense that teachers, who manage 25-30 of the sweet things a day, could use a daily injection of java, too?
5. A Homemade Gift
Before you fire up the kitchen stove, think kid made. While teachers appreciate an occasional sweet treat, receiving a couple dozen loaves of banana bread isn't anyone's idea of teacher appreciation. Instead, think of hand-drawn cards and stories of favorite class memories.
6. A Gift Card for Books
Whether they're for their classrooms or for themselves, most teachers end up spending a good amount each year on book purchases. A gift certificate to Amazon.com or a local bookstore would surely be a welcome gift.
7. A "Movie Night" Basket
Combine some movie night snacks like popcorn, candy and sodas in an empty popcorn tub with a DVD or two. Your child's teacher will relish a night away from grading papers.
8. A Gift Card for a Movie
Are you catching onto a theme here? While gift cards may not seem original, cash strapped teachers won't be grading you on your creativity. Instead, they'll give you high marks for functionality. And who doesn't wish they could go out to see a good movie every now and again?
9. A Coupon Book
A cute twist on an oldie but a goodie. Assemble a booklet of coupons with offers to bring in lunch, watch the class during planning time, and grade or sort papers. Make sure to email the teacher the day you send in the gift to ask for dates to redeem her coupons.
10. A Gift Card Basket
Not only will the teacher enjoy the variety that comes with gift baskets, she'll also love the ability to choose exactly what to buy and when to buy it that gift cards allow. Ask the teacher in advance for a list of her favorite shops and restaurants. Use SignUpGenius to recruit families to send in gift cards from those spots.
Showing teachers how much they're appreciated doesn't have to be a challenge. With these ideas and help from SignUpGenius to coordinate families, you're sure to give the perfect teacher gift every time!