36 Learning Game Ideas from Genius Teachers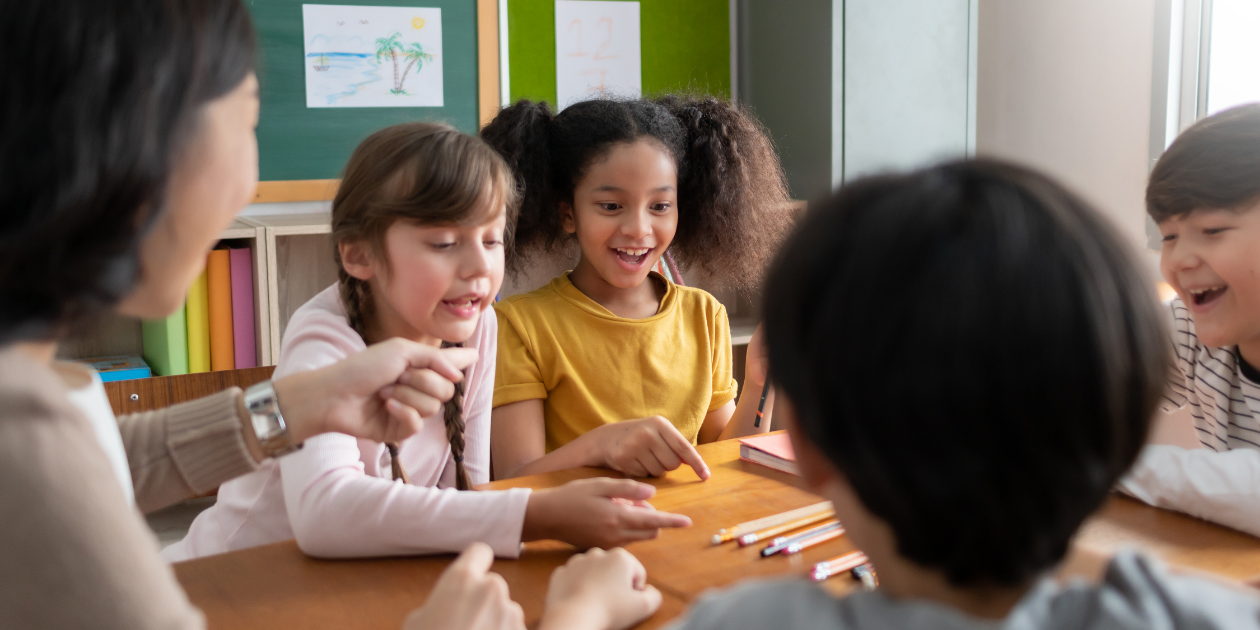 Keeping students engaged in learning is fun for everyone when you make it a game! The camaraderie built with teamwork, and competition makes kids enthusiastic about using their brains. Once you've seen the success of gamified lessons, you will likely be looking for more age-appropriate learning games.  
To kick off back-to-school season we asked teachers to share their favorite learning games on social media for a chance to win $100. We were excited to receive dozens of great responses with genius ideas including classic games and educational apps.  You might recognize a few popular apps like Kahoot, Blooklet, or Quizlet. Find out which games these genius teachers recommend to make classroom learning even more brilliant! 
Responses from Twitter
@MelissaDarrow My students love to play a word game (similar to Wordle) where I give them 5 words with letters missing and they have to solve the words.
@iTeach2Grow I love having the class compete against each other in a rowdy game of Gimkit or Blooket. I love the competition and always spoil the winners!
@tiffanyjcochran My 2nd grade students love to play: "I Have Who Has" and number and sight word games, Kahoot and Blooket. This is not only fun, but they are engaged in learning!
@MissA_Biology My high school science students love the Blood Typing Game!
@JMsilver81 My first graders loved Boom Cards! My PreKs like Memory, CandyLand and Bingo!
@HelenMasonSuchy For online games, I like to use @XtraMath_US to build fact fluency. For offline fun I like hidden pictures on coordinate planes and "I have/you have." Obviously, I'm a math geek.
@cobbletsclass Gosh where do I start! My kids love PlayFactile for review of skills. Their competitive side really comes out when we do PlayBlooket.
@ShauntrellLeaks My students love bingo, scavenger hunts and anything that involves a dry erase board. For dry erase boards, when I say a letter sound, they draw something. You can do initial, medial or final sounds.
@ExploreLearning - My scholars love Reflex, a math game. Also, Kahoot is great for fast thinking.
@MeganPerello My classes love playing Kahoot on their devices. We use it to review a topic we have been learning about. I can find or create my own questions and adjust the wait time as needed. They get so excited and into it - what learning is all about.
@FashionCraze88 We use playing cards to master partners of 10 and it helps so much! My students love it!
@MrsBates62 Jenga but Jeopardy style! Draw blocks for your question!
@engageinspire22 Battleship really helps my students understand the coordinate plane!
@MelissaKumanski I love all versions of the @24 game! My students love the challenge of solving each card differently!
@BriTheLibrarian Librarian here...I'm trying to teach the (book) genres. My students enjoy moving around and teamwork. So I created a giant board game across my library, with each color representing a different genre. Students were the game pieces and, their partner answered the questions.
@brezzybee We do dart multiplication (the darts are just balls with Velcro). We play limbo math with a real limbo set. Gimkit and math balloon pop are also favorites!
@jkrall0403 I love Kahoot and PlayBlooket, but if the internet is unavailable, my go to is silent ball.
@Hollyd330 We love playing memory, there are so many ways to differentiate based on needs. You could look for identical matches, match uppercase and lowercase letters, match different representations of a number, etc.
@22smcd I've done an integer lesson based loosely on the Game of Life!
@kmarcoux Sounds so simple but 20 Questions. It helps them with so many different areas - first being how to ask a yes/no question. But they learn parts of speech, logic, deductive skills, listening skills, etc. Really forces them to think!
@melh5566_hunt I have added numbers to my giant Jenga blocks. These numbers can correspond to questions for a review of any subject or can be used for math games like identify the number or add 10 to the number.
@BeccaJonesTeach My kids loved playing the make a 10 game. You can play with decks of cards using only the numbered cards. Kids have to add up their cards to make a 10.
Sample Sign Up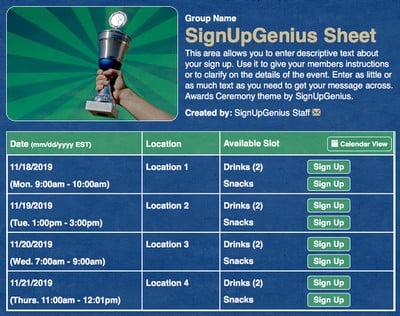 Responses from Facebook
Jane Gissing – SPARKLE. It helps with spelling. Everyone stands in a circle. Let's say the word is "cat" - each child says one letter of the word. Then, when the word is complete, the next child says sparkle and sits. If a child gets a letter incorrect, they sit. Last child standing is the sparkle champ of the day. I use this to go over skills words of the week. The kids beg to play it! I love it because anyone can get sparkled. The same kid isn't winning each time.
Cassie Bahrt - 24! Students are given four numbers and have to manipulate the numbers to make 24. They can use any operations. All numbers must be used but can't be used more than once. It comes with 3 levels of difficulty!
Tiffany Prestidge - My students love playing four corners. I put post-it's around the room with the theme of the game, like parts of speech (noun, verb, adjective, adverb), types of sentences, math signs/words, types of nouns, vocabulary, and anything else you can think of for getting students moving and learning.
Beth Stoops - We play "Roll, Say, Keep". It's an easy game to learn and play and doesn't require a lot of materials. Best part is that once they learn it, you can use it in various ways across all subject areas.
Michele Warren - My class loves playing Kahoot! It gets everyone involved and integrates technology into my classroom!
Emily Soderbloom-Cathy - Kahoot, Blooklet, and Quizlet for affix vocabulary.
It's easy to schedule parent teacher conferences with an online sign up. View an Example
Hailey Crosta - My kids love playing "hide and seek" with letters and numbers! We play it as a pocket chart game, as well as on a PowerPoint! I'll switch up the themes and each theme has a different objective. For example, we have to find the leprechaun by looking behind various letters and numbers. The kids use a "magic wand" to look behind letters and they love it! Such a great game that can be tweaked for a ton of concepts.
Kel Purd - I have, who has? We play with letters and numbers as they are learning them! I also enjoy playing magic paper. Everyone picks up garbage off the floor and one kid who picks the "magic" one gets a prize helps clean up the room really fast after a craft or something extra messy!
Caity Kay - My students love using fly swatters to locate sight words, facts, etc. Also, scoot is another favorite. It doesn't need to be an intricate game, just anything that gets them up and moving!
Cindi Blake Lawton - We played the review game called Nine Square. There are 9 pockets on a board. Each pocket has 3 cards in it numbered 1-3. The cards have things like: 2 extra points, take 2 points from another team, team with lowest points does 10 push ups, switch points with another team, 10 bonus points, highest team gives lowest team a point, etc. You divide students into teams. Each team gets a question of their own. If they answer a question correctly, they get a point plus choose a pocket and # card. For example: Pocket 7 Card 3. They have to do what that card says. You can play a certain number of questions or until all pockets are empty. If they get it wrong the next team can try to steal their turn. Kids love it and you don't know who is going to win until the very end! You can mix up pockets afterwards so when they play again cards are in different slots.
Kristy Railsback Shoemake - My kids love outdoor learning, so they complete a list of Math problems and then when they have them all correct, I send them to an activity (jump rope, hula hoop, or various activities on the playground) to complete. Then they repeat. This is all working as a team.
Olga Cabrera - In our class, we play vocab-ball! To review important vocabulary before every end of unit test (reading). I create 6 teams of students and take turns showing pictures and clues for them to be able to guess the word. If correct, they get a chance to shoot the ball into the basketball hoop! All students love competing and reviewing with this game, and of course - winning!
Tauna Beyer Fink - I love to use Jeopardy for review. I also play Tic Tac Toe review and let them hurl bean bags at the smart board to pick a square (the boys especially love this).
Mary Ann Stewart –
Hop To It with letter cards on the floor- orally give a series of letters for them to hop to, or a spelling word to hop to letters to spell. Can be used with numbers, etc.
If a small group: musical chairs. I place books on chairs, when music stops, they sit and read for 2 minutes, then start music, remove a chair and repeat. They can use with letters, spelling words, numbers, math problems as well and have them answer to stay in chair.
Bingo for any review skill. Provide blank board and gave them write letters, numbers, and spelling words on chosen space. I provided cereal for markers, and they eat it after many repetitions of the game.
Uno - either commercially made or with rhymes to review short and long vowels.
Connect the dots. On a large chart paper or smart board make a grid of dots and write letters, numbers, sight words or spelling words in each section. Have students take turns with, "I will put my line under, over, or between." When they make a square, they put initials on square. When the grid is full, student with most boxes wins.
By the time you finish this list, a whole school year can go by. While class is still in session, mix up your regular lesson plans with some of these games. Remember, there's no such thing as too much fun if everyone's learning!
Thanks to all these teachers for sharing their great ideas for learning games!