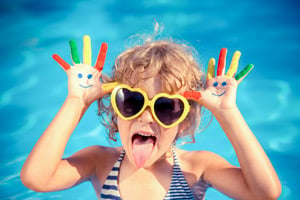 Usher in the summer season with some fun and memorable activities your kids will love. Choose from these 25 ideas to find the perfect ones that work for your family. 
1. Countdown–to-Summer Calendar
Start building summer excitement early by counting down to the last day of school. Make a calendar for the last month or last week of school. Consider adding small summer-related gifts like a new water bottle, beach ball, or popsicles. 
2. Last Day of School T-shirts 
Create a special t-shirt commemorating the completion of a grade. On the front write, "Goodbye 1st Grade" and on the back, "Hello 2nd Grade." 
3. End of School Year Survey 
Create a short list of questions for your child to answer. Things like…what was your favorite memory of the school year? What do you remember about your teacher? What was your favorite field trip? Have your child do this each year. By the time they graduate from high school, you'll have what is sure to be an entertaining keepsake to read. 
4. See You Later Alligator Treat Bags 
Place a few treats into a plastic bag and top with a handmade or printable label saying See You Later Alligator. It's fun for your child to pass out to their classmates at the end of the school year. 
5. School Year Walk of Fame 
Line the sidewalk of your home with homemade signs celebrating the milestones of your kid's school year. Show them how proud you are of all of their hard work.  
6. Summer Fun Box 
Arrange a fun-filled box with silly string, super soakers, and glow in the dark necklaces. Place the box in a key spot in your house awaiting your kids' arrival home on their last day of school. 
7. Photo Time 
Almost everyone takes a photograph of her child on the first day of school. Take one on the last day of school, too, to show them how much they have grown over the school year. Perhaps have them wear the same clothes as the first day of school – if they still fit! 
8. Oh, The Places You'll Go 
Buy a copy of the popular Dr. Seuss book, Oh, The Places You'll Go. Secretly have your child's teacher write a note in the book each year. Then, when they graduate from high school, give it to them as a cherished keepsake of their grade-school years.  
9. Balloon Greeting
For elementary-aged children, meet your kids at the bus stop with a bouquet of balloons. 
10. Deck Out the Car for the Last School Day 
When picking up your kids on the last day of school, pull up to the curb with your car decorated with wet erase chalk markers. Write a fun saying like School is Done, Time to Have Fun! Add some palm trees and beach balls. 
11. Welcome to Summer Banner 
Surprise your kiddos when they get home by hanging a "Welcome to Summer" banner across your front door. They can run through it like at the finish line of a race. Have the camera ready.
12. Sidewalk Chalk Party 
Kick off summer with a fun neighborhood party on the sidewalk. Have plenty of chalk for kids to express themselves. Serve drinks and snacks. 
---
Party time? Organize snacks and invite neighbors easily with a sign up!
---
13.
Last Day of School Tailgate Party
With the school's permission, set up in the back of the school's parking lot. Decorate the back of your van and set up food and beverages. Introduce your kids to their first tailgate party. Get the local ice cream truck to come by and deliver a cool treat! 
14. Special Meal 
A family date night at home or out on the town is always a special way to cap off the school year. Let the kids choose. While you dine, reflect on the highlights of the school year. 
15. Host a Pool Bash 
What kid doesn't love playing in a swimming pool? A pool party is the perfect way to commemorate the beginning of the fun days of summer. In addition to food and drinks, hire a lifeguard. 
16. Have a Ball
This Summer To encourage an active summer, place a bouncy ball or a water soaker ball into a plastic bag and add a tag saying Have a Ball This Summer. Your kids can give them out to their best friends from school and in the neighborhood. 
17. Throw an Ice Cream Party 
Nothing goes better with summer than ice cream. Host a last-day-of-school sundae party. Have a variety of flavors and toppings. Don't forget napkins and bottles of water. Organize who'd bringing what with a sign up! SAMPLE
18. Homemade Outdoor Twister Game 
Take this fun game outside. Spray paint circles on the grass to recreate a Twister board. Spin the dial and let the fun begin. 
19. End of Year Exhibit 
Hang all the artwork, projects, short stories, and awards up for a viewing. Invite the grandparents and other extended family to the unveiling of your child's work for the school year. It's a great way to recap the school year. 
20. Frame It 
Have your child write down their favorite memories on strips of paper. Glue them, school photographs, and favorite artwork in a frame. Don't forget to add the grade and year.  
21. Camp Out 
Kick off summer under the stars. Hit the backyard or venture farther to a state park. Grill out hot dogs and toast marshmallows for s'mores. Tell some ghost stories for a little scare. 
22. Family Summer Bucket List 
This is a great activity that allows everyone contribute. From your local craft store, purchase small buckets. Each family member can fill up several buckets with what they would like the family to do together over the summer. It can be a written scroll or objects to represent this wish. Hang up the buckets with clips on a clothesline strung up in the home. Once accomplished, remove the bucket from clothesline. 
23. Hey Mr. DJ
Crank up the music, it's time to get your groove on! Arrange with the other parents in the neighborhood and greet your kids getting off the bus with a portable dance party. Bring along a feather boa, sunglasses, beaded necklaces along with a mix of some favorite tunes and then boogie down on the walk home. Create a sign up to collect all of the goodies.
24. Mystery Trip
On the last day of school pick the kids up and journey a secret adventure to the bowling alley, ice cream shop, or nail salon. Select a favorite spot that they only get to go to for "special occasions." After all, this is one! 
25. Scavenger Hunt to Summer
Create clues and plant them around the neighborhood on the last day of school. The last clue will lead them straight to your back porch where their favorite summer treats are waiting under a "School's Out for Summer" banner.  
No matter which ones you choose, you're sure to have a blast. Now, onward to summer!  
 
Sara Kendall is a freelance writer and mom of two daughters.