100 Bulletin Board Ideas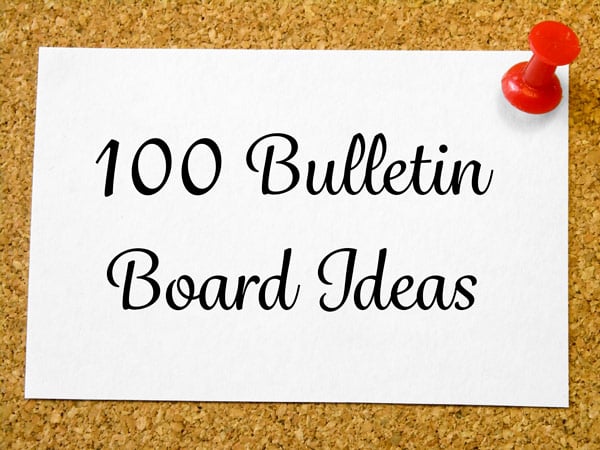 Bulletin boards can be a great way to creatively communicate an idea in a classroom or school. But if you're tired of the same old ideas, here are 100 unique bulletin board ideas that are sure to get the creative juices flowing! 
Back-to-School Ideas
What STUCK with you this summer? - Students use sticky notes to write a favorite summer memory; a sun in the corner and flip-flops compliment the theme.
A Brand New Batch of Students - Add a large cookie jar labeled with "(teacher's name)'s Smart Cookies"; and have students names on cookies spilling out of jar. 
____ Grade Will A-Maze - Can use a packman maze or a mythical labyrinth and write students names inside the maze, or even have students solve the maze at your orientation! 
Get Ready for a Colorful Year - Large Crayon Box says "Our New Pack" surrounded by crayons with students' names on them. 
Mirror Mirror on the Wall, Whose in ___ Grade this Fall? - Use hand-mirror cut outs with either self-portraits from the first day of school or student pictures in the middle of them. 
Up and Away in ____ Grade - Copy or create the house from the movie Up and attach balloons with student's names to it. Add a 3-D touch with some puffy clouds. 
Welcome to Class: You Fit Right In - Display a large simple puzzle and extra pieces scattered with student names written on the pieces.
Catch the Wave to ____ Grade - Blue waves with colorful floating surfboards including student's names. Have students decorate their surfboard on the first day for a personal touch! 
This Year is Going to Rule - A larger-than-life ruler with numerical information about the year. Ideas include: One Teacher Named ___, Two Field trips, Three Holiday parties, Four Subjects to Study, etc. 
Saddle Up for ___ Grade, Welcome to (teacher's name)'s Ranch - Add horse die-cuts with student's names, and a mountain range in the back! 
Dear Students - Teacher writes a large letter with encouraging phrases for the year ahead like "I believe in you" or "You will be listened to here" and signs it at the end. 
Let's Kick Off a Great Year - Put up large cutouts of soccer goals or football goal posts with names written on the laces of a large scale ball/cleat. 
Check out the Line-up in _____'s (teacher's name) Class - Real clothesline and clothespins with colorful paper shirts hung with student pictures/names on the front. 
Wel-Cup Back - Attach coffee shop cups cut in half with drawn steam coming out to the board, and have student names written on the cup. 
Look Who's POPPING into ___ Grade - A large-scale red and white popcorn box with fake kernels including student's names.
Back To School, Ready to Grow - You can use any number of plants growing with student pictures in them: flowers, corn, a tomato patch.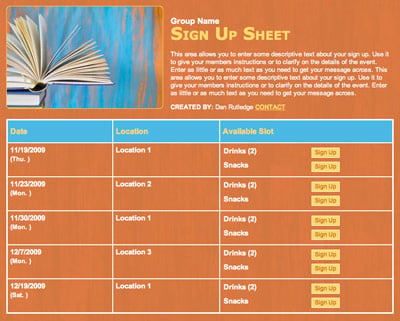 For the Library
POP into the Library - Use the red and white popcorn boxes for a 3-D effect and have some of the popcorn kernels list new titles. 
Don't Judge A Book By Its Cover - Folded paper with the first lines of different books printed on them. They can be opened to reveal the book title! 
Reading Makes Your Mind Bloom - Decorate your board with an oversized watering can whose droplets are pouring on flowers, and have titles printed in the center of the flowers. 
We're Hooked On Reading - Large (fake) fishing hooks can be hung with string from the top of the board, and book covers then hang from the hooks. 
Dog-gone Good Books! - A sun and grassy yard scattered with the covers of books about dogs, or for the more artistic, a cutout of large dog with a book in its mouth. 
Good Reads Under the Sea - Make a seascape decorated with pictures of interesting books about the ocean (fiction and nonfiction). 
LEAF through a Good Book This Fall - Use leaf cutouts to create a pile of leaves under a tree, then write recommended book titles for certain grade levels on a few. 
"Read"box: Free Book Rental - Cover a bookshelf in red paper like the popular DVD rental service Redbox and inform students books rentals are $0 per night.
These Reads Will Take You For A Ride - There are many variations on this theme, depending on whether you draw a rollercoaster, racecars with a track, or a plane. Whatever you choose, write in books on the various vehicles!
---
School Fundraising is Easy with SignUpGenius - Collect Money Online! SAMPLE
---
SPRING into Reading - The sun, some grass, and a few new titles scattered on a fake picnic blanket make a perfect seasonal bulletin board!
iRead - The background can look have a familiar computer or phone wallpaper with book covers as the apps; You can even group book covers by genre in a box under the genre name.
Reading is a Treat - Put up an ice cream truck with different book covers on each stick that are for 'sale'.
Get Carried Away With Books - Make a few hot air balloons with colorful book covers as the baskets; make it 3D with cotton-ball clouds.
These Are Some Real Treasures - Feature a large treasure chest on a beach with book covers spilling out the top, or maybe even a pirate or two!
Book-opoly - Set up a monopoly board of book covers, using the color sets to differentiate genres like graphic novels, fiction, and non-fiction.
We Read Too, Can You Guess Who? - Have teachers take a picture with their favorite book, opened to cover their face, and students try to guess the teacher behind the book.
Snow Book Is Alike - Make a winter wonderland out of cotton balls and white paper and have people write their favorite books on each snowflake.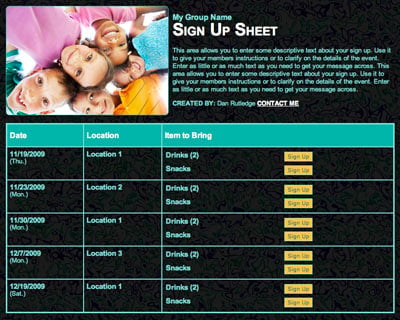 For Preschool
Quack Quack Welcome Back - Create a grass-edged pond, with student's names on the ducks, and a larger duck with teacher's name (can add bows on girls, sunglasses on boys).
Twinkle Twinkle Little Star, Welcome To This Class of Ours - Use pictures taken during the first week with (students' names underneath) mounted on stars to help the class learn names.
All Aboard for a Fantastic New School Year - Hang a train with students' pictures in the window and the teacher in the engine car. Add cotton-ball smoke from the engine for a 3D element!
(Teacher's name)'s Class is Solid Gold! - Make multi-colored handprints that form a rainbow, which leads to a pot of gold. The coins have student names on them.
April Showers Bring...MUD! - Students create brown handprints of "mud" (keep it looking messy, that shouldn't be hard!) with their names on them along the bottom of the bulletin board, plus 3-D cotton ball clouds and glittery raindrops.
Look Who's In The Nest - For this board, craft a large nest (make it 3D with crumpled brown paper) with little birds printed with student names.
(Teacher's name)'s Little Peeps - A board full of cute yellow chicks; 3-D orange beaks; can also use the shape of the marshmallow candy.
I CAN Control My... - Feature a large white game remote and on the buttons, write things like mouth, arms, or feet to reinforce the idea of self-control for young children.
(Teacher's name)'s Class is SWEET - Feature a large candy or gum jar with students names on candy pieces inside; or a large cupcake with small student pictures as sprinkles.
Hoot Hoot Hooray, Kid's Work to Display - Use colorful owls to surround student work, and have the student's names written in the owl above his/her work.
We're Going to Have a BALL in Preschool - Feature a large gum machine made out of a white circle, red lid and triangle base with multi-colored gumballs inside with student names.
No Two Are Alike - Make snowflakes with students' pictures in the centers surrounding a happy snowman and snowscape.
Our Busy Bees are Always Learning - Students' names are placed on bees around a hive with different subjects on the rings of the hive; student work could also be placed around the hive if desired.
Look Who's Been Spotted in (teacher's name)'s Class - Cover your bulletin board in many small ladybugs or just one large ladybug with names in silver marker on the spots.
Flutter into (class name or grade) - Have students make butterflies out of coffee filters or use die-cuts, and hang them with some die-cuts of flowers.
Page 1 of 2  /  2