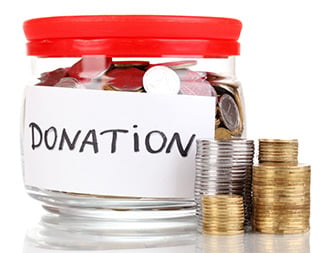 Selecting a fundraiser for your school can be a challenge. There are so many ideas! But some are better than others in rallying parents and the business community to support your school. Here's our list of the 15 top fundraising ideas for schools.
1) Sell T-shirts. Who doesn't like t-shirts? Tees are an easy and appealing fundraising tool that allow donors to wear their support.
2) Matching Gifts. Did you know that 50 percent of Corporate 500 Companies offer matching gifts? Encourage school parents to explore whether or not their company offers a match. It's a quick way to double your money.
3) Collect cash. More and more schools are moving away from selling products. Gently ask each family to contribute to a capital campaign with suggested levels of giving (or at least a starting point). Many parents appreciate your efforts to cut to the chase.
4) Donate Profits Days. These are becoming increasingly popular with businesses that want to support local schools with an easy fundraiser. Many will give five to ten percent of designated purchases back to your organization.
5) Auction Fundraiser. If you have a regular fundraising event each year, consider adding an auction or basket raffle to raise additional funds. Collect auction donations from local businesses with an online sign up.
6) Challenge Fundraiser. Challenge your donors to do something unique that will draw attention to your cause. While raising awareness, encourage people to also make a contribution. Donors could sign up and pledge on your sign up page!
7) Store Opening Fundraiser. Watch for new business openings in your community and tie-in a fundraiser for your school. The new business will want to partner to gain new local support and parents will feel like they can use their dollars in a powerful way that helps their family.
8) Trash Bag Fundraiser. Sell a product everyone needs. Sometimes the most boring products can be the most useful!  To their credit, trash bags are also low-fat. (Move over, cookie dough!)
9) Coupon Book Fundraiser. Working with a well-known provider, sell books of coupons for local restaurants, stores and vendors, so that part of the proceeds are donated back to the school.
10) Pinup Fundraiser. Local retail businesses can sell paper icons or pinups for a buck or two. Pinups are simple and lucrative! Donors add a dollar to each purchase and those dollars can add up quickly.
11) Design Contest Fundraiser. Challenge school children, parents and the community to design a new rockin' logo for the school. The winning design goes on a tee to raise funds for the school.
12) Dress-Down Days. Another fundraiser for local businesses! Partner with a company that will allow employees to pay to dress down for the day. Better yet, let them dress UP for Halloween, baseball's opening day or for the local high school rivalry game.
13) Electronics Recycling Fundraiser. Collect cell phones, computers, game consoles, digital cameras, mp3 players, tablets etc. and exchange them for cold, hard cash! Research local recyclers in your area that can help you get started.
14) Sleepover Fundraiser. Pick a high profile spot for kids and their parents to sleep overnight. It can be a museum, campsite or haunted/fun house. Handle registration, collect money and gather event donations all in one place with an online sign up.
15) Food stand. Find local businesses that can donate or discount items like hot dogs, chips and bottled waters. Who can pass up a hot dog, chips and coke meal for $5? All proceeds go directly to your school!

Article content provided by Booster. Booster is an online fundraising platform that empowers users to make a difference through the sale of custom t-shirts and other merchandise. For more information, please visit booster.com.