25 Creative Ways to Thank Your Volunteers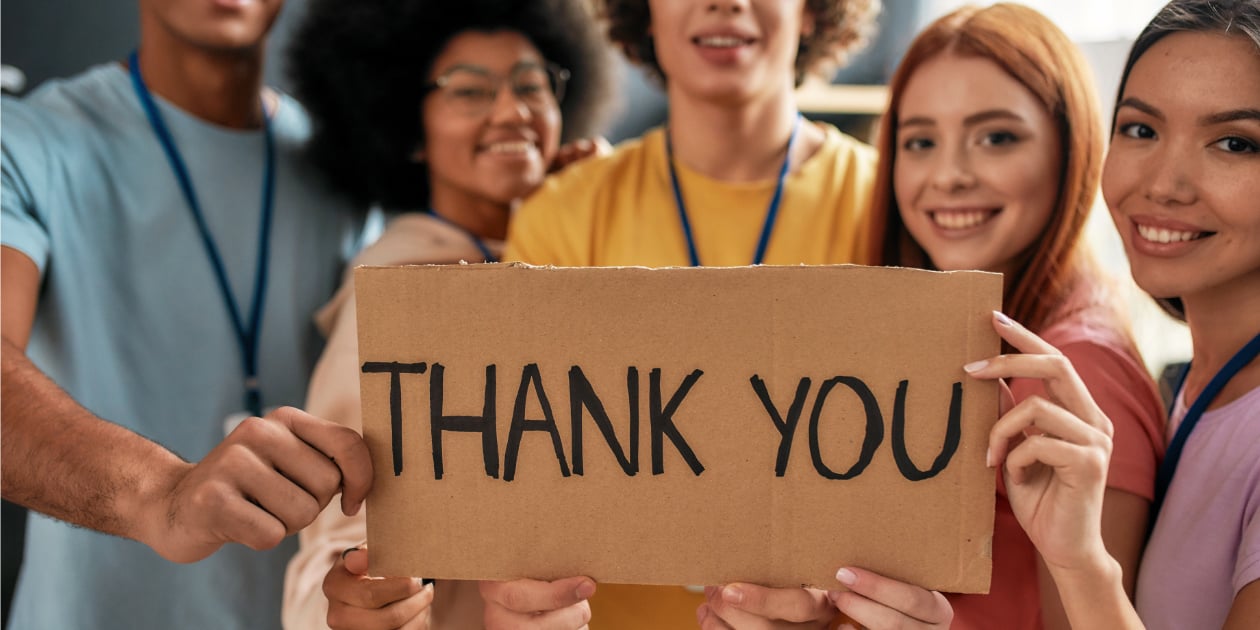 Volunteers are the lifeblood of your organization, and they often go unrecognized. Make it a point to pause and reflect on volunteer contributions, both seen and unseen, and communicate value and appreciation to your volunteers.
Why thank your volunteers? Showing regular appreciation for those who invest in an organizational mission increases retention and satisfaction rates, but regardless of the data, thanking others who empower your mission is simply the right thing to do. Here are some helpful ideas to get you started.  
Send a Newsletter - Recognize volunteers in an email newsletter and include a note of appreciation for recent work and long-standing dedication.
Shoot a Video - Videos are a popular option for communicating messages. It's easy to record a short video expressing thanks and gratitude to volunteers. You can easily embed it in an email and post on social media.
Mail a Thank You Note - This oldie is still a goodie, so show your volunteers your appreciation in a thoughtful letter. Be sure to sign it to make it more personal.
Make a Phone Call - This might not be feasible if you have a larger nonprofit, but you could make calls to some of your regular volunteers. Making a personal phone call is still a good way to connect with the volunteers who have given a lot of time to your organization and is a great way to express gratitude.
Create VIP Parking - Give your volunteers the VIP treatment with front-row parking and a personalized sign.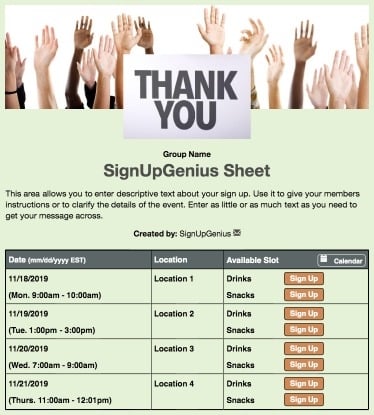 Give a Shout Out - Spotlight the efforts of some of your volunteers by posting a photo of them along with your thanks on your social media pages.
Throw a Party - Plan a dinner or ice cream party to celebrate volunteers and share how much you appreciate their contributions.
Gift Swag - Hand out simple branded gear such as pens, bumper stickers or water bottles. They are an inexpensive token of appreciation and people love free stuff!
Naming Honors - For super-stellar volunteers, consider naming something that supports your organization's mission in their honor.
Give Sweet Treats - Share baked goodies with the volunteers who make your life sweeter.
Organize a volunteer appreciation event with an online sign up. View an Example
Create Signage - Hang a banner for all to see proclaiming thanks for your volunteers.
Give Thanks - Want to really encourage others to help? Make an announcement during events thanking your volunteers and inviting them to stand and be recognized for their work.
Take a Group Photo - Give your volunteers a group shot that will help them remember the moments shared volunteering for years to come. 
Send Flowers - Make your volunteers smile with a bouquet of sweet-smelling roses.
Pay it Back - If you know your volunteers' favorite restaurants or coffee shops, give them a gift card to grab their next treat on you.
Words of Appreciation - Simply saying thank you when you're with your volunteers will mean more than you may realize. Be sure to communicate the significance of their efforts and the impact it will make.
Provide Free Food - Show your appreciation by having a refreshment stand ready with water and snacks for your volunteers at any event you host.
Roll Out the Red Carpet - Make it an annual tradition to host a banquet night where you honor the volunteers who have served throughout the year in a special way. This is also a great opportunity to connect volunteer efforts with your organization's mission.
Hand Out Appreciation Awards - Create annual awards to highlight and recognize outstanding volunteers. These can be given out at a volunteer banquet or event.
Pin it - You know that blank wall down the hall in the office? Spruce it up with a bulletin board dedicated to displaying the photos of your most recent volunteers and their accomplishments.
Coordinate volunteers and all the details for your fundraiser with an online sign up. View an Example
Host Family Festivities - Volunteers take time away from their family to help you. Show how much it means to you by hosting an event that volunteers can enjoy with their families.
Report Progress - Share impact reports with your volunteers so they can see firsthand what their efforts are contributing to. Include a thank you section to showcase specific volunteers.
Gift T-Shirts - Shirts are fun and meaningful gifts and they promote your organization and brand.
Listen to Your Volunteers - Seeking feedback from your volunteers is one of the best ways to show that you are thankful for their thoughts and perspective. You can call them or send out simple surveys to volunteers.
Give Tickets to a Sporting Event - This is a great way to reward volunteers with some fun time. You could give out tickets to those who serve a certain number of hours or randomly select a winner on a periodic basis.
There are so many ways to show appreciation to the ones that help make your mission possible. Try out these ideas to show gratitude to all of your rockstar volunteers.
Contributors: Jennifer Burg, Ally Patterson, Steven Borders