22 Top Tips to Increase Volunteer Support and Retention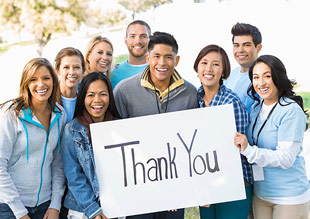 The value of volunteer service in the US was worth an estimated $173 billion in 2013 and grows each year! Ensure you're making the most of this amazing resource by putting these tips to good use.
Be Prepared
If you ask for volunteers, be ready to put them to work when they arrive. They didn't come to twiddle their thumbs.
Make a volunteer's job description clear from the get-go. This means before he has even signed up.
Don't bring a volunteer in until you have everything ready. They must have the proper equipment to get the job done.
Lay out all tasks to be completed in outline form by priority. This will help volunteers concentrate on the high priority items first.
Communicate
The rule of thumb is that over-communication is better than under communication. You never know when that one final ask will be the one they say "yes" to. SignUpGenius is an excellent way to communicate and relay important information.
List specific volunteer needs on an online sign up, so people know exactly what is needed and when. SAMPLE
Schedule training sessions for new volunteers and invite them to sign up online. Need to distribute important paperwork. 
Make it clear there is something for everyone with sign up slots for both more-involved and less-involved opportunities.
Email reminders are helpful so that volunteers don't forget what they've signed up for!
Offer a Warm Welcome
A volunteer has taken time out of her day to be there, so start with a personal greeting and a smile.
Treat your volunteer as if she were a guest in your home.
Show her around and introduce her to other workers. Help her make connections.
Provide Training
Although the job may seem easy to you, it is unknown territory for many volunteers. Take the time and effort to make them feel ready to do a good job.
Let a new volunteer shadow someone who's more experienced, at least for the first hour or so. Don't leave them to fend for themselves immediately after showing up for their first time on the job.
Always be sure there is a more experienced worker on the job who knows the ropes.
Be sure that instructions are clearly posted for volunteers, so they ?don't get frustrated with the lack of information.
Respect their Time
These days, everyone is busy. But when you show respect for someone's time, they will be more willing to help out.
Don't over use volunteers or take advantage of their willingness to help. This is hard when you are short on volunteers and there are some who will sacrifice to get the job done. But when that happens, they are more likely to burn out and move on.
Be honest. Don't say it will only take an "hour or so" when you know it will actually probably take three or four.
Start on time and end on time.
Show Appreciation
Thank your volunteers frequently. Look for creative ways to express your gratitude.
Send volunteers a thank you card.
Take several of them to lunch.
Give them a small present such as a gift card.
Recognize a volunteer that have gone beyond the call of duty in an email newsletter or on the wall of your establishment.
Plan a Volunteer Appreciation event. SAMPLE
See more creative ways to thank you volunteers here.
In working with volunteers, you know their value is actually impossible to fully calculate. With these helpful tips, your organization will be in the best position to recruit and retain this priceless resource. 
Janis Meredith writes a blog on sports parenting and youth sports. After being a coach's wife for 29 years and a sports parent for 21, she sees issues from both sides of the bench.