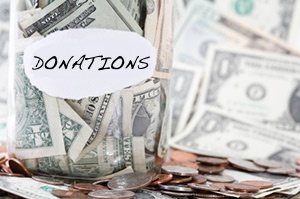 You've spotted an issue, set a goal, and are revving up your ambition to create change. Sounds like the recipe for a perfect fundraiser, but one thing seems to be missing: a money raising idea. To catch the public's attention, creativity and innovativeness are required, right? So to help out, the folks at SignUpGenius have compiled a list of unique fundraising ideas that are sure to generate both interest and funds.
1. Host an art show. Turning a space into a mini-museum of local talent is both fun and distinctive. Why not use this idea to raise money for a preschool, and have family members bid on their little Monet's originals? Tip: It is best to have the art matted or framed beforehand.
2. A Watermelon Eating Contest is a fun summer activity. Appealing to many ages (and healthy, too), watermelons provide the perfect texture and messiness that makes an eating contest fast and fun!
3. Host a Ladies Luncheon, possibly in an outdoor space complete with tables for Texas Hold'em, Bridge, and a game of croquet or bocce.
4. Hold a Duck Race that is sure to entertain all. After each participant pays to receive a numbered rubber duck, the race down the stream begins! Whoever's duck makes it to the ending point first is the lucky duck prize winner.
5. Host a Wine Tasting. Invite guests who will be happy to pay for the chance to taste a number of good wines and then ask several local shops if they would be willing to donate a bottle or two for your cause.
6. Initiate a car wash to scrub those dirty bumpers clean! Charge extra to have tire rims polished and have a flyer or brochure ready to give to customers that says thanks and explains more about your cause.
---
See how SignUpGenius can simplify planning your fundraiser.
---
7. Set up a concert, whether it be at a local venue or in your backyard. Whether you book local talent or family and friends, setting up a benefit concert, guitar night, or open mic night are great ways to let the good times (and donations) roll!
8. Organize a pancake breakfast for friends and families in your community. The guests, after paying a flat fee, are invited to enjoy a hearty breakfast of pancakes of every kind, complete with a smorgasbord of succulent toppings! Grocery stores will often donate product or a small gift certificate to shop at their store if you bring in a letter about your cause, so be sure to see if you can get the supplies for the breakfast donated.
9. A Rock-a-thon is a clever way to incorporate supporters of every age! Find a roomy porch or space, gather rocking chairs from your community, and have each participant pay to rock for a set period of time. This idea fosters companionship, conversation, and fun, and requires no physical stamina to complete!
10. Coordinate a Fashion Show. For an upscale vibe, some department stores are willing to provide the space, models, and clothing for a show in exchange for advertising or a cut of merchandise sold. Or, a fashion show can consist of friends and family as models, strutting their personal designs or taste. It is best to be sure, however, that the show is cohesive and has rhythm and theme. Some even put on hilarious tacky fashion show with friends, family, or church groups.
11. Start a cooking contest. Let local residents or restaurants chip in their best dish from a given category. Elect judges, have prizes, and compile a cookbook of recipes used.
12. Start a Bachelor/Bachelorette Auction. While this wouldn't be appropriate for some causes, projects that are geared toward young, spontaneous audiences may find auctioning off dates to be a profitable concept.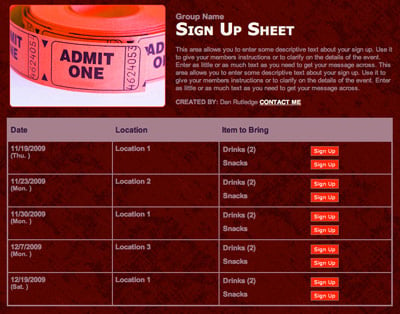 13. Hold a Photography Contest. Let the devoutly artistic and undiscovered experimenters show off their skills and, in exchange for an entrance fee, submit their work. It is often a good idea to assign a specific theme that has to do with your cause. Depending on the size and seriousness of your contest, it may be wise to appoint as judges those who are truly qualified to analyze photos.
14. Initiate a Cake Walk. Have volunteers donate either cakes or cupcakes to be displayed and tasted by participants who have paid an entrance fee. To go the extra mile, have participants vote and make the Cake Walk a contest.
---
Collect donations with an online sign up. SAMPLE
---
15. Have a Casino Game Night, complete with Texas Hold'em, Five Card Draw, Roulette, and Blackjack. The House takes a cut of each person's initial buy-in. Or, for a more laid back feel, you could charge a flat fee and the guests could play without money. For an extra touch, dress up as poker dealers and serve refreshments.
16. When Halloween creeps around, horrify the truly bold by opening a haunted house. For a small fee, trick-or-treaters can be the judges of whether the spectacle is just smoke and mirrors… or a nightmare come alive.
17. A face painting booth at a carnival or sports game is a low-cost, fun way to generate funds.
18. Selling awareness ribbons or bumper stickers serves as both a fundraiser and a way to spread the word about your cause.
19. Orchestrate a charity or benefit dinner. The most successful of these are usually held in upscale locations and include live entertainment or dancing as well as just dinner. Benefit dinners are ideal when seeking out potential large donors or corporate sponsors.
20. Reel 'em in and fry 'em up! Starting a fish fry (no actual fishing required) is an effectual way to bring the community together. People call in to order their fish and then drive to pick it up as volunteers fry up the order. Some fish fries provide places to sit and eat, others simply serve food to go, and still more serve much more than fish!
So, print the fliers! Call the sponsors! And remember that SignUpGenius is the ideal tool to coordinate and plan any fundraiser, every dime of the way toward achieving your goal.