25 Donor Appreciation Gift Ideas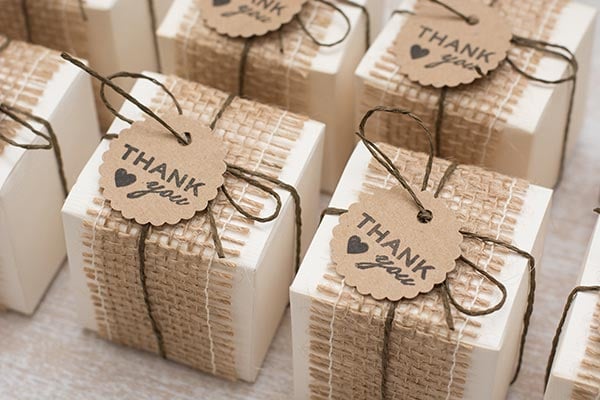 Show appreciation to your nonprofit's donors with a small gift, while responsibly considering costs (donors pay attention to nonprofit budgets, especially when they are contributing to them). And make sure to always include a personalized thank you note from staffers!
Meaningful Gifts
Journal - Give a nice journal paired with a pretty pen or bouquet of freshly sharpened pencils. Consider writing a brief thank you note in the front of the journal.
Book - Books are a great gift to give to donors if your nonprofit has a history book or coffee table book about the nonprofit or a cause your organization is passionate about. Personalize it by writing a brief thank you note inside the cover. In a similar thread, create a photo book of meaningful pictures showing how your donor has impacted the nonprofit in the past year. This is perfect if your donor goes on a vision trip to see the work your nonprofit is doing overseas or even down the street in your community.
Postcard Photos - Create a series of high-quality cardstock postcards with photos from your charity on one side and a brief caption/impact statement in the top corner on the other. Format them to where people can send them as postcards or use them as art pieces. This reminds donors of your organization and educates others.
Flowers - Give a small potted orchid or other small bulbs in a pot tied with a ribbon. Your donor can enjoy watching it bloom and replant it if they so desire. Paperwhites are great, small fragrant bulbs. You can also consider daffodils or hyacinth. Many times, in the spring you can pick up pre-potted bulbs at your local nursery or the grocery store in gift ready pots.
Canvas - Have someone paint or hand letter your mission statement and logo on a small canvas. This is something the donor can display in their office or home. It is also a reminder that they are part of a mission bigger than themselves.
Tour - Make sure a tour is available to your donors should they be in town and want to tour your nonprofit's headquarters. Give a behind-the-scenes tour to help them better understand the day-to-day operations, and then have a small gift available to give people as they leave.
---
Coordinate a donor appreciation banquet with a sign up. View an Example
---
Practical Gifts
Candle - Give a nice candle from a local company or a reputable brand. Also, consider having Ella B Candles make a signature scent for your nonprofit, branded with your organization's logo on the candle. This is a great gift for donors and volunteers!
Tote Bag - Life is busy, and most everyone can use a quality tote bag. Consider a canvas tote or rectangular carryall bag with your company's logo or the donor's first initial on it. This is practical and advertises for your nonprofit.
Charcuterie Board - A small serving board with specialty cheese and crackers is a practical gift for entertaining. Grab specialty cheese and crackers from your grocery store and pair them with fruit if you're delivering locally. You can wrap the gift in cellophane and add a pretty ribbon or deliver in a basket. Note: Trader Joe's is a great go-to for reasonably priced cheese and crackers.
Social Impact - Donors appreciate when gifts help someone else. Consider purchasing your products from companies with a cause. For example, you could buy a serving board from Magic City Woodworks. This organization trains young men with apprenticeships, which then equip them to find meaningful employment.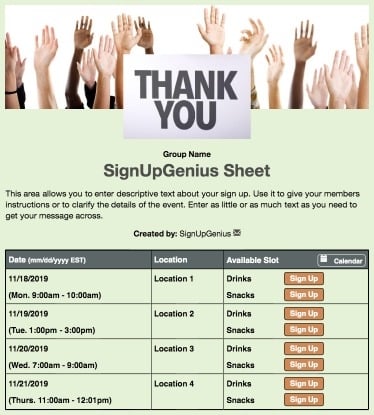 Fresh Food Gift - Instead of a traditional fruit basket, give citrus which has a longer shelf life. A basket or wooden bowl of clementines with a pretty green or aqua ribbon tied around it makes a beautiful gift. For a higher-end food gift, Olive and Cocoa have nice options of gift boxes with different foods. Some even say "Thank You" on them.
Specialty Bread - If you have local donors, consider delivering seasonal bread such as pumpkin or cinnamon chip with a personal thank you note for their support.
Coffee - Pair a coffee mug with gourmet coffee or tea, or a gift card to a local coffee shop. This can be a classic mug or an insulated travel mug. There are several options: print your logo on the mug, get a mug with your donors' name or monogram, or buy mugs from a local pottery place.
Water Bottle - Give a reusable stainless-steel water bottle with your company's logo on it or another design.
Monogrammed Throw - Who doesn't like a plush throw to snuggle with? There are a lot of Sherpa throws available at varying price points. Have the throw monogrammed with the donor's initials or a family name.
Experience - Depending on the service your nonprofit provides, offer an experience for your donors in that same vein when possible. For example, a photography nonprofit can offer photo or video classes for beginners, and a sports nonprofit can offer a sports clinic for adults and their kids.
---
Plan a donor appreciation day with a sign up. View an Example
---
Well-Traveled
Art and Jewelry - When you or your staff are traveling, have them pick up pieces of art or reasonably priced jewelry in the places your nonprofit serves. These are meaningful donor gifts that have an instant story attached to them.
Luggage Tag - Whether your donor is traveling to see your work or on their own personal or business trip, send them in style with a nice leather luggage tag with your nonprofit's logo on it or their monogram.
Key Chain - Commission a nice leather key chain made with your nonprofit's logo. This is a practical reminder of your nonprofit each time the donor uses his/her keys.
Serving Piece - A beautiful and useful piece of pottery or a serving piece is practical and something that will remind the donor of your organization when they use it. Try to buy it locally or from a company with a cause or a story behind the product.
For Kids
Wooden Toys - Hand carved puzzles, Noah's Ark sets or hand-carved animals from Africa or South America are great meaningful gifts with a story. Or consider giving a handmade nativity scene from a country where your nonprofit serves.
Logo Bib or Onesie - When a donor has a new baby, consider sending a nice bib or onesie with your nonprofit's logo. It's practical, and it reminds the donor of a cause they're close to. If you craft or sew, consider giving a personalized baby blanket.
---
Register participants for a fundraising gala with a sign up. View an Example
---
Big Picture
Welcome Gift - Consider preparing a welcome gift or a gift package for new donors. This is a way to thank them and educate them on the cause they are supporting as soon as they start giving. Don't include a lot of stats and figures, but have an annual report ready, a photo and an impact story along with a small gift directly linked to the charity.
Thank You Video - Thank you videos are becoming more common as a great way to thank donors. Plan on making a general donor video at least annually, if not more often. Take video clips on the "field" if possible or include clips from places where you are serving. Finally, make personalized videos for high-level donors. This is a great way to appreciate them and provide them updates at the same time.
Thank You Dinner - Many nonprofits hold donor appreciation events, but how you do it is everything. A donor appreciation dinner is not the time to tell them information that they can receive in an email, but to share first-hand impact stories so donors can hear directly from beneficiaries (when possible). This is also a great time to connect with your donors personally. Make the event fit your nonprofit and your donors' interests. Share about the impact, allow time for questions and give a meaningful take-home gift.
In all these things, the key is to know your donors. Don't deliver regular bread to a family who is gluten-free, a stadium bag to someone who doesn't like sports, etc. Give donors something functional or aesthetically pleasing so it is seen or used, which keeps the organization in the donors' hearts and minds regularly.
Andrea Johnson is a native Texan now living in Charlotte, N.C., with her husband and two daughters. She enjoys running, photography and good chocolate.