Animal Shelter Simplifies Program Registration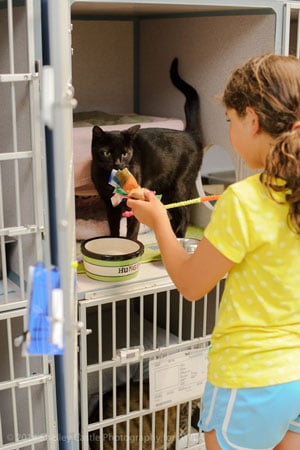 A visit to the Animal Welfare League of Alexandria, Virginia (AWLA) often provides a surprising sight for new visitors. During youth program times, local children read and watch movies with shelter animals.
This is not uncommon at the AWLA. They have been organizing programs for the past 15 years to benefit both the local community and the animals that need care. As the programs grew in scope and size, Chelsea Lindsey, Youth Program Coordinator at the League, needed a better way to manage the registration process. Using email was stressful and time consuming for multiple events.
Lindsey learned about SignUpGenius from a colleague who was already using the online organizing site to coordinate the AWLA adult volunteer program. She tried it for programs like Book Buddies, where kids read to cats, as well as Critter Crafts, Movie Night, and Summer Camps.
"SignUpGenius has made my job so much easier," says Lindsey. "Our registration process is now more streamlined and user-friendly which encourages more people to sign up."
Her favorite aspect of SignUpGenius is that it doesn't require her constant attention. Participants can register and pay for events right on the sign up. They can even delete or make changes to their registration without needing to contact Lindsey.
With the success of their programs, the AWLA boasts a volunteer corps of more than 200 who assist the full- and part-time staff. They are able to shelter more than 2,000 animals each year. SignUpGenius is proud to play a part in the compassionate efforts of organizations like AWLA and would love to hear more about groups like this. You can share your favorite one in the comments below.