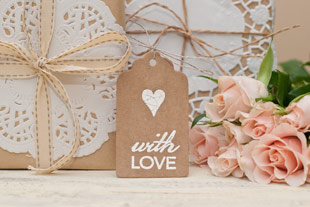 Sure, you can go straight to the bride and groom's wedding registry to find them a wedding gift, but what's the fun in that? These unique wedding gift ideas are out-of-the-box and creative. You're sure to find a wedding gift to fit the new Mr. and Mrs.
1. Breakfast in Bed, Newlywed-Style
Send champagne to their wedding night hotel room…or better yet, coffee and breakfast for the next morning!
2. Deliver It
Choose a gift that keeps on giving throughout their first year of marriage, such as monthly coffee or fruit deliveries.
3. Get Adventurous
Think about what they love to do on the weekends — camping gear, something for their beloved boat or a new hiking pack for all of their upcoming adventures.
4. Red or White?
Stock their cellar with all of the wine they'll need for the first year of marriage. Don't forget a corkscrew!
5. Go Digital
All of those great wedding pictures you took on your iPhone? Turn them into a mini-album.
6. Take Them Out to the Ballgame
Tickets to catch their favorite sports team are sure to make the bride and groom cheer!
7. Give Big
Make a contribution to their favorite charity.
8. A Honeymoon Surprise
Plan an adventure for their honeymoon destination — a zip line excursion, a sunset cruise, or surfing lessons!
9. Think Custom
Start their family tree with a customizable option from Etsy that includes their wedding date.
10. His and Hers
Rumor is that newlyweds spend a lot of time in bed, so naturally, matching pajamas will make a great gift… wink, wink.
11. Fly In Style
Upgrade their honeymoon flight to first class.
12. Forget Doing the Dishes
Gift cards for their favorite places to eat are always a welcome gift.
13. Classic Date Nights
Don't let them forget about good old fashioned date nights! Think tickets to the movie theater and a gift certificate to their favorite local ice cream shop for afterwards.
---
Wedding Events and Festivities Made Simple! SAMPLE
---
14.
A Family Affair
If the bride and groom have children, consider a family gift that they can all enjoy.
15. Bonus for Mom and Dad
Or, better yet, for newlyweds with kids, offer to babysit so that they can have some date nights!
16. Let Their Registry Inspire
Peek at their gift registry to inspire you for more creative gift ideas, such as the ingredients for mint juleps to go with the julep cups they requested.
17. Stock Their Cupboards
Think of other ways to stock their new home, from board games to luxury cleaning supplies.
18. Feed Them
Fill up their freezer with meals that they can easily defrost as they recover from the wedding and honeymoon excitement. Invite other guests to participate. Organize the effort with a meal sign up!
19. Say Cheese!
If they don't have a videographer at their wedding reception, take on the role yourself and create a gift that they'll cherish.
20. Choose Your Own Filter
Stalk their Instagram and Facebook profiles for the best pictures of them as a couple to create a sweet set of framed prints for a gallery wall in their home.
21. Memory Lane
Think back to how they met for a unique wedding gift idea that will make them fall in love all over again.
22. Newlywed Snacks
Call ahead to their honeymoon hotel to make sure they have some snacks and bubbles for when they arrive.
23. Let Them DIY
Get them a kit that they can work on together, like one that brews beer or makes jam.
24. Make It a Group Gift
Pick a larger gift from their wedding registry and make it a group gift, using SignUpGenius Payments to coordinate.
25. What Happens in Vegas…
If the bride and groom are heading to Vegas, fill up their casino card before they go. Who knows? Maybe your gift will make them big winners!
26. Movin' on Up
Simply put — help them move.
27. Get Artsy
If they have a signature saying, have it recreated into a piece of art.
28. This Couple Rocks
For music-loving couples, tickets to see their favorite artist perform the next time they're in town will be a fun surprise.
29. Bypass the ATM
If you're giving them cash as a gift, think of a unique way to present it.
30. Give the Gift of Travel
Help fund their honeymoon. Create a sign up to get other guests to chip in, too!
31. Keep Their Memories Alive
Snag a few special items from their wedding to put into a special shadow box — their invitation, a dried flower from the centerpieces, the dinner menu, and a snapshot of the couple.
32. Breakfast Basket
Put together a sweet breakfast basket with everything they'll need for a morning at home. Don't forget the plush robes!
---
Collect Wedding RSVP's with a Sign Up! SAMPLE
---
33.
Pick Your Favorites
Fill their home library with books that you love to get their collection started. Remember to write in them first.
34. Movie Night In!
Subscribe them to Netflix for an entire year of nights in together!
35. Get Cookin'
Organize the wedding guests on SignUpGenius to create a collection of everyone's best recipes into a special, personalized cookbook. SAMPLE
36. Sun's Out, Top's Down!
Upgrade their honeymoon car to something fun, like a convertible!
37. Go Retro
Mixed tapes are in again…especially when they're filled with songs that were played at their wedding and reception.
38. Fill the Fridge
Fill their fridge when they're on their way home from their honeymoon or wedding location.
39. Welcome Home
Get their friends together to throw a post-honeymoon welcome home celebration. SignUpGenius can help manage the details.
40. Don't Forget Fido
Offer to pet-sit while they go on their honeymoon.
41. Celebrate the New Names!
Celebrate their new monogram with something fun for their home, like a monogrammed doormat.
42. Love That Grows
Bring the bride and groom a tree to plant at their new home.
43. Personalized is Best
Personalized gifts with their new last name are a fun way to kick-off their new life together.
44. Say "Yes" All Over Again
Plan an engagement throwback evening for them, including a gift card to the restaurant where they first had dinner.
45. A Night Out on Us
Figure out a popular restaurant where they're honeymooning and get them a gift certificate… just make sure they open it before they leave!
46. Too Cute Tech
If the couple is tech-obsessed, have matching phone covers made from their engagement pictures.
47. Something For Everyone
Pick his-and-hers gifts that speak to their interests — something for the bride and something for the groom.
48. Pitch In for Improvements
If they have a new home, contribute to the deck they're planning to replace or that new washer and dryer they've been swooning over.
49. Surf's Up, Newlyweds!
Headed somewhere tropical? Pack them a new beach bag filled with the essentials — beach towels, sunscreen, magazines, and flip-flops.
50. Home Sweet Home
Pay to have their house cleaned, post-wedding craziness. It's a simple gift, but they'll thank you for it later.
Whether you're planning a group gift with the help of SignUpGenius, or you're bringing a gift for the bride and groom on your own, remember that the most important gift you can give them is your love and support for their new marriage!
Katie Kavulla is a lifestyle writer and editor who lives in the Seattle area with her three kids. You can find her on bellingFAM, where she shares about life in the Pacific Northwest.