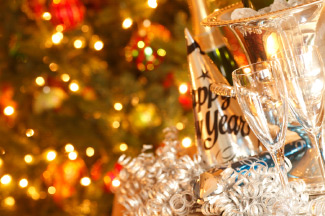 The year is almost over! The holidays are upon us and you've already started setting your plans in motion for success in the upcoming twelve months. Now it's time for a night of celebrating—but what to do? It seems most plans involve going out and drinking champagne or staying in on the couch and watching the ball drop. However, you've done one or the other for the past five years and you're looking for something different. No worries, SignUpGenius.com is here with some unique ways to bring in the New Year with a bang!

An Extraordinary Night In
Cook an elaborate meal
Plan an elaborate menu and invite friends and family to taste the final product. Not much of a cook, or don't feel like taking it all on yourself? Have a
potluck
. Challenge people to cook a dish that they ordinarily wouldn't cook. Use Signupgenius.com to plan, organize your guest list, and keep track of people's potluck dishes.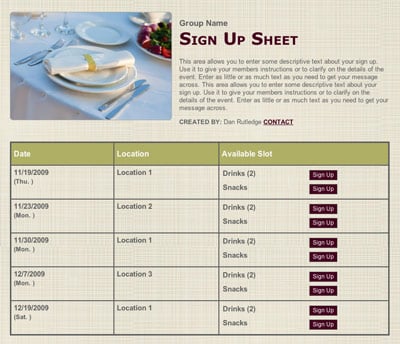 Host a wine tasting
Invite a sommelier/a local wine expert (or do the research yourself) and some friends to host a special New Year's Eve wine tasting. Lay out a spread with cheese, crackers, fruit, etc. If wine isn't your thing you can do the same with: beer, chocolate, cheese, coffee or other food items you'd like to learn more about. Add a theme for additional fun, for example an "Around the World" theme where each guest is responsible for bringing tastes from different regions or countries.
Home Movies and Popcorn 
How many videos/pictures did you take this past year that are sitting on your hard drive? New Year is a great time to organize your favorite moments of the year. Pop some corn, get the family together, and stroll down memory lane.
Game Tournament
Get the gang together and dust off that box of cards or Monopoly board and set up a game tournament. This can be lots of fun and is a great way to get everyone involved in some good natured competition. Be sure to make the rules clear so everyone is on the same page. May the best person win!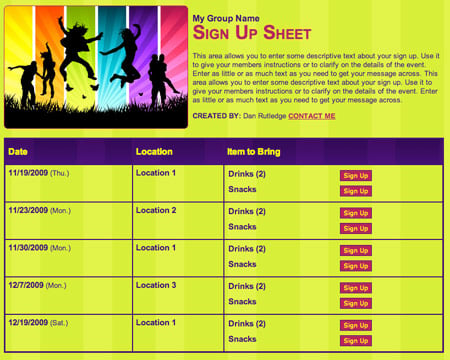 Pajama Dance Party
What's better than a dance party? A pajama dance party! Put together a playlist with your favorite songs of the year, put on your most comfortable (and fashionable) pajamas, turn up the music, and dance until you're out of breathe. Take lots of pictures and Invite friends—the more the merrier!
Plan a DIY/Craft Party
Channel your creative energy and invite friends to do the same. Find some craft projects online that can be created in a couple of hours and set up a workstation in your home. Pinterest is a great place to find fun and easy projects. Ask others to bring some supplies and use SignUpGenius.com to track the items people will bring.
---
Planning an evening in or organizing to go out? We've got you covered! Create a free sign up TODAY!
---

Out and Around Town
Take a Hike
Reflect on the previous year and think of your plans for the upcoming one with a vigorous hike through the mountains or on a walking path. If you're feeling adventurous, plan a camping trip with some friends and make a weekend of it.
Overnight Hotel Stay
Take the family for a mini vacation! Whether it's a hotel in the next town or downtown, it will be a night away. During the day take in some shopping, or hangout in the hotel spa. In the afternoon take advantage of the hotel pool.  Finish the day with a meal in the hotel restaurant or room service.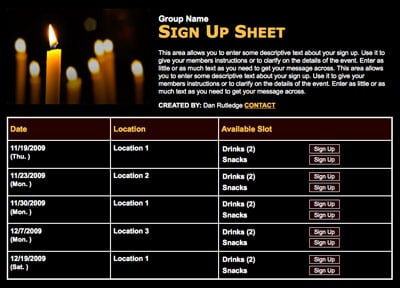 Attend a Religious Service
Spend the evening ringing in the New Year thankful for the year that has passed and for the year to come. Don't miss out on a great opportunity for reflection and renewal.
Gather Friends for Brunch
Instead of planning a night out on the town in a crowded nightclub or spending two weeks pay to eat dinner at the best restaurant in town, make brunch reservations at your favorite restaurant and invite friends to join you. Create fun conversation by bringing along slips of paper that have questions that each guest can answer, such as "What would you change about last year?" or "What's your biggest hope for the New Year?"
Volunteer Your Time
Take time to help an important cause. Plan to spend the day volunteering your time at a local shelter, food bank, church, senior home or any cause special to you. Use SignUpGenius.com to invite others to join you and inform them on items they can bring.
Whatever you decide to do, choose to be in a pleasing environment with people you enjoy spending time with. It can make the biggest difference as to the success of your evening. Have fun celebrating!
 
Aubrey LeGrand is a sales and marketing professional.