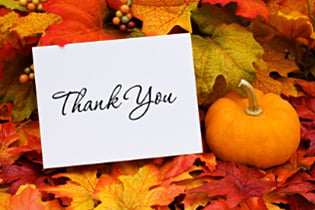 Tasty turkeys stocked on refrigerator shelves, splendid silverware lining dining room tables… and perplexed party planners frantically searching for the recipe to a seamless celebration. Turkey Day is on its way, and whether you find yourself in a kid-filled classroom, a function at your church, or right at your kitchen table, SignUpGenius has ideas to help you create the perfect Thanksgiving bash!
Thanksgiving in the Classroom
A school celebration isn't complete without a fun craft that kids can take home to show to mom and dad or put on the table during Thanksgiving. One unique craft idea is to make turkey gloves. By hot gluing wiggly eyes and pieces of felt on to orange gloves to depict a turkey, kids have something that is both fun and useful for chilly days ahead. And we can't overlook the unforgettable pilgrim hat! These hats, constructed with black paper, as well as pilgrim finger puppets, made out of paper and cardboard tubes, are easy and fun crafts to remember the Mayflower. For games, "Turkey Hunt" (where students try to find hidden toy turkeys around the classroom) and "Mayflower Madness" (musical chairs) are fool-proof games for kids of various ages.
---
Collect money to buy turkeys for the homeless using SignUpGenius Payments!
---
Thanksgiving in the Church
A church celebration can involve both giving thanks and giving back to the community. Have a pie baking party, where the cooks in your congregation gather in the church's kitchen. Bake desserts to give to a food pantry, homeless shelter, or a bake sale to raise funds in order to pay for Thanksgiving dinner for those in need. Another option is to organize a Leftover Lunch, which allows families to bring freshly made food to the church, which will then be transported to a food pantry or homeless shelter. The Sunday school session can include the making of Thankful Turkeys. Kids write what they are thankful for on cutouts of their handprints, which are then glued together to form a turkey. Attach a turkey body with a Bible verse written on it.
Thanksgiving at Home
Decorate the halls with brown and orange! Okay, too much of those colors may get overwhelming, but when creating a warm ambiance in the home, autumn colors are great places to start. Welcome family and friends with a festive wreath on the front door, and light fall-colored candles. One fun idea when setting the table is to create place cards that are labeled with the person's name and the words "is thankful for…" and leave space for them to write in what they are delighted by this season. You can also put a quote or saying by each plate for reflection. While enjoying your feast, go around the table and let each person say something that they are thankful for about the person to their left or right. Meanwhile, pass around a newly started Blessing Book. Each family member or friend writes down a blessing that they have encountered in the past year. These are kept for future reflection.
Thanksgiving for Non-Profit Volunteers
Give back to those who give all year! Organize a potluck, letting each volunteer bring a dish of their choice. Set up table tents that have blurbs featuring the accomplishments of the volunteers from the past year. Decorate with disposable tablecloths and silverware, but use candles and festive centerpieces to maintain the ambiance. As far as going the extra mile, nothing says "Thank you" like a gift basket. Fill these favors with lotion, bath salts, tasty treats (chocolate, peanut brittle, and real maple syrup are all good options), mugs, restaurant or spa vouchers… anything that says, "Thanks!" to these valuable folks!
Before the turkey starts cooking, remember that when planning celebrations, gathering supplies, or organizing a potluck, SignUpGenius is a tool that is here to make your holidays spectacular and, of course, simple!