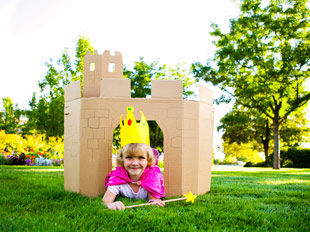 Thinking outside the box is the key to devising a summer job that sets you apart from the rest of the teenage job-seeking crowd. If being your own boss sounds appealing, here are a few ideas that, with the help of an organizing tool like SignUpGenius, will offer you great earning potential.
1) Toy Time Mini-Camp
Use your collection of old toys to host an afternoon (or more) of supervised play and activities. Host a building blocks or doll mini-camp and let the play begin! Using a tool like SignUpGenius will help keep the groups manageable and organized, especially if you plan for multiple days.
2) Parent's Night Out
Invite church small groups or school families to drop off youngsters for an evening of play for the kids and an evening out for the parents.
3) Park Playtime
Utilize a nearby park and SignUpGenius to schedule neighborhood children for supervised group play times. This is a great twist on regular babysitting that gets kids up and active.
4) Garage Sale Assistant
If you love sorting, organizing, and helping out on the day of a sale, offer your services to neighbors or family members. They will be happy to share their profits to have the extra helping hands.
5) Vacation Services Plus
Using SignUpGenius, invite neighbors and friends to take advantage of your house sitting services while on vacation. Make a price list for add-on services beyond mail pick-up or pet sitting, such as flower care, mowing, or light housekeeping.
6) Summer Skills Tutor
Keeping math and reading skills sharp over the summer months is important to parents. Channel your love of learning into tutoring younger children in multiple areas. Meeting at the library or at home is much less intimidating than a summer school program. Encourage students to find an interested friend and you can double your earning potential. SAMPLE
7) Mobile Dog Washing
Love pooches and don't mind getting wet? Save pet owners the time of going to the groomer by offering to come to them and use an outside hose, pet shampoo, and old towels for some pet pampering. (Don't forget a leash!)
8) Acting Mini-Camp
Channel your dramatic capabilities into scripting and performing original one-act plays or coordinate a reader's theatre with a favorite children's book. Finish off your mini-camp with a performance for siblings and parents.
9) Book Club
Pre-select popular books and use SignUpGenius, to offer parents the option to pre-pay for the books and book club all at once. Organize book clubs grouped by age or grade throughout the summer and watch the pages fly! SAMPLE
10) Track Time
Getting kids off the couch is a priority for parents during the summer. A nearby school track during the cooler morning or evening hours is a great place to invite older children to do some stretching, play relay games, and run fun races.
11) Sweet Shop
Use your baking skills to create some sweet treats and sell them at your parent's office complex or neighbor's yard sale.
12) Mowing Plus
Adding on additional services (like pulling weeds around mailboxes or flower beds) to your mowing will give you an edge over the competitors. Use SignUpGenius as your organizing tool to help you keep appointments straight and collect payments.
13) Errand Driving
Working parents may appreciate help a few times a week picking up pre-ordered groceries, dry cleaning, or something they have ordered online that can be picked up in-store. Also, picking up older children from camps can be a big help for parents with toddlers who still need that afternoon nap!
---
Online sign ups for scheduling and payments? GENIUS! Get Started HERE.
---
14)
Yard Helper
Help older homeowners by handling a wheelbarrow, spreading mulch, or moving branches. Email your availability to neighbors and friends using SignUpGenius.
15) Princess/Heroes Mini-Camp
Pick a favorite book or movie character and plan some afternoons of happily-ever-afters. Costume play, crafts, and movie watching can make for summer fun that little ones will love. SAMPLE
16) Snack Stand
Set up a refreshment stand at a local park. Take a bag of apples and water bottles during peak play times for families to purchase. Do some research to see if you will need a food license in your area.
17) Tech Wizard
Always teaching others how to operate their smartphones? Make yourself available for in-home help sessions for those who are less tech-savvy. Help with photo editing, navigating grocery store apps, and understanding social media are a just a few jumping-off points for your tech wizard service. 1
8) Mobile Car Washing
If you love to be outside and work with cars, this could be a service you provide for busy professionals right in their own driveway. If you live in a boating community, boat-washing services can also be lucrative.
19) Pool Helper
Let families know you are available to accompany them to the pool to help with the kids, so they can get a break. Share your availability by sending out a SignUpGenius email to your neighbors or pool club members.
20) Pet Walking Plus
Pet-owners love to know their pets are well cared for during the hot summer days or while on vacation. Add to the typical pet walking service by offering brushing, bathing, or playtime with pets.
21) Reading Buddy
Many children lose the motivation to read during the summer. Let parents schedule you as a reading buddy for their child one or more days per week. Use materials from the library or give children a fresh set of ears for books they already own.
22) Cleaning Services
Many warm weather tasks are happily passed from homeowner to willing teenager. Cleaning lawn furniture, swing sets, decks, wood fences, or windows are valuable services for those who don't have time. You can schedule AND accept payment online with SignUpGenius Payments.
23) Science Mini-Camp
Invite some neighbors or younger friends for a few afternoons of nature walks, simple experiments, or fun quiz bowls. Use your love for science to your advantage by channeling it into an educational experience that parents will appreciate and kids will love.
24) Dirty Jobs Helper
Let's just be honest, somebody has to scoop up after the family pooch. Many people will happily pay for that service and other dirty jobs like washing out trashcans, scrubbing off steps and dirty siding, or sweeping out garages.
25) Afternoon of Art
Love to paint, draw, or sculpt? Invite older children using SignUpGenius with a link to pre-pay for art supplies and get ready for a day (or more) of creative genius!
Summer jobs are all about finding something you love and taking the initiative to make it happen. Being your own boss allows for lots of creativity, flexibility, and some great summer memories. Good luck!
Julie David is a former teacher who hopes her two teenage daughters will be inspired to find a way to mix fun with gainful employment during the summer months to come.