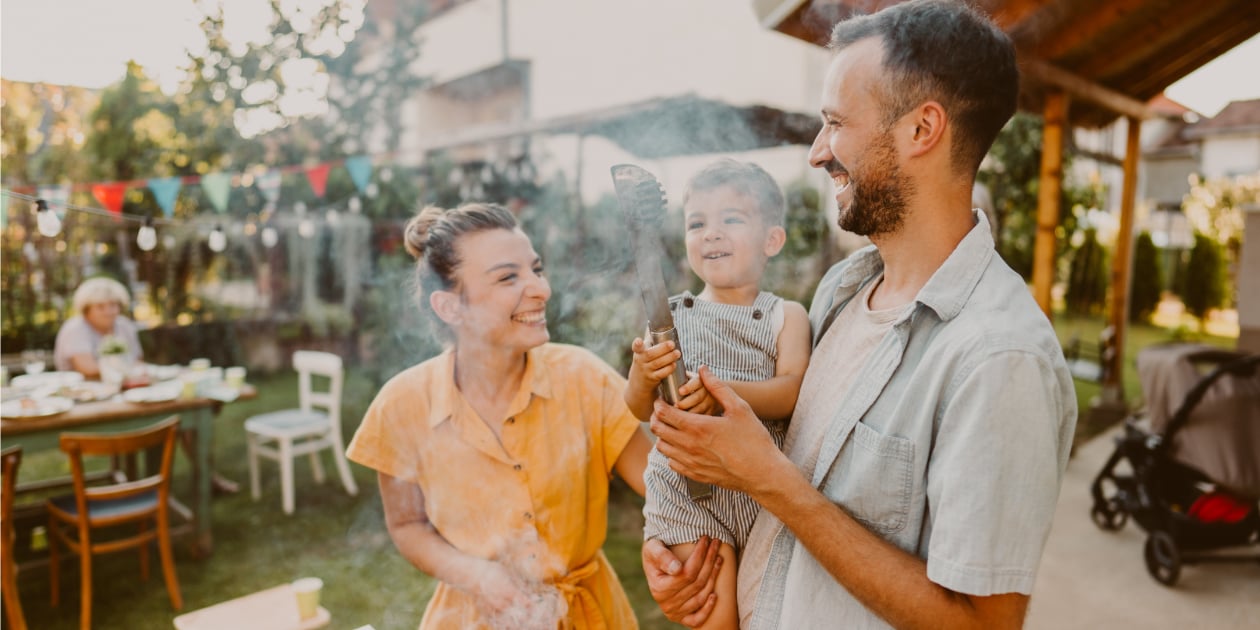 Sunny days signal the perfect time for inviting friends and family over, heating up the grill, and enjoying some fun at a backyard BBQ. Adding in new and creative ideas to your next gathering may be just what you need to take your party from fizzle to sizzle!
Getting Started with Preparations
No party comes without a little planning. The more you think through, the more likely you'll have a killer party that folks will love. Be sure to include these tips in your planning and prep. 
Items to Prep - Not having enough propane in the tank when the grill is fired up is a chef's worst nightmare. Other prep ideas are making sure to have enough seating options and tables for food, a meat thermometer, some bug spray, and prepping condiments and tableware to make sure those are plentiful and ready to go.
Drink Stations - Use colored steel tubs to help direct guests to drinks.  You can add labels or easily rattle off "Booze in blue, water in white, kid-friendly drinks in green".
Keep It Cool - Perishable food can be kept cool by putting items together in inflatable serving trays filled with ice (Amazon has inexpensive and fun options). Smaller condiments can be kept cool in an aluminum baking tray with ice, so food stays safe for the duration of your party.
Keep it Clean - Place hand sanitizing wipes in several locations to make it easy for guests to wash up before and after eating. You can also set up an outdoor handwashing station with large water dispensers, pump soap and paper towels.
Bugs Be Gone - A clever way to protect sweet drinks from pests is to use paper cupcake liners over the top. Cut an "X" shape in the center of the liners and offer guests paper straws so they can sip and keep unwanted visitors from floating in the drink.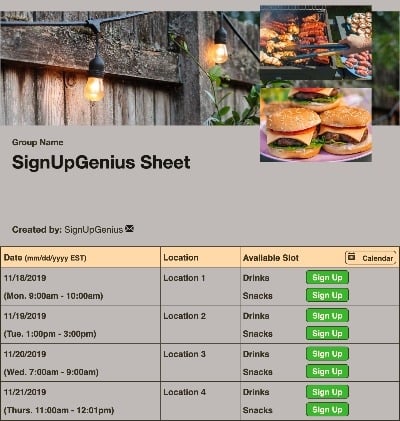 Party Decorating Tips and Ideas Made Easy
Spruce up your next outdoor gathering with some fun decorating. This really helps set the ambiance and creates a fun and lively mood to the event. Here are a few suggestions to help. 
Best Joke Table Runner - Using a roll of craft paper, make a runner down the center of your tables and tape ends to the underside of the table.  Scatter washable markers and encourage guests to write their best family-friendly jokes for everyone to enjoy.
Go Au Naturale - Grab items from the garden for table decor like some on-the-vine tomatoes set among sprigs of cilantro and some cut sunflowers or herb plantings wrapped in burlap. Use small tea lights (the battery-operated version is a kid-friendly option) to enhance the ambiance. 
Simple Strings - If your party will dip past sunset, a simple string of lights may be all it takes to set a festive mood. If electricity is an issue, try scattering glow sticks and glow bracelets around the tables for guests.
BBQ Photo Booth - A red and white tablecloth secured to the side of a garage with some small BBQ-themed props can help set the stage for some great pics. You can create signs with phrases like: "Gettin' Sauced!", "King of the Grill", "Grillin and Chillin", and offer props like grill tongs and chef aprons.
Effortless Centerpieces - A cute and quick centerpiece idea is to stop by the floral department on your grocery run and grab several bunches of Baby's Breath flowers which look lovely in various vases and containers tied with a bow of twine. You can also add in the tops of decorative grasses you already have in your yard and flowers that are currently blooming for extra color.
Napkin Craft - To keep little hands busy the day of the event, buy a stamp at a local craft store and use water-based, non-toxic ink to stamp disposable napkins. This gives kiddos a job while adding an easy touch to your table decor!
Crank the Tunes - Don't underestimate the power of some good summer music to help set the party mood. Borrow or buy a small Bluetooth speaker to place at the center of the action on a low volume. Create a playlist (make sure you have a charger for your devices so it isn't the day the music dies) and ask attendees to send in song requests.
Request potluck items for a summer BBQ with an online sign up. View an Example
Up the Backyard Fun
Games and other props are a fun way to create pockets of fun at your party. Simple games such as cornhole or other activity stations are ways to gather people who can easily connect over a game or activity at the party. 
Go Big - Giant versions of backyard games are sure to elicit a wow factor. Recruit your favorite woodworker to create an oversized Jenga set or try Yard Pong with Red Buckets and plastic five-inch white balls. Giant Yahtzee with a trash can for your cup will roll out some laughs guaranteed!
Tent Party - Bust out your camping tent and throw in some outdoor pillows to create a special party room for the littlest guests. You could even add some children's books and a few toys for sharing.
Clothespin Gotcha - This silly competition is great for family or a gathering of close friends. When guests arrive, hand a pin to each guest to attach to their clothing. Let everyone know if they use your preselected "pinned" word of the night, they must give up their clothespin to the person who catches them. The person with the most pins at the end of the night gets a prize (like taking home a plate of their favorite dessert).
Frisbee Tic-Tac-Toe - DIY your game board with a queen-size sheet marked off in squares made of painter's tape. Get four frisbees from the dollar store in two different colors (eight total) and guests can have a fun time trying to toss their way to a tic-tac-toe win.
Pool Noodle Games - Using pool noodles, set up a silly obstacle course for guests to try (limbo, balloon golf into a hula hoop or javelin throw). Noodles can also be used for an oversized game of croquet using noodle arches staked into the ground as the wickets.
Anti-Sizzle Stations - If the temperature is going to be extra steamy on the day of your gathering, fill a few plastic pools for guests to dip their feet in (or children to play in — but maybe keep these two pools separate, cause, well, feet). Bring out a fan or two to help circulate the air and borrow beach umbrellas or tail-gaiting tents if your BBQ area is lacking shade. You can even purchase an inexpensive mist stand to spray a cooling mist in the air.
Get your group together for a backyard party with an online sign up. View an Example
Ideas for Beyond the Meat
The BBQ and other meats don't have to be the main event at your backyard party. Adding other dishes and even desserts can provide some diversity and really up the food game. From potato salad to homemade ice cream, folks will be talking about all the wonderful food at the party. Check out some these helpful ideas.  
Save Time with Premade - Do you have a restaurant in town whose cheesy potatoes or baked beans are to die for? Consider ordering up some of these dishes as a surprise treat for your guests. A large-crowd hack is to put these treats in an oversized crockpot and stir in some additional cooked but unflavored potatoes or beans to help them go further.
S'mores Buffet - If you can, borrow a portable fire pit or create a campfire and offer guests the ultimate s'mores for dessert. Check out some of the new unique marshmallow flavors in grocery stores and online. And set out some fun additional toppings like peanut butter, shredded coconut and individually wrapped peanut butter cups for a delicious campfire treat!
Share the Menu - Utilize an online sign up to ask guests to bring their favorite side dish or for a twist on the idea, have guests bring a marinated or seasoned meat to share with two other people and you provide the sides, grilled veggies and fruit to round out the menu.
Grill Something Different - Vegans are all in for something delicious on the grill so throw on some innovative substitutes like seasoned cauliflower, portabella mushrooms or watermelon steaks. For your carnivores, an idea is to go international with your meat and try a Korean or Latin spice rub.
Top This - Your guests will be delighted to dress up their sandwich, hot dog or burger with these yummy toppings: 

Buffalo sauce and blue cheese or ranch dressing on pretzel buns 
Marinara and mozzarella slices on Italian bread slices 
Caesar dressing, slaw, crumbled croutons on a brioche bun 
Fresh out of the air fryer onion rings and feta cheese

Friendly Competition - If you know your group would like to flaunt their foodie prowess, how about challenging guests to bring their best side dishes and drinks? Examples might be the most unique potato dishes, most deliciously flavored Sangria or best appetizer that will change your life (for the better, of course!).
Cheers to Summer - Serve up a signature cocktail that can be modified as a tasty mocktail. Or let guests play bartender with mixers like flavored seltzers, fruit juices, ginger beer and garnishes. Serve drinks in festive cups and raise a glass to celebrating summer with your favorite people!
Backyard BBQs are a great way to reconnect with family and friends in a casual setting. With these extra ideas and activities, you can create lasting memories and turn up the heat on fun at your next summer backyard party.
Julie David is a freelance writer, educator, and worship pastor's wife from the Midwest who likes warm hugs.