Road Trip Packing Essentials Checklist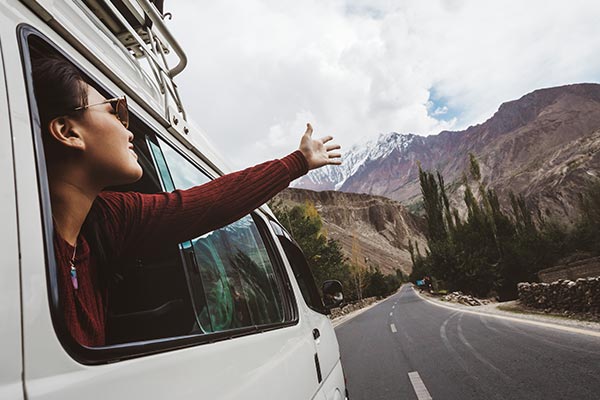 Taking a road trip is one of those quintessential experiences that every person can have. They are also a more economical way to travel if you are going with a group or traveling with kids. But even the most well-planned road trip can hit bumps in the road. Use this road trip packing checklist to help you prepare all the essentials for the road trip of a lifetime. 
Before You Go 
Check Tire Pressure - Before you go, check your tire pressure. If your car doesn't have this information updated automatically, go to a gas station where you can use their pumps to check. The optimum tire pressure should be available on a sticker placed on the driver's door jamb. If not, the recommended pressure is usually between 30 and 35 PSI.
Check Line of Sight - Your car might be packed to the brim. Ensure that you can still see out the back window and your mirrors give you visibility into blind spots.
Check Fluid Levels - You don't want to run out of gas or dip too low in any fluid levels, such as oil and windshield wiper fluid, while in a strange place.
Check Documents - Don't leave without your proof of insurance and registration.
Plan Route - Look at route options before you go. Check where you might be able to stop for gas and food, too. One route might be a little longer but have better restaurant or hotel options.
Print Maps - If your phone loses service and your car GPS stops working — what will you do? You can break out the pre-printed maps you're bringing with you. You are so prepared.
Check Car Seats - Test car seats to make sure they are in nice and tight, so your most precious cargo is safe.
Get Cash - There are times when you just need cash, such as toll booths or parking meters. Or, you may have to buy something in a place where you'd rather them not have access to your credit card. Get cash, in both bills and change, so you are prepared.
Get Educated - The right time to learn how to change a tire is before your tire is flat. Watch a few YouTube videos on how to change a tire, so if that is needed, you'll feel more prepared.
---
Coordinate a travel sports team carpool schedule with a sign up. View an Example
---
Safety 
First Aid Kit - Pack a first aid kit and include everything you could need in the event of an injury while traveling. Not sure what to put in it? Look for a pre-packaged first aid kit that has different sizes of bandages, first aid cream, burn cream, gauze, pain relief medicine and more. Here are 6 top recommended first aid kits if you'd like to buy a pre-packaged option.
Safety Gear - You never know what can happen. Be prepared with basic safety gear, such as a multi-use tool, a flashlight, a compass, a rope, an emergency poncho, work gloves, duct tape, ice scraper, paper towels and anything else you might need if stranded.
Tire Sealant - Just in case a tire is damaged while out in the middle of nowhere, you may want to be able to patch the tire, rather than use a spare. Invest in temporary tire sealants and inflators that can help you patch a tire quickly and safely.
Spare Tire - Make sure your car has a spare tire also and that it is full of air. A flat spare serves no purpose.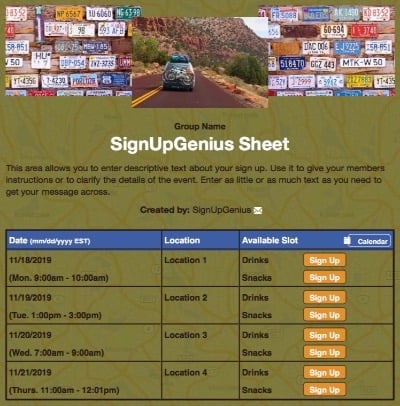 Roadside Service - If you have AAA or a roadside service membership, make sure you have the information on hand in case you need it. Plus, you may be able to score some great coupons using your membership at hotels or rental car locations.
Reflective Triangles - You'll want to protect your car from collisions if stranded on the side of the road, and reflective triangles will do the job.
Car Jack - If you're changing a tire, you'll need one of these.
Blankets - Cars can get cold. Stash some blankets in the car so people can bundle up.
Jumper Cables - You'll want to be able to jump your car back to life if your battery dies.
Snacks - Have jugs of water and enough snacks to last a couple of days in case of an emergency breakdown at night or in the middle of nowhere. These should be separate from your other snacks and left unopened if there is no emergency. Snacks like trail mix and power bars will keep energy up for long periods of time.
---
Coordinate registration for a youth camping trip with a sign up. View an Example
---
Entertainment 
Games - Print free road trip games for kids, a list of would you rather questions, and other road trip games to keep everyone engaged as you log the miles.
Tablets - Charge all tablets in advance. Tablets have games that can keep passengers busy, even if there is no Wi-Fi.
Movies - Bring a DVD player for the car if you have one. Everyone loves movies.
Books - Either hard copy or an audiobook, stories are a great way to pass the time.
Music - There will be places where even satellites can't find you, so bring alternate ways to play music if you usually rely on the radio or Sirius XM. Or, make a road trip playlist that you can listen to on the go.
Chargers - Bring a charger for every electronic item you are packing and consider investing in portable charging devices to bring with you.
Headphones - If your group can't agree on one form of entertainment at a time, you'll be glad you remembered these.
---
Schedule beach condo rentals and collect fees with a sign up. View an Example
---
Snacks 
Water - Make sure that drinks are in smaller containers that can be refilled and passed around.
Caffeine - Drivers need to stay awake as the hours pass, so have some caffeinated drinks ready to go.
Snacks - Pack snacks in snack bags for easy distribution and less mess. Limit sugary snacks, since kids can't run off the extra boost in energy. Reusable individual containers are also helpful to have on hand for divvying up goodies.
Cooler - Pack a small cooler with ice, food and drinks that are better served cold. You'll appreciate the fresh snacks when you're tired and hungry.
Food Stops - Look at your trip itinerary and identify a few places where you can stop and enjoy food everyone will like. After hours of driving you'll be glad you planned these stops in advance.
Cleansing Wipes - You'll want these for wiping down hands before or after those snack attacks!
Paper Goods - A roll of paper towels is a great "just in case" item for a potential spill. While you're at it, throw in a box of tissues.
Road trips offer a unique travel experience that will leave you with plenty of new memories and an exhilarating feeling of adventure. Hopefully, this list of road trip essentials will leave you feeling inspired, excited and prepared for your next road trip. 
Erica Jabali is a freelance writer and blogs over at ispyfabulous.com.