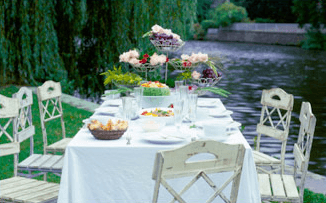 Celebrate a nice sunny afternoon with a springtime-inspired dining experience that pairs good friends and delicious food.  It's the perfect chance for you and your guests to sit back, relax and eat while enjoying each other's company and delight in the beauty of the season.
You can easily host a potluck brunch that has you and your friends creating fresh, seasonal meals to share together. Spring's standout fruit and vegetables, springtime greens and crowd pleasing bursts of color inspire fresh ideas for everything from entrees to side dishes to desserts that announce that spring has finally arrived. Whether served as a buffet or a sit-down meal, a selection of these tips will enhance a casual yet elegant spring gathering.
---
Plan the perfect potluck with our online invitations and potluck sign up sheets.  See how.
---
Spring Into Action
:
Whether your gathering is an indoor formal affair or outdoor garden celebration, make a plan before getting your party under way. Make lists and timelines for inviting your family and friends, shopping, cooking, and decorating. Pre-plan your potluck menu, or have your guest bring a spring specialty of their choice.
Inspired Spring Decor
: 
A garden party is as simple as setting up a picnic table in the backyard or placing a table on the porch or lawn and brightening the seating with cushions in vibrant prints. A bucket of seasonal flowers can be a simple centerpiece for a springtime brunch. Set the scene with fragrant branches of lilacs, arrange soft lavender hydrangeas in a crisp white pot, or cluster pink peonies and tulips that will wave in a cool breeze.
Create a Tabletop Celebration: 
Do whatever tasks you can before your guest arrive. Set the table, and if serving buffet style, lay out the cutlery, serving spoons, condiments and other necessities. Rich linens and place settings in pretty polka dots or florals brighten the table and sparkling glasses add a feeling of luxury to any setting. Use colorful bowls, dishes and desserts stands of varying heights to infuse the space with color.
 
Plan a Seasonal Feast:
Plan a garden theme menu. Ask your guest to make the most of seasonal produce and flowers and take their inspiration from bright spring colors. Fresh blueberry scones, roasted beets, glazed baby carrots, asparagus casserole, fruit filled tarts and turnovers, spring mixed greens with a fresh herb dressing, fresh squeezed orange juice and zesty lemon squares are sure-to-please highlights of any spring get-together.

Delicious assorted mini flower sandwiches filled with cream cheese & jelly, or thinly sliced honey ham with watercress; bite-size stuffed cherry tomatoes and cucumbers; chicken salad with granny smith apples and grapes; chopped egg, tomato and mint, served in celery boats, accompanied by pink lemonade or orange blossom iced tea are a nice springtime touch. Cupcakes topped with spun-sugar flowers will always end the party on a sweet note.