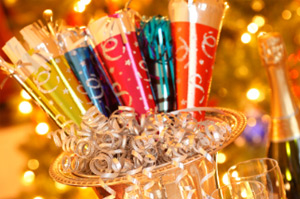 The final pages of the calendar are filled, New Year's resolutions are forming, and fireworks disappear from store shelves. It's clear that a new year is preparing to launch, and setting off your own party is an explosive way to celebrate! When it comes to planning parties, we have a variety of themes and ideas to make your celebration special.
Go Elegant
Start the New Year in style with a cocktail party. Have high-end decorations, food choices, and entertainment!  
Decorations
Choosing a theme simplifies and adds class to every party. It doesn't need to be extravagant. (For example, a "Black and White" theme is simple but elegant). Make sure your planning choices reflect your theme. Some general ideas for decorations are to avoid harsh overhead lighting, opting instead to use festive candlelight. Group the candles in clusters and surround them with ribbons or patterned bits of paper. Because vases of flowers can hardly make a statement at a mingling cocktail party, use one high, bold display instead of scattered bouquets, although a smaller, similar bouquet in the bathroom is a nice touch. Buy decorative napkins, about four per guest, and be sure that they are easily accessible. As a bonus, fill some bowls with confetti and place them within easy reaching distance for throwing time.
---
Create a party invitation and sign up for free with SignUpGenius.  View Example.
---
Food
Because cocktail parties generally have only small portions of finger food, it may be wise to schedule your party post-dinner hour. It's best to stick with the foods that are of the season. Some good ideas for hors d'oeuvres are crab cakes, tuna rolls, and grilled vegetables served in various fashions. One sure hit is to serve different types of crostini. By toasting these small slices of bread and topping them with foods such as ricotta, prosciutto, and peach, or Thai basil, tomato, and mozzarella, you will keep your guest's appetites guessing what robust flavors will be next!
Games
To keep everyone engaged until the ball drops, and maybe long past that, organize a poker tournament, break out the Wii, or create "vice stations" for those determined to have a final go at what they plan to cut down on during the coming year. Have a chocolate/candy table, a video game station, and a place for any other humorous vices that your guests may have.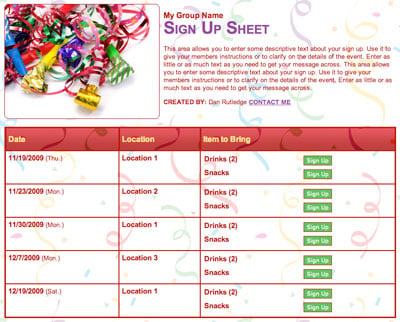 Music
Depending on your taste and that of your guests, making a CD of the top songs from the past year is a sure hit for background music.
Go Playful
A perfect theme for families, the idea of letting your New Year's Eve party take on a life of playfulness will prove both cost-efficient and fun.
Decorations
Because guests will come in casual attire, there is no need for your decorations to be glitzy. Cute, mildly cheesy New Year's Eve banners and party hats are always crowd pleasers, and massive amounts of streamers are an absolute must. Let the kids make crafts to display and you'll have yourself a good party activity and decorating idea.
Food
If there are kids present, make sure to include a menu tailored to their taste buds. Including PB&J, hot dogs, grilled cheese or mac 'n cheese as main courses for the younger crowd will win you some praise. For adults, you can go a bit more sophisticated with sliders, chili, or adult finger foods. Serving appetizers such as spinach and artichoke dip, shrimp, and fruit kabobs will get the party started. Make sue to include sparkling cider along with the real bubbly for a family friendly touch.
---
Coordinate food for guests to bring to the party easily with SignUpGenius! View Potluck Samples.
---
Games
Have your party guests write down their predictions for the year, their favorite part of the past year, and one goal they want to set for the coming year. Then have each guest share their thoughts with the group. Including kids in this activity will add to the fun factor. Break guests into two teams and get active with some games a la Minute-to-Win-It style.
Music
In addition to a fun mix of the previous year's top hits, include a few songs that will spur on some dancing like "The Hustle", "The Electric Slide", "YMCA", "We are Family", and "The Twist."
Whether you go elegant or playful, planning the decorations, food, games and music to match the theme of your New Year's party will ensure a good time for all. Organizing your party with free online sign ups from SignUpGenius.com, will simplify your life, so you can enjoy the party, too. It's genius!