25 Movies to Watch with Dad on Father's Day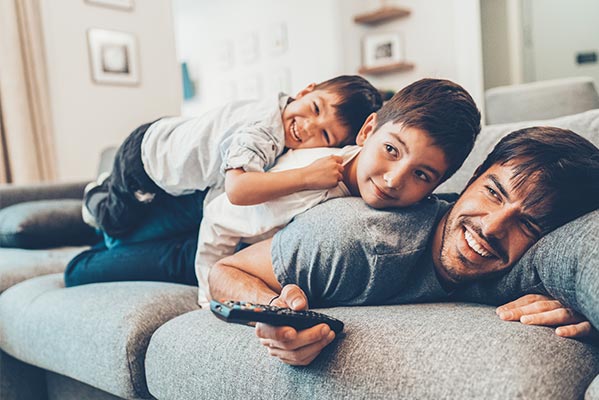 Spend some time with your family's favorite guy this Father's Day by turning on one of these classic films. Whether you're looking to laugh or simply feel sentimental, one of these movies should do the trick!
The Incredibles (2004) - You might have a super family, but do you have a superhero family? Enjoy this fun animated movie about a family of superheroes saving the world.
We Bought a Zoo (2011) - A father coping with the recent loss of his wife buys a defunct zoo. Antics ensue as he tries to run the zoo alongside his two children.
The Game Plan (2007) - You'll be giggling all the way through this movie! A famous football player finds out he has a young daughter and must change his bachelor lifestyle to figure out how to be a dad.
The Lion King (1994) - Simba the lion is all set to take over the throne for his father Mufasa's kingdom, but if his Uncle Scar has any say, things won't be so easy.
Mary Poppins (1964) - Michael and Jane Banks are desperately in need of a new nanny. But this new nanny isn't like the others, and things are sure to turn upside down for the Banks family when Mary Poppins comes to town.
---
Plan a family reunion potluck with a sign up. View an Example
---
Mrs. Doubtfire (1993) - In this classic Robin Williams movie, watch Daniel Hillard become a disguised nanny (Mrs. Doubtfire) to spend time with his kids without his ex-wife's knowledge.
Daddy Day Care (2003) - Your whole family will be in stitches watching Eddie Murphy try to run a children's daycare as a goofy stay-at-home-dad.
The Sound of Music (1965) - In this popular musical, stern father Captain von Trapp learns to open up and become a family man with a little help from his children's governess, Maria.
Back to the Future (1985) - Connect with your dad's classics as you watch Marty McFly travel back in time — and try not to mess anything up!
Big Fish (2003) - In the original version of the now-musical, a son wrestles with his father's legacy of fantastic, seemingly impossible stories, trying to separate truth from fiction.
Field of Dreams (1989) - A farmer turns his cornfield into a baseball diamond, only to find that some unlikely visitors show up once he does.
Yours, Mine, and Ours (2005) - A widowed father falls for another widow. One thing — combined, they have eighteen kids. The quirky family must learn to work together.
Sleepless in Seattle (1993) - A father cannot get over the death of his wife, so his 8-year-old forces him to call into the radio to find true love.
Finding Nemo (2003) - When Nemo the clownfish goes missing, his father Marlin goes on a quest across the ocean to get him back.
Jumanji (1995) - Two kids find a magical board game that keeps an old resident of their house stuck inside the game for years. To get out, they have to win!
Million Dollar Arm (2014) - While trying to recruit new pitchers for the major leagues, agent J.B. Bernstein forms an unlikely family instead.
E.T. (1982) - Indulge your dad's nostalgia and follow along as the young Elliott becomes unlikely friends with an alien.
Father of the Bride (1991) - When his daughter comes back from studying abroad with an engagement ring, dad goes a little crazy!
Despicable Me (2010) - Supervillain Gru wants to accomplish something big, and stealing the moon might work. But will becoming a dad soften his villainous heart?
---
Plan men's ministry activities at your church with a sign up. View an Example
---
Cheaper by the Dozen (2003) - A father is left alone with his twelve kids in a new city while their mom travels. Needless to say, things get a little wacky!
Hook (1991) - Peter Pan has grown up and has children of his own — but when Captain Hook gets in the way, he must go back to Neverland to save them.
Mr. Popper's Penguins (2011) - A powerful Manhattanite receives the unusual gift of six penguins from his late father. Silly antics ensue.
Inside Out - 11-year-old Riley moves across the country with her parents. Her emotions (Joy, Anger, Sadness, Fear and Disgust) must help her adjust to the big change.
Star Wars V: The Empire Strikes Back (1980) - No franchise captures dads quite like the Star Wars franchise. Watch Luke as he trains with Yoda to try and defeat Darth Vader.
Three Men and a Baby (1987) - When three roommate bachelors suddenly become responsible for a baby girl, they have to learn the ins and outs of parenting quickly!
One of these movies about fatherhood is sure to bring your family closer together this Father's Day. Add popcorn and hot chocolate to the movie night and it will become even more special. 
Kayla Rutledge is a college student who spends most of her time writing, singing for her church and eating quesadillas.