30 Last Minute Potluck Ideas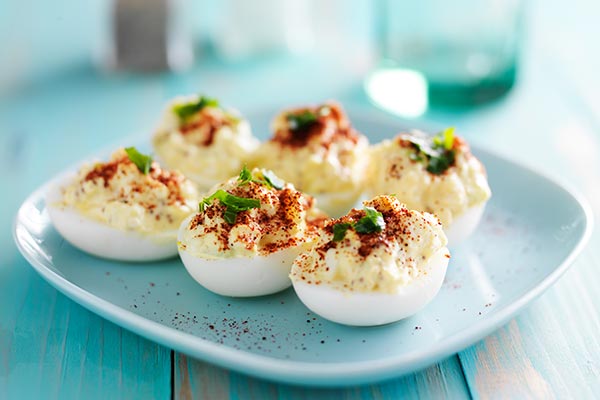 Whether you're feeding a small army at your house, bringing a dish to the work potluck or throwing a community party, these updated dishes offer a good mix of classic favorites and new twists that are easy to make and serve. These last-minute potluck ideas will save you time while also satisfying taste buds.
Appetizers
Deviled Eggs (Caesar Style) - Change up the traditional deviled egg recipe by topping with a parmesan bread crumb mixture and serving it on a bed of romaine lettuce.
Cucumber Canapes - Slice the cucumbers and top with your favorite spread (one example: whipped feta and sun-dried tomatoes).
Lobster Mac and Cheese - Adding lobster meat is a simple and upscale twist on everyone's favorite comfort food.
Franks and Beans - Mix together a can of beans, sliced hot dogs, a little mustard and ketchup and pop in the microwave before serving.
Sweet and Sour Meatballs - Roll the meatballs from ground sirloin, cook them in sauce (you can mix together chili sauce and grape jelly for a simple sweet and sour sauce) and simply reheat before serving.
Hummus (with Veggies and Crackers for Dipping) - This healthy option takes almost no work. Just cut up the vegetables and refrigerate until you're ready to serve. Don't forget the crackers!
---
Host a neighborhood fiesta potluck with a sign up. View an Example
---
Salads
Caprese Salad on a Stick - Stack tomato, mozzarella cheese and a basil leaf for a fun and easy to eat "salad."
Pesto Pasta Salad with Tomatoes and Mozzarella - Consider using cherry tomatoes and small balls of mozzarella cheese tossed with pesto pasta. Mix ahead and refrigerate.
Kale Salad with Sweet Potatoes - Combine baby kale, cooked sweet potato wedges, sunflower seeds and a vinaigrette dressing and toss together just before serving.
Quinoa Salad - Combine spinach, sliced tomatoes, cucumbers, avocado, green onions and mix together with cooked quinoa. (Quick tip: Add shredded chicken to make this a main dish.)
Pasta Salad - Combine cooked pasta with Italian dressing, cucumbers, tomatoes, chunks of ham, mozzarella cheese and green onions.
---
Rally your team at work with an office potluck sign up. View an Example
---
Main Dishes
Shrimp and Spaghetti - Change up the traditional spaghetti and meatballs by substituting in shrimp. This healthier take on the old standby freshens up a crowd favorite.
Cheesy Chicken Rolls - Wrap thinly sliced chicken around vegetables of your choice then add cheese and drizzle with a balsamic glaze.
Broccoli Cheese Casserole - Layer (cooked) broccoli, cheese, then condensed soup mixture and top with stuffing mix before baking. So easy and so, so good! (You can also make ahead, refrigerate and bake just before serving.)
Bacon Spinach Artichoke Pinwheels - Using rolled out crescent roll dough as your base, spread cream cheese first then wrap and top with artichoke hearts, parmesan cheese and spinach. Brush the tops with melted butter and bake.
Lemon Dill Salmon Pasta Salad - Just add salmon to your favorite pasta salad recipe for a fancy and healthy twist.
Baked Crab Dip - Surprise your guests with this seemingly fancy (but so easy) recipe. Combine cream cheese, cheddar cheese, mayonnaise, lemon juice and crab meat and bake until golden brown.
Fish Tacos - Use any flaky fish (like cod), add shredded lettuce and cheese and put it all in taco shells (or bring the mix and let guests pile their own tacos).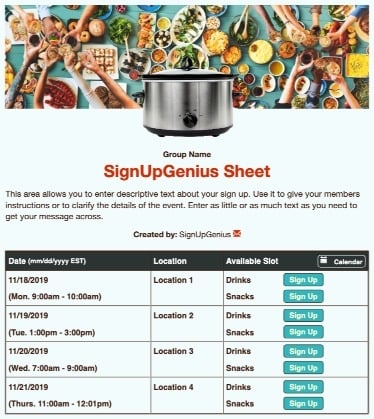 Lettuce Wraps - To make this healthier version of a traditional taco, simply swap out the taco shell for lettuce.
Cheesy Potato Casserole - Update your favorite make-ahead casserole recipe by adding chicken, throwing in your favorite vegetables or swapping out the type of cheese you use.
Apple Gouda Pigs in a Blanket - Everyone's favorite snackable is updated with a tasty twist. Simply add an apple slice and a slice of gouda as you wrap the hot dog in the crescent roll. Don't forget the mustard for dipping!
Italian Meatball Buns - Buy frozen rolls, slice in half and wrap around an already cooked meatball for a tasty new take on meatballs.
Pizza Puffs - This fun pizza is easy to make and easy to eat. Add cheese and pepperoni to pizza dough and spoon batter into muffin tins before baking.
Deli Roll-Ups - Roll a slice of turkey and swiss cheese together and then do the same with salami and provolone, roast beef and cheddar cheese then serve. Make sure to offer condiments for dipping.
Taco Casserole - Spoon cooked meat (mixed with taco seasoning) into a baking dish. Top with shredded cheese, sour cream, green peppers and onions.
Ravioli Pops - The trick to this easy to eat and delicious dish is adding a lollipop stick before cooking the ravioli. Roll it in breadcrumbs. Serve with marinara sauce and/or pesto.
---
Bring your church family together with a potluck sign up. View an Example
---
Dessert
Fruit Tray - A sweet dessert for someone watching what they eat. Make sure to make your tray colorful and flavorful. Add a little yogurt dip or melted chocolate on the side to make it more decadent.
Chocolate Chip Banana Bars - This recipe is as easy as it is delicious. Peel and mash bananas. Mix with brown sugar, oil, milk, eggs and chocolate chips, then spread the mixture in a pan and bake.
Cupcakes - This go-to dessert is better than a cake because if you bring an assortment of flavors, everyone can take a bite of their favorite kind.
Candy Bar - Dessert doesn't get much easier than this. Head to the grocery store and buy a bunch of different bags of candy. Bring some plastic baggies and let everyone grab a handful of their favorite candy to make their own goody bags.
A potluck can be a fun and easy way to bring a big group together. Just make sure to get people to sign up ahead of time so you have just the right mix of offerings.
Michelle Boudin is an investigative reporter for WCNC TV and a freelance writer.