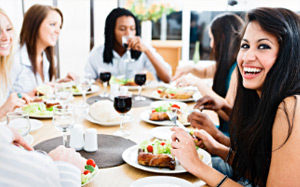 The economy may have drained your entertaining budget, but that doesn't mean you can't host a party with panache. It just takes planning and ingenuity to create a champagne party on a beer budget. The essence of a successful bash lies in the care you devote to the menu, the tableware and the decorations more than what you shell out for them. Use these inexpensive party ideas to host an event everyone will love.
The Menu
You don't need caviar and champagne to impress. Simple and inexpensive ingredients can make a big impact. It's all in the presentation. Instead of a boring veggie dip platter, take those same finger foods and place them in individual votive candle holders that people can pick up and carry while mingling. Classy and functional!
It's the little details that add trendy appeal. No need to break out the filet mignon if you want to serve more substantial food. Instead, cheaper cuts of meat can be presented with a flair. How about braised beef casserole served in sourdough bread bowls? The trick is to combine an inexpensive filler with an upscale must have. Think shrimp and fancy pasta. Whatever you serve, kick it up a notch.
Potlucks or simple buffets are certainly less expensive than sit-down seven course dinners. You can pare it down even further by hosting a brunch, dessert or cocktail party. Concerned about the cost of alcohol? Control this party factor by offering a holiday punch or signature drink. If a New Year's Eve party calls for champagne, opt for a champagne cocktail instead and stretch out the number of servings you get from each bottle.
The Tableware
Party hosts often find it easiest to use paper plates, paper napkins and plastic cutlery. But they also can cheapen the look of your occasion and ironically, add to your costs. Instead, break out the real stuff. Gather all your plates and flatware. They don't need to match. Real plates will add a touch of class to your affair without busting the party budget. You can even take this back-to-basics approach one step further...try using a collection of vintage handkerchiefs in lieu of paper napkins.
The Decorations
Don't buy expensive decorations or centerpeices for a party when there's plenty of free raw materials right around your house.  Go on a treasure hunt in your own backyard for starters. Evergreen shrubs or trees, such as boxwood or holly, can be snipped to make garland and wreaths, and fresh cut flowers always make a statement. In the fall, look for leaves and pinecones to adorn a platter. A fancy candle in the middle will add a touch of elegance. You can also take real fruit such as apples, oranges, or pears and spray paint them gold for a glittery centerpiece.  Even a pile of family photos transformed into a decorative collage can wow guests.
The key to hosting a memorable party is to keep in mind that it's not about the money. It's all about taking the ordinary and making it extraordinary. With these inexpensive party idea tips, you're guests are destined to have a great time at your next bash!