40 Inexpensive Mother's Day Gift Ideas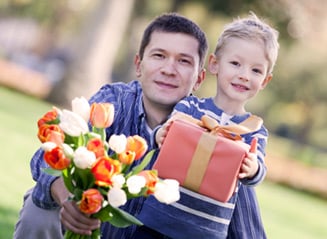 Mother's Day is around the corner, and while Mom may be dreaming of a far-off getaway, a thoughtful gift from her family is sure to warm her heart. Show Mom how much you appreciate her with one of these heart-felt gestures that won't break the bank. 
Scavenger Hunt. Create a day of fun by sending Mom on a hunt around town to her favorite spots. This can be for the whole family or a relaxing day for Mom only.
Tote-ally original. Purchase a neutral color canvas tote bag and some fabric paint, and let your child go to town creating a masterpiece that mom can stash her groceries in. 
Print those photos. Does Mom have precious photos saved on a camera, computer or phone that she hasn't gotten around to printing? Print them for her and maybe even frame a few.
Flowers. Sure, it's an obvious choice, but you can't go wrong with this classic and timeless gift. Stay on budget by choosing flowers from your own garden!
Handmade card. Have your kids tell her how they really feel about her with a handmade card to express their love. You may be surprised with their sweet sentiments.
Cleaning coupon. What mom wouldn't want a little help around the house? Let your child pitch in more by giving coupons she can redeem for cleaning.
Breakfast in Bed. This is another classic favorite! You may need to take the lead on this for really young ones, or even lay out some of Mom's favorite foods the night before. A meal made with love is the perfect way to start the day.
Dream Vacation. Sending Mom to Hawaii may not be budget-friendly, but maybe you can create a day of fun that is INSPIRED by her dream getaway spot. Cook a selection of local fare, play authentic music, and make sure to have some leis on hand!
Framed picture. Moms love pictures of their kids but are rarely IN the photo! What's more perfect than giving a framed photo of Mom with her little love bugs?

---

 

Make Mom feel extra special this Mother's Day. Get our Mother's Day tips

HERE

.

---

Quality Time. A picnic or a date in the park is a great way to reconnect and spend quality time together.
Put on a Performance. Are your kids musically or theatrically inclined? Let them show Mom how much they love her with a performance designed especially for her special day.
Favorite Flick. Recreate Mom's favorite movie scene! Send her on an action adventure or play out the sappy rom-com moment with "you-know-who" in the starring role.
Handprint Art. (Or Footprints!) These one-of-a-kind masterpieces will be something Mom will cherish for years to come…especially when those little hands aren't so little anymore.
I Love You Jar. There are a million reasons to love Mom. Have the kids write down as many as they can and give them to her in a jar.
Kid Drawing. Is there anything more precious than stick figure art? Have your child draw a picture of himself with his mom. This is great for older kids, too!
Potted Plant. Give Mom a gift that will keep on growing…literally! Bonus if your little ones paint the pot so it will always be a cherished keepsake.
Personalized mug. Mom is sure to be reminded of how much she is loved every morning when she drinks her coffee out of a mug personalized by your child.
Journal. Create a hand-decorated journal in which Mom can write down her favorite memories of motherhood, or have your child write some favorite memories she shares with her mom.
Jewelry. Moms are skilled at complimenting any outfit with a necklace or a bracelet made by her child. Making jewelry is a great activity for kids of all ages and can range from a macaroni necklace to beads, to a customized piece picked out at a jewelry store.
Days of Love. Make a calendar for the month of May and write something you love about her on each day. If you're feeling ambitious, create 365 days of love for year-round smiles.
Chocolate Dipped Strawberries. This classic treat is delicious and easy to make!
Read a Book. Ask Mom to tell you a book she wants to read. Wrap it up and make sure to give her the quiet time she'll need to read it!
Make a Statement. Sometimes saying I love you is as simple as, well, spelling it out. Spell out "I love you" on Mom's bed with rose petals or on the counter with her favorite candy. This creative idea could be fun and educational!
Budget friendly shopping trip. Give your children a set budget and take them somewhere they can find gifts within their price range. The Dollar Store or Target's One Spot are great places to start.
Ice Cream Sundae Bar. Does Mom have a sweet tooth? Indulge it by making an ice cream sundae bar at home with her favorite toppings.
Farm fresh goodies. Mom's more of a health nut? See if any of your local farms offer monthly CSA boxes and order a monthly delivery of seasonally harvested foods.
Magnets. Make hanging up art and important papers easy with magnets personalized or made by your little ones.
Soaps or candles. Always a favorite, these gifts can be dressed up with fabric, ribbon, and a special homemade tag.
Volunteer together. Find a local organization to volunteer with as a family. Giving back and spending time together? That's a win for everyone!
No fighting. Do you have a pair of siblings or teenagers that you just can't get to stop quibbling? Make Mother's Day a day of truce and enjoy a day with no arguments.

---

      Get creative with more of our favorite

Mother's Day gift ideas

!

---

That's the ticket. Purchase tickets to Mom's favorite sports team, music group or cultural event.
Jewelry Box. Have your little one decorate a jewelry box. You may provide the box, but let them use their imaginations and creativity to make it special.
Lavender Sachets. Make scented sachets for Mom's drawers. Lavender sachets are easy to assemble with handkerchiefs and dried lavender.
Stepping Stones. Brighten up an outdoor walkway with handmade stepping stones. You will need quick drying cement, cereal boxes, and embellishments (try stones, buttons, or shells.) This is a fun craft to make and a lasting keepsake to treasure.
Sew creative. Whip out the embroidery thread and needle to cross-stitch a sweet design for Mom.
Fingerprint art. Fingerprints can be turned into something magical. Try using a stencil of one of your favorite animals and have each child decorate it with multiple different colored fingerprints.
Signature stamp. Take a favorite phrase of Mom's and have it made into a self-inking stamp that she can use on letters, cards and more. But don't get offended when she uses her "I told ya so" stamp.
Memory Book. Let Mom relive some of her favorite mommy memories by creating a memory book made by her favorite kiddos.
Seed Packet. Tie seeds in a packet of burlap and later, enjoy planting them together. You will love watching the flowers grow together!
Love List. Keep it simple and sweet with a list of ten things you love about Mom. Get the whole family involved and be delighted with the heartwarming results!
 Looking for more great gift ideas? Don't forget to visit the SignUpGenius
Mother's Day Pinterest Board
for inspiration!

Julia Hembree is a full time mom and part time freelance writer who thrives on chocolate, Starbucks, and toddler kisses. You can find her words at www.elatedexhaustion.com, a sometimes funny, sometimes serious, always honest look at life as a mom.