20 Inspiring Engagement Party Themes and Ideas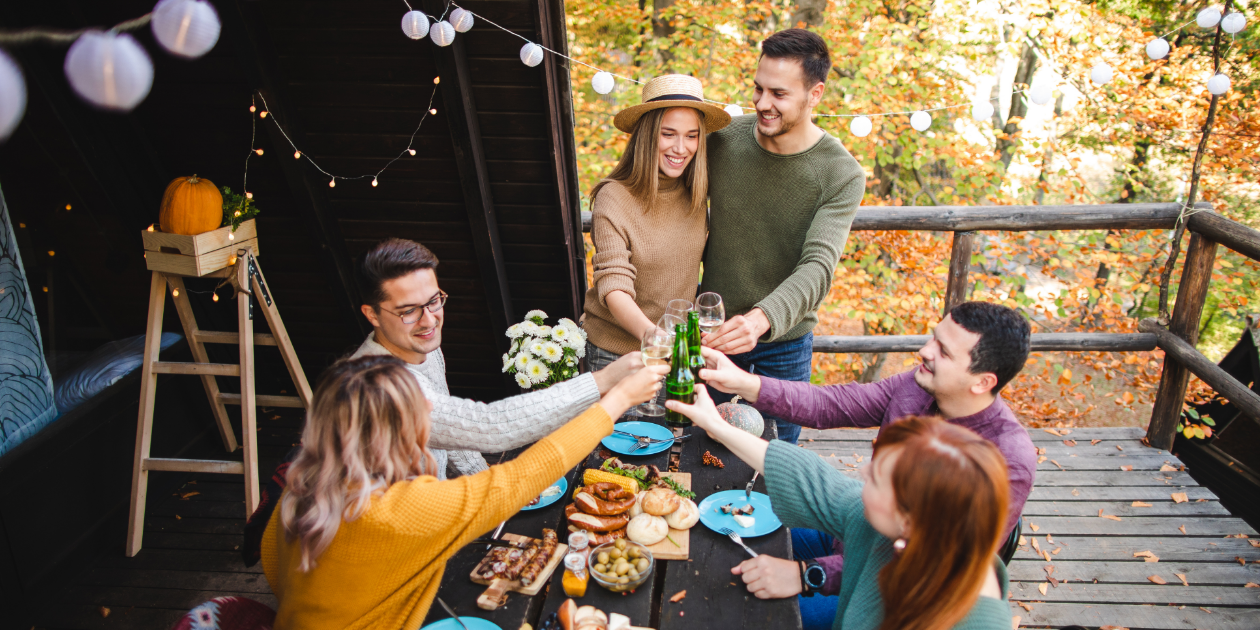 The moment a couple decides to spend forever together is one of the most memorable and exciting times of their lives. After sharing the big news, planning an engagement party is a great way to celebrate with friends and family. If you are planning your own party or helping to host a celebration for the happy couple, read on for some fun theme ideas and tips to make this event a great kick-off to the wedding festivities.  
Theme Ideas:
Picking a theme for an engagement party can help make the event feel more festive. Even if you don't want to go with an overarching theme, it can be helpful to at least pick a color palette or décor scheme.  The vibe of the party can be as simple as a seasonal motif, like spring florals, or a particular style, like farmhouse-chic. Below are some ideas, from classic to quirky and everything in between.  
Hollywood Glamour - Celebrate like celebrities with an engagement party themed around Hollywood. Invite guests to dress up in their Oscar-worthy outfits and bring out all the glitz and glam. Don't forget to roll out the red carpet for the couple of honor's grand entrance.
 
Retro Party - Throw a retro party inspired by a decade that is meaningful to the couple. Use the theme to inspire planning for the décor, music, food and drink. For example, decorate with neon colors or lights for an 80's party, or serve old-fashioned's for a 1920's speakeasy party.
 
Farmhouse Chic - Your theme can simply be a specific style like farmhouse chic or ultra-modern. A venue like an upgraded barn is perfect for a farm inspired party but you can bring this theme to life anywhere. Use things like twine, cotton, and wooden platters to keep the décor on-theme.
 
Honeymoon Theme - If the couple already has plans set for their honeymoon, you can center the engagement party around a destination. For example, a Parisian soirée or a tropical island theme.
 
Book or Movie - If there's a special movie, book, or TV show that they love, consider making that the theme of your party. For example, for a Harry Potter engagement party, sort guests according to their "house." For a Game of Thrones party, decorate your cake to look like a dragon egg. The ideas for decorations and refreshments can be tailored to fit whatever you want for this fun option!
 
Black and White - You can't go wrong with a classic theme of black and white. Ask your guests to dress accordingly and add a pop of color here and there to really off-set the dramatic color theme. Plus, it's a fun way to let the bride-to-be wear her signature wedding color!
 
Seasonal Chic - Your theme could also be inspired by the romance of the season. For example, a winter theme could include an ice sculpture and a color scheme with crisp winter whites and blues. For spring, decorate with gorgeous bouquets of flowers. Use pastels and choose a venue with lots of natural light.
 
Beach - The beach is always a fun theme for any event, but especially for an engagement party. Decorate with ocean décor and have guests wear their favorite Hawaiian shirts and summertime outfits. Hand out inflatable party favors like flamingos or beach balls, and don't forget little umbrellas in your fruity cocktails and mocktails.
 
Team Spirit - If the couple are diehard sports fans, their favorite team or teams can make for a winning theme. Serve tailgate style food and drinks, decorate the party space with team colors and invite guests to wear their favorite jersey or sports gear.
 
Whimsical Garden Party - A whimsical garden party is another great way to celebrate. Find a fabulous outdoor venue with natural landscape, flowers or draping greenery. You could even add fairy lights and host in the evening for a truly magical event with Instagram-worthy photo opportunities.
 
Love Boat - If you've got the budget for it, a boat party can be so much fun for the couple of honor and your guests. You could opt to take a scenic ride around a lake or go for a sunset cruise.
 
Classic Cocktail Party - Keep it classy with a traditional cocktail party to celebrate the couple in style. Break out the fancy glasses for cocktails and mocktails and serve heavy hors d'oeuvres. Order napkins with the couple's name or monogram for a personal touch.
Organize engagement party helpers with an online sign up. View an Example
Tips and Ideas
Your party will be a special event whether you host a fancy soiree or a laid-back gathering. These tips will help you simplify organizing and plan a night the newlyweds-to-be and your guests won't forget. 
Ask for Input – Some couples love the elegance of a formal cocktail party while others may want to relax at a casual get together. If you are hosting a party for the couple, ask if they would like to include their favorite foods, drinks, flowers or décor that would be meaningful to them.
 
Choosing a Venue – Hosting the party at the home of a friend or family member can be the least expensive option, leaving more money to spend on food, drinks and decorations. Restaurants, bars and breweries may also offer a private room at a reasonable price. Add a romantic flair by choosing a venue that ties in with the theme such as a garden for a spring party, or a backyard pool for a summer party.
 
Divide and Conquer – If you have a group of hosts, divide up responsibilities if possible so you can minimize the stress of planning. One person can design and send out invitations, others can handle tasks such as keeping track of RSVP's, managing the budget, coordinating food and drinks and handling decorations.
 
Festive Food – It's fun to serve food and drinks that reflect your theme, but simple touches can make a big impression. You can feature a few signature items like a specialty cocktail and choose serving platters and silverware that match as well. For example, for a Hollywood glamour or cocktail party, serve drinks in long champagne flutes to match the elegance of the event
 
Photos – Make sure to capture the memories that will last forever! The couple will be busy chatting with guests, so ask for a few volunteers to serve as official party photographers. A photo booth is always a party favorite, grab some fun props like hats, sunglasses, feather boas, and some celebratory signs online or from a party shop.
 
Wedding Hashtag - The wedding hashtag has become a tradition to share the happy news! Ask the couple if they would like guests to use a wedding hashtag when posting party photos on social media.
 
Toasts – Invite a few hosts or guests to offer brief toasts to the couple! No long speeches are necessary, a minute or so is plenty of time to share well wishes.
 
Gifts – Gifts are not expected at engagement parties, but the hosts could surprise the couple with something small that fits the party theme as a token to remember the celebration.
An engagement party is a wonderful way to celebrate a special couple's upcoming wedding and their love with friends and family. Plus, it's a great time for loved ones to have a chance to meet and get to know one another a little better. Whether you choose a specific theme or simply opt for a color palette, your party is sure to be beautiful and memorable for everyone that attends.  
Kelsey Caldwell is a realtor and freelance writer from Charlotte, NC. She and her husband are parents to two amazing kids, a puppy, and rabbit.