Tips for Hosting a Holiday Cookie Exchange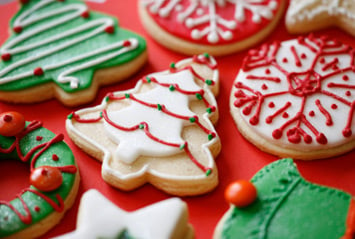 A cookie exchange is a terrific way to kick off your holiday festivities and spend time with loved ones. With our tips, you will be on your way to creating a delicious, memory-making get-together.
Guest List. Let SignUpGenius handle the guest list. Send out invitations, gather RSVP's and coordinate your cookie list online. The system will even send out email or text reminders for you. Browse the SignUpGenius themes for the best ho-ho-holiday templates!
Timing. For best results, be sure to send out invitations 3-4 weeks in advance. Aim for 8-12 confirmed guests. Pencil in time now on your busy holiday schedule for getting decorations, prepping cookies, and setting up for your event.
Inform. Let your guests know how many cookies they will need to bring. Typically you should ask each guest to bring either a dozen or half dozen cookies for each guest, plus extra to nibble on at the party.
Variety. Avoid the dreaded cookie duplication by allowing guests to make note of their cookie selection in the sign up so that everyone can see what others are bringing.
Beyond the cookie. For even more variety, feel free to expand your collection to include other goodies such as homemade candy, chocolate covered pretzels, or other festive sweets.
Something new. Try swapping cookie dough. Guests can refrigerate or freeze their dough and bake fresh cookies throughout the holiday season!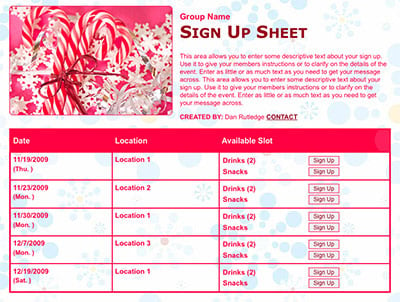 ---
Holiday planning is made easy with SignUpGenius! Find out how to plan the perfect holiday event!
---
Bake to impress. Whether you are a host or a guest, you should always try to bake a show-stopping holiday treat. Choose a delectable cookie that is sweet, tasty & pretty.
Cookie Prep. It is always best to bake your cookies as close to the event date as possible. Prepare to shop for ingredients several days before your designated bake day(s), and give yourself adequate time for mixing, baking, cooling and decorating.
Class act. Though it can be fun to try something new, don't second guess the classics – they are passed down from generation to generation for a reason and are always a hit.
Décor. Don't let the cookies do all the talking! Ad festive tablecloths and table décor for the perfect warm and cheery ambiance.
Display. Plan to have your best platters and plates available to display cookies so your gingerbread, shortbreads and peppermint bark create an eye-catching and mouth-watering spread.
Drinks. Spiced cider, peppermint tea, eggnog – have your favorite yummy drinks on hand to add some holiday flair.
Create memories. Encourage guests to share more than just sweets. Does the treat have a unique story of origin, is it a family recipe, or does it stir up a holiday baking memory? Sometimes it's as much fun trading stories as it is trading cookies.
Think ahead. Have extra plastic wrap, parchment paper, and goody bags or boxes on hand in case guests need a little more transport room beyond their Santa-sized platters.
Recipe Swap. Request that each guest bring along copies of their recipe, and put them right on the table next to their cookies. You may even want to assemble a booklet of recipes for everyone to take home with them.
With a little bit of planning and a few hours spent baking and decorating, you can plan a fun and festive party with friends, while swapping cheerful holiday wishes, treats and memories. You are sure to create one sweet holiday tradition.