30 Thoughtful Hanukkah Gifts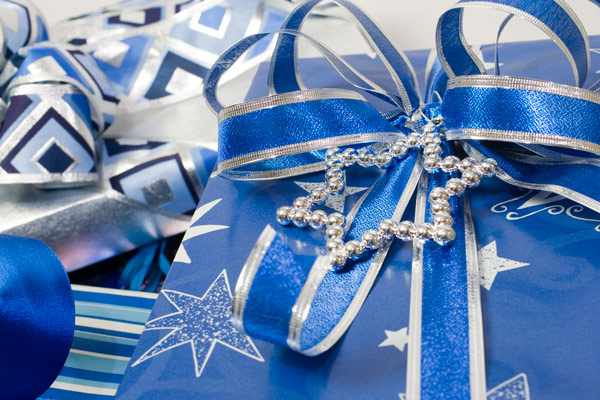 With eight days of celebrating ahead, buying Hanukkah gifts doesn't have to be a daunting task. Let this principle guide you this year: Get something fun or useful that the people wouldn't normally get themselves. You'll be one step closer to a Happy Hanukkah! 
Gifts for Children 
Wooden Hanukkah Menorah: Start your smallest child off with a toy menorah complete with wooden candles and painted in bright colors. 
Toy Set, Divided: For example, give a special doll one day followed by clothing, furniture and accessories. You could also do this in reverse with the big present — doll house, car garage, racetrack— saved for the final night of celebrating. 
Personalized Kitchen Apron: Hanukkah traditions center around food and family, and nothing says that better than a set of matching aprons for the family that cooks together. 
Latke Flipper: A potato pancake flipper can be specially ordered in blue with a Hanukah message.   
Happy Hanukkah Baby Bib: Don't forget the smallest guest at the table. Personalize a bib with a festive embroidered menorah and/or "Happy Hanukkah _____ (child's name)." 
Window Clings Hanukkah Symbols: These make a festive decoration for bedroom windows or a playroom. 
Custom Dreidel: The dreidel shape can be baked from clay and used to play with afterward. Let children pick their own decorations. 
Board Games: Search the web for Hanukkah-themed board games such as "Macabees Board Game," "Dreidel matching game," or "Hanukkah Bingo" (or make your own Hanukkah bingo cards from an online source). 
Hanukkah Placemats: These can be made by family members with special memories of Hanukkah's past and laminated at a copy/print store or you can go purchase some online with symbols and messages of Hanukkah. 
Books: Some ideas: Happy Hanukkah, Curious George by H.A. Rey and Margaret Rey, Elmo's Little Dreidel by Naomi Kleinberg and My First Chanukah by Tomie dePaola. These are accessible ways to get young children learning about the holiday. 
For Teens: Let seven nights be filled with frivolity: fun socks, exotic nail polishes, new sports apparel, joke books or a funny movie. Then save that long-awaited gift they have mentioned for the final night of celebration. 
---
Host a Hanukkah dinner using an online sign up! SAMPLE.
---
Gift Ideas for Adults 
Eco-Friendly Menorah Candles: Soy-based, natural candles are a nice alternative to burn in the family's Hanukkah Menorah.  
Kitchen Apron: Many unique aprons (with favorite TV shows, sports teams or kitchen humor) are available to give those who live in the kitchen making traditional dishes for the festivities. 
Gifts from Israel: Hanukkah Menorah candles or dreidels made in Israel have extra-special meaning and make a great gift. 
Hanukkah Menorah Drip Tray: a personalized ceramic tray for placing under the candles to catch drips can be a special Hanukkah gift. 
Personalized Electronics: Consider electronic gifts that keep the person's interests or hobbies in mind. For the fitness buff: an exercise tracking wristband; for the music lover: high-end headphones; for the movie buff: an upgrade from an old DVD player. 
Hanukkah Wreath: For the crafty, assemble or purchase a wreath to decorate the home including lovely white flowers and blue ribbon with battery powered lights to celebrate the Festival of Lights.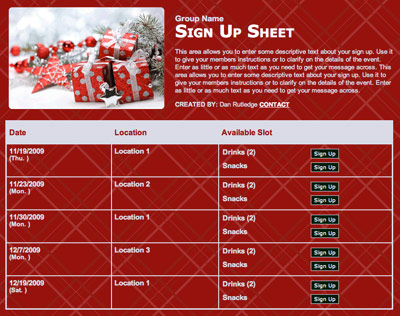 Blue Cookware: Handmade serving dishes with special Hanukkah messages for serving or even a purchased blue platter makes a special gift for the cook in the family. 
Star of David Coasters: These can be ordered or made at home with simple wall tiles, a stencil, paint and some sealant. 
Tickets to a Festival of Lights Event: Check online for local festivities happening during Hanukkah and treat the family to a night out. 
Latke Ingredient Basket: Fill up a gift basket that includes the traditional latke ingredients with a handwritten recipe for a personal touch! You could also find a new latke recipe and include the ingredients, such as sweet potato or banana latke. 
Gifts for the Host 
Kosher Gift Basket: There are companies that offer baskets specially designed for those who keep kosher or have other dietary restrictions. 
Baking Pan and Hanukkah Cookie Cutters: Every cook enjoys a new shiny baking pan, and online stores can help you find cookie cutters shaped as a star, dreidel or menorah to help your acquaintance start a new cookie-baking tradition. 
Celebrations of Friendship: All Hanukkah gifts don't necessarily have to be faith-centered. Acquaintances will enjoy any gift that celebrates your friendship: a framed picture of a favorite memory, a T-shirt from a favorite restaurant or book from a mutually enjoyed author. 
Hanukkah Gift Jar: Fill with small gifts of Hanukkah. Ideas include gold gelt coins (traditional chocolate coins in gold foil), a dreidel and handwritten blessings to say as the Hanukkah candles are lit. Top your gift jar with festive blue and silver ribbon. 
---
Plan a school or temple Hanukkah party with an online sign up! SAMPLE.
---
Fun Kitchen Gadgets: Part of the Hanukkah story is the miracle of one day's worth of oil burning for eight days. What better way to celebrate oil than frying food! Your acquaintance will enjoy a little something new for the kitchen like a cookbook or utensils such as tongs, spatulas or special serving tray along with a new bottle of cooking oil. 
Hanukkah Menorah Candles: If you know your acquaintance already has a special Hanukkah Menorah in the home, a fresh set of lovely taper candles (9 total or 44 to have a fresh set for the 8 days) is a welcome gift.  
Personalized Doormat: Look online for welcome mats that can be customized — a nice treat to give your acquaintance that will welcome their guests for Hanukkah celebrations. 
White Roses in a Blue Vase: Utilize the colors (blue, white and silver) commonly associated with the holiday in the form of fresh flowers, always a welcome addition to anyone's home. 
Nine-Candled Hanukkah Menorah: A new take on a traditional Hanukkah Menorah is not hard to find and can be a fun gift for an acquaintance. Consider unique materials such as crystal, stone or ceramic. There are also themed Hanukkah Menorahs such as Jerusalem-inspired Menorahs, nature-themed or even sports-themed Menorahs.
You are only limited by your imagination! Hanukkah is meant to celebrate the miracles and wonderment of family and share joy-filled traditions. Let your festival of lights be truly bright as you focus your giving on something personal and meaningful to those you love.
Julie David is married to a worship pastor and after 20 years in ministry together with three daughters, she is still developing the tender balance of thick skin and gracious heart. She currently leads a small group of high school junior girls.