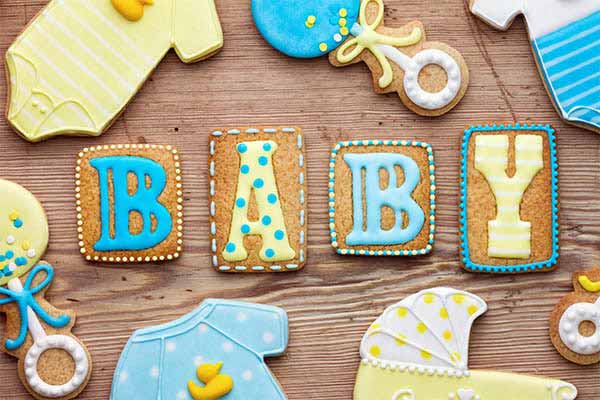 If you're trying to figure out the perfect gift for the new mama in your life, you have come to the right place. Go beyond the normal gifts of receiving blankets and diapers with these useful and unique gift ideas that are sure to please.
1. Professional Photo Shoot
Photographs of a newborn baby become lifelong treasured family mementos. Most photographers like to do newborn photos before the baby is two weeks old, so give this gift early and consult the mom-to-be on scheduling.
2. Food Deliveries
Food of any kind will be appreciated. If the new mom is breastfeeding, go easy on garlic and onions, since these ingredients tend to make newborn babies fussy. Create a sign up on SignUpGenius to coordinate meals, so friends, family, neighbors, and co-workers can show they care. SAMPLE 
3. Notes of Encouragement
At a baby shower or another pre-baby gathering, secretly have the mom-to-be's circle of friends and family members jot down words of encouragement, favorite quotes, and sage advice into a journal. Present this item to the mama once her sweet bundle has arrived. 
4. The Gift of Long Showers
A clear, vinyl shower curtain and a battery operated bouncy seat might sound boring but gives a new mom the perfect way to keep watch over her baby while taking a much-deserved long, hot shower.
5. Pretty Pajamas
She'll likely spend the first month of her new baby's life in pajamas. A pretty pick-me-up will do wonders to boost her spirits. 
6. Grocery Shopping
Shopping and a fussy newborn can be a frustrating combination for a new mom. Treat her by doing her grocery shopping and maybe even picking up the tab. 
7. Peace of Mind
A baby monitor will make life with a new baby easier. It's very reassuring to be able to check on a newborn without interrupting sleep or distracting him. Go in with friends on this high price item, and collect money via SignUpGenius Payments. 
8. Food Baskets
Easy, one-hand foods are perfect for a new mom who has little time to prepare a meal. Fill a basket with fruit, nuts, crackers, granola bars, and anything a mom can eat quickly to satisfy her hungry tummy. 

9. Send in the Cleaners
Cleaning the house is often at the end of a new mom's to-do list. Coordinate with friends and family to take turns in helping around the house with doing the dishes, sweeping the floors, and throwing in a load of laundry. Use SignUpGenius to help coordinate helpers who are willing to put some elbow grease in their gift giving. 
10. Time
The gift of your time to a new mom is priceless. If you are good friends, offer to give her some time to herself while you care for her newborn. Encourage her to use this time to take a shower, get a pedicure or run a few errands. 
---
Schedule meals for a new mom with a sign up! SAMPLE
---
11. Gift Certificates for Take-out
This is the perfect gift for new moms, because new parents have little time to cook, but they still have to eat!  
12. A Luxurious Robe
With the amount of times a new mom has to get up in the middle of the night, it would be a nice treat for her to wrap up in a silky robe. 
13. Coffee Shop Gift Card
Living in a constant state of interrupted sleep, all a new mom needs is a quick cup of coffee. Save her day with a gift card to her favorite coffee shop. 
14. Video Camera
If she doesn't already have one of these, she will want one now more than ever. This is often a big-ticket item, so you might want to ask a few people to chip in with SignUpGenius Payments. A new mom can document every minute of her new life with baby. 
15. Nursing Tops
Stylish, loose-fitting tops are the best gift for new moms planning to nurse. It provides great ease for the demanding task of feeding a hungry newborn. And they're comfy for a women's body adjusting back into a normal shape. 
16. Baby & Mommy Yoga Class
Yoga classes are a perfect gift for the active mom who likes to work out without missing time with their baby. These yoga sessions tend to infuse baby massage and plenty of interaction with the baby while the mom gets in a good workout. 
17. Date Night Certificate
Give both Mom and Dad a well-deserved night out. It's the perfect opportunity for newbie parents to get reacquainted after their lifestyle change of becoming parents. Dinner for two and childcare for a few hours will do wonders for a couple's relationship.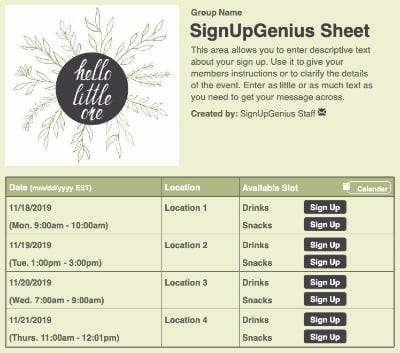 18.
Digital Photo Frame
This is the perfect gift for a new mom to showcase every moment of her baby's new life. All she has to do is load photos, press play, and watch the show. 
19. Foot Bath
After having carried around extra weight for nine months, any new mom would love to pamper their tired tootsies with a home spa-inspired footbath. Invigorating water jets pumping warm water creates a rejuvenating way to revive tired feet. 
20. A New Water Bottle
If the mom plans to nurse, she will need to drink a lot of water. Purchase a fun-inspired water bottle with a straw to encourage her to chug-a-lug. 
21. Hand Sanitizers
It's so much easier to just put a hand sanitizer in every room the baby's diaper might be changed in. It saves the trouble from leaving the room to wash your hands. Don't forget a small bottle to toss in the diaper bag. 
22. Dry Shampoo
Most new moms are lucky to brush their teeth by noon, so there will be days when a shower is not even a remote possibility. Dry shampoo can be a lifesaver to a mom to get refreshed with her limited amount of free time. 
---
Plan a baby shower or party easily! SAMPLE
---
23.
A Soothing Ride 
Late night feedings and lullaby marathons will be easier on a mom and her baby if she can spend them in a gentle rocker or glider. Swaying baby back to sleep in the night will calm everyone's nerves and provide some quiet bonding time. 
24. Baby Carrier
A baby carrier will let new parents get some hands-free time. These carriers are built to keep babies snug and help parents get a few things done without constantly having to hold their baby. 
25. Spa Gift Certificate
Pregnancy can be tough on a woman's body. A well-deserved pampering session can do wonders on a new mom's body and soul. You just can't go wrong with this restorative gift. 
26. Comfy Slippers
Shuffling around the house for weeks on end, a new comfy pair of slippers will be a nice luxury for an exhausted mom. 
27. Beauty Basket
Taking care of a newborn often leaves little time for a new mom to take care of herself. Give her a big nudge to not forget about herself with a beauty basket filled with moisturizers, hair elastics, shower gels, and pretty lipsticks. 
28. A Photo Book Gift Card
New moms take hundreds of photos of their bundle of joy, so give the new mama the opportunity to put all these fabulous photos together. A photo book will become a treasured keepsake. 
29. Photo Frames
Now is the perfect time for new photos to grace the walls. An assortment of frames will definitely be put to good use for new moms. 
30. Heirloom Gifts
Looking to go the sentimental route versus a practical one? Then give a personalized gift like a silver cup or spoon. A more modern take is a personalized necklace to commemorate the baby's birth with names or initials. 
31. Ebook Gift Card
To encourage some quiet moments for herself, give Mom the gift of reading materials. Ebooks can provide moments of brief reprieve from a busy schedule.  
32. Scrapbook
Moms can record memories of their newborn's life using photographs, clip arts, and other mementos. Make sure to include some baby-themed embellishments to enhance the pages of this fun project. 
33. Hand and Foot Molds
It's truly a magical way of capturing a baby's tiny hands and feet. Buy the new mama in your life a pre-packaged kit to make molds of tiny hands and feet. 
34. Baby's First Holiday Grab Bag
Purchase onesies for every holiday for the entire first year in the appropriate sizes. The baby will not miss any first celebration! 
35. Thank You Notes
A new mom appreciates the generosity shown to her new baby. Help her with the overwhelming task of keeping up with the thank you's by giving her an assortment of thank you notes. Bonus idea: help her address and stamp them! 
Now that your mind is bubbling over with fresh ideas for gifting a new mom, surprise her with one today! You're sure to make her day.
Sara Kendall is a freelance writer and mom of two daughters.