51 Unique Holiday Traditions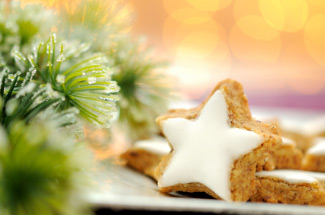 The convenience stores are already boasting candles and tinsel, and Jack Frost is sending in the chilly northern winds. The signs are clear: The holidays are coming up fast!
Are you looking for a new tradition or two that will help your family get in the holiday spirit and create lasting memories together? Check out this plethora of ideas to add to your bag of holiday fun!
Give your kids a set of cozy winter pajamas every Christmas Eve.
Hang gift bags or small stockings on your neighbors' doorknobs.
Using SignUpGenius, create a holiday party where everyone brings a gift for a family in need.
Give multiple people Secret Santa gift baskets. Pick out five to ten people or families that sacrifice a lot for the community, and make gift baskets to leave on their porches.
Using SignUpGenius, organize a party and have everyone bring supplies to fill Secret Santa baskets.
Put your kids on decorating duty! Give them Popsicle sticks, cotton balls, glue, paint, etc. and have them make festive crafts to display around the house.
To include friends in the above tradition, organize a party for families and create a sign up list on SignUpGenius to be sure that all of the necessary craft materials are brought.
Give each child a unique ornament every Christmas Day.
For the 12 days of Christmas or 8 nights of Hanukkah, have a small daily community service task for your family or one of its members to complete.
---
SignUpGenius makes planning Holiday Events easy.  Find out how HERE!
---
For Kwanzaa, include your kids in the nightly folktale. Have them create picture books of the tales by letting them each color a page and write part of the story on it.
Start a house decorating contest in your neighborhood.
For the truly bold, hide a pickle in the branches of your Christmas tree. The first child to find it gets an extra small present.
For extended family members who mail gifts to each other every year, skip the postage and let folks pick a charity to give to instead.
Pick your favorite holiday movie and cozy up to it with hot cider and popcorn each year.
Go see the lights. Drive around your city or a nearby town and drink in the glowing festivity.
Make a memory book by recording each member's favorite part of the season (in pictures or words) and keep it for future enjoyment.
While it's nice to burrow into new gifts throughout the holiday afternoon, instead initiate something special that your family does only on that day. (Playing an entire game of Monopoly or reading a special book are good examples.)
Feed the neighborhood birds by throwing pine cones and strings of popcorn covered in peanut butter and bird seed into the tree branches.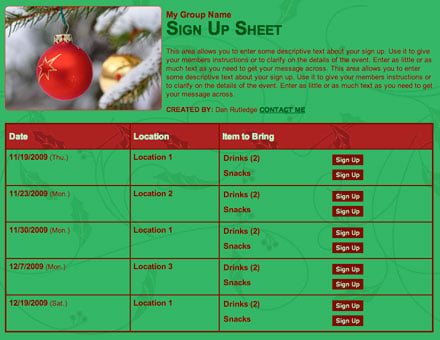 Call up a family or old friend (who isn't expecting it) to come celebrate with you.
Grab your passports (figuratively) and choose a different country each year. Research their holiday traditions and incorporate theirs into your own.
Start a Charity Box/Jar that you keep in the kitchen or other frequently used part of the house. Throughout the year, drop cash and loose change in it. Come the holidays, collaborate with the family and decide on something worthy of its contents.
Have a gingerbread or latkes making party or contest!
If you have three or more children that are old enough, have each of them draw names and purchase a gift for that one person. If necessary, set a dollar limit.
For Hanukkah, organize a potluck (using SignUpGenius, of course!) and dreidel tournament.
Leave a bowl of reindeer food (oatmeal and glitter) in your front yard on Christmas Eve. (Don't forget to remind Santa to tip the bowl over and scatter the food when he comes!)
Whether it's cinnamon buns, sourdough bread with butter, or an egg-sausage casserole, have a special, consistent breakfast on Christmas morning or a few different choices throughout Hanukkah.
For families of Santa fans, buy presents for kids off of an angel tree at your church or at a mall.
A family walk during Hanukkah or on Christmas day will help prevent sluggishness and keep spirits high.
A fun (and thrifty) Hanukkah tradition is to keep the gifts simple and minor, and put the focus on a theme for each night. (Charity Night, Family Game Night, Home Movie Night...)
Send a Christmas letter with a recent family picture, especially to your friends and relatives who don't spend much time on computers keeping up with people.
Host a cookie swap or a Christmas tea. Use SignUpGenius.com to invite and organize.
Pick an evening and go Christmas caroling with your neighbors.
Decorate a gingerbread house together.
Host a gingerbread house decorating contest. Use SignUpGenius.com to invite and coordinate who brings each type of candy.
Ask each family member to make a card for everyone in your immediate family and place them on the tree on Christmas Eve to open before gifts in the morning.
Plan a progressive dinner for neighbors, church small group members or school families you'd like to get to know better in the weeks leading up to Christmas. Use SignUpGenius.com to invite and organize.
If you live in a warm climate, take a bike ride in the parking lot of a shopping center or mall on Christmas Day when the area is empty of the usual cars.
If you live in a snow-laden climate, face off for a snowball fight or build a snowman together.
Organize a Holiday group gift for your child's teacher using SignUpGenius.com.
---
Use SignUpGenius Payments to collect money for a holiday group gift for your teacher!
---
Update your family photo early, so you're ready to send it out with a Christmas card in December.
Gather a group and host a Christmas party for seniors at a local retirement home. Use SignUpGenius.com to invite and organize.
Decorate a holiday themed dish at a local paint your own pottery with your family and add to the set every year.
Offer to babysit for a single mom while she goes out Christmas shopping.
Get a new holiday music CD every year and listen to the CDs while you are in the middle of enjoying other holiday traditions together.
Have each child write a "Dear Santa" or "Dear God" letter each year and collect them to share together around the holidays as the kids grow up.
Think about a family who might be struggling at Christmas and brainstorm ways to encourage them together. Decide on one or two ideas to do as a family.
Start a Christmas puzzle together at the beginning of the season and work on it a little bit at a time to decompress through the holidays.
Watch family videos of previous winter holidays together while drinking hot chocolate.
Bundle up and make a day trip to a tree farm to pick out a Christmas tree and return home to decorate it together.
Organize a school wide Christmas shop where families can contribute new or gently used items from around the house and kids can shop for inexpensive gifts for their family members. Use SignUpGenius.com to coordinate volunteers to set up, man the shop and restock.
Visit a live nativity scene and return home to act out or read the Christmas story together.
From unique holiday tradition ideas to easy sign ups, SignUpGenius is here to help you simplify your December and have a blast doing it. So go ahead, use SignUpGenius to manage your potlucks, cookie exchanges, and holiday parties. We know you'll love spending all of the time you save on more meaningful activities with family and friends. From us to you, Merry Christmas and Happy Holidays!